De organisatoren achter Blast From The Past zien het nog steeds zitten in deze corona-tijden. Ze proberen ons dan ook warm te maken met twee mooie affiches.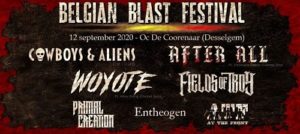 Zo willen ze ons een eerste editie van Belgian Blast Festival presenteren op zaterdag 12 september. In OC De Coorenaar te Desselgem worden dan zeven Belgische bands op het podium verwacht. We geven je de namen (in alfabetische volgorde) mee: After All (thrash metal), At The Front (thrash metal), Cowboys & Aliens (stoner rock), Entheogen (progressive metal), Fields Of Troy (alternative metal / alternative rock), Primal Creation (thrash metal) en Woyote (thrash metal). Dit metal feestje staat ingepland tussen 16u00 en 23u30 en zorgt voor zeven redenen om op 12 september naar Desselgem af te zakken.
Maar ook een nieuwe editie van het toch wel befaamde Blast From The Past Festival staat op de agenda. Daarvoor hebben de organisatoren 12 december in hun agenda aangekruist. Ook voor dit evenement zijn al een tijdlang een aantal namen van bands bekend gemaakt.
Van Belgische zijde mag je dan Bütcher (speed metal / heavy metal / black metal), Cyclone (thrash Metal) en Acid (heavy metal / speed metal) verwachten. Buitenlandse bands die reeds bevestigd zijn: Vultures Vengeance (heavy metal) en Witchfynde (heavy metal / NWOBHM). Daar zouden nog vier bands, waaronder de absolute headliner, bijkomen.
Afspraak dus op 12 december in Kubox te Kuurne.
Meer info op http://bftpfestival.com/?fbclid=IwAR17MUtltybISfRanQjkZMsy5xEd_PGvO7xw8cZfPPMGgjX0MSHaU3BOhcE