Beyond The Black: Hørizøns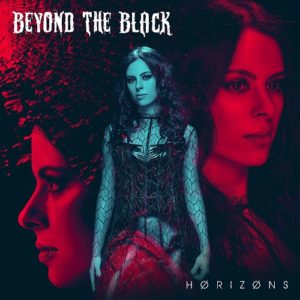 Beyond The Black's modern blend of melodic rock and metal emerges from the cocoon and reaches the next level with the upcoming album Hørizøns, was released via Napalm Records on June 19th. Led by vocalist Jennifer Haben, the band unbolts their unequalled, differentiated spectra of melodic rock spiced with sonorous melodious metal soundscapes in 13 manifold songs. Hørizøns' atmospherically dark harshness creates the stylistic bow over the distinctive melodic rock meets pop sound in symbiosis with fragile yet strong fragments. The charismatic outfit persuades with a rousing, emotional clout and their strong, confident message off self-assertion!
Beyond The Black are: Jennifer Haben (Vocals), Stefan Herkenhoff (Bass), Chris Hermsdörfer (Guit./Backings), Tobi Lodes (Guit./Backings), Kai Tschierschky (Drums)
______________________________________________________________________________
Mushroomhead: A Wonderful Life
A Wonderful Life – a reflected society criticism in times of climate change, wars and escape movements, written on four different tours from December 2018 to January 2020.
Top-charting masked metal machine Mushroomhead make their prodigious return with the new full-length oeuvre, A Wonderful Life – the eighth release of their benchmark career – out June 19, 2020 via Napalm Records.
The new album marks the return of production team Steve "Skinny" Felton and Matt Wallace (Faith No More, 3 Doors Down & others), who already worked on their most successful album to date XIII. While going back to the old production team, A Wonderful Life marks a re-definement of Mushroomhead's Sound.
Mushroomhead is: Mr.Rauckhorst – Vocals / Jmann – Vocals / Ms.Jackie – Vocals / Dr.F – Keyboards & Bass guitar / Tankx – Guitar / Stitch – Keyboards & Samples / Diablo – Drums/Percussion / Skinny – Drums/Percussion
______________________________________________________________________________
Ahab: Live Prey
Nautic funeral doom heavyweights, Ahab, will release their very first live record, Live Prey, on June 26th via Napalm Records. After 15 years of band history and five years after their last studio album The Boats Of Glen Carrig, it was about time to capture one of their impressive live shows on one record! Ahab have chosen a finest selection of live tracks, originally released on their pathbreaking, 2006 album, The Call of the Wretched Sea, all recorded live at Death Row Fest 2017 in Jena, Germany!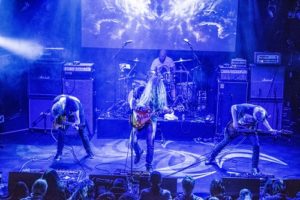 Ahab are: Daniel Droste – guitar, vocal / Christian Hector – guitar / Stephan Wandernoth – bass / Cornelius Althammer – drums
______________________________________________________________________________
Feuerschwanz: Das elfte Gebot
Over the course of the past 15 years, Feuerschwanz have not only become one of the hottest bands in Folk Rock, but also made a name for themselves as being the most entertaining in the genre. Having paved their way to the top by persistence, relentless touring as well as delivering top notch album after album, the sextet is now reaching for the stars with their newest effort, Das elfte Gebot (The eleventh commandment). Being known for tongue-in-cheek lyrics, catchy tunes and quite some hedonism, Feuerschwanz have even stepped up their already flawless game on album #9 with a heavier, more in-your-face approach. "The message of our lyrics comes from our hearts, is extremely important to us which is why they're put quite clearly without beating around the bush. A clear message needs an adequate sound", states singer Prinz "Hodi" Hodenherz. And a bold sound they deliver. Nods to legends like Iron Maiden, Testament or even modern bands like Ghost or Gloryhammer, mixed in with the very unique Feuerschwanz trademark sound, make Das elfte Gebot a direct and intense sonic experience. Still, the band hasn't lost their experimental touch which also comes to show on "Lords Of Powermet". The band's first song to also feature English lyrics is about a group of religious fanatics who worship the "holy horn" – an epic yet heavy ode to their own cheekiness.
Once again, Feuerschwanz worked with Subway To Sally's own Simon Michael Schmitt, who achieved a sound with Das elfte Gebot that sits right in between medieval rock and straight heavy metal – a message that's also conveyed by the more aggressive artwork. "The buddy-type dragon from previous albums now became a full blown war machine. The knight is based on a crusader, bearing the Feuerschwanz emblem instead of a cross though. Instead of spreading the only one "true" belief by the sword he breaks with religious and societal norms and sticks to his own ways – he lives by the eleventh commandment: If the world goes up in flames there's no time for vanity. Do what you love and let it kill you!" explains vocalist and guitarist Hauptmann Feuerschwanz.
Besides their own captivating and intense original songs, Feuerschwanz took a deep breath, chuckled and stepped outside their comfort zone by also recording a covers album, entitled Die sieben Todsünden (The seven deadly sins), choosing songs by both German and other internationally acclaimed artists that you wouldn't typically see the band interpret. Among them: Ed Sheeran's "I See Fire", Powerwolf's "Amen & Attack", Sabaton's "Gott mit uns" or Rammstein's "Engel".
"We sat and tried to find a common denominator for those "deadly sins". We all have different musical preferences and so there's quite some songs that are faves to some and sins to others. We won't tell which is which though…", grins the Hauptmann.
Showing how much the union among the band themselves actually means, Hodi tells: "With the sheer amount of songs including the covers we were facing a huge pile of work. That didn't leave any room for any knick-knack or egos. Das elfte Gebot is a team effort."
And a damn great one it is. Make sure to catch Feuerschwanz on their extensive tour in support of the album in early 2021.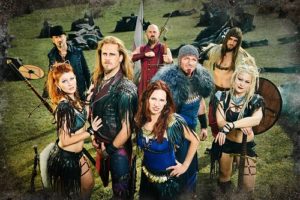 Feuerschwanz are: Hauptmann Feuerschwanz – vocals, guitars / Johanna von der Vögelweide – fiddle, hurdy gurdy / Sir Lanzeflott – drums / Jarne Hodinsson – bass / Prinz Hodenherz – pipes, guitars, vocals / Hans der Aufrechte – guitars