Nordic/dark folk/ambient band Wardruna release their new single-video 'Lyfjaberg today; a non-album track to fill up the gap until the release of the new studio album 'Kvitravn' in January 2021.
'Lyfjaberg' was mainly filmed in the mountains at Tustna in Norway. The band shot the video in early May of thsi year, when all of a sudden winter decided to return with full strength and they ended up wading in half a meter snow for three days and nights. On many levels, the process of making of this video reflected the meaning of the song itself. They all had to climb a few of their inner mountains to get it done. It's an amazing piece of art and also showcases the beauty of Norway's nature.
Frontman Einar Selvik comments: "When circumstances forced us to postpone the release of our upcoming album 'Kvitravn' until January 2021, it was clear to us that we still wanted to release new music. Music and art can potentially carry great meaning in times of uncertainty. We decided that now was not the time to stay silent and headed straight back into creative mode and the studio to write and record the song 'Lyfjaberg'."
The Old Norse word Lyfjaberg means Healing-hill or Healing-mountain and is known from Norse mythology and the Eddic poem Fjölsvinnsmál as a place of comfort and cure for the «sick and sore» who manage to climb the mountain and bear offerings at the shrines there – a gift demands a gift in return.
Einar: "The song expresses that climbing a tough mountain, both in reality and metaphorically, is a mental as well as a physical effort. I have tried to write this journey up the mountain as one for the mind and spirit as much as the feet and body. Anything of true value, comes at a true cost."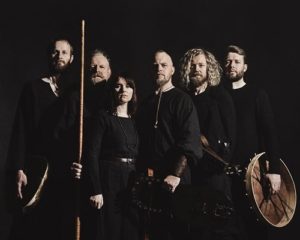 About Wardruna: The Norwegian music constellation Wardruna are renowned for their innovative and genre-creating renditions of older Nordic traditions. Composer Einar Selvik initiated the group in the early 2000s. Since the debut album in 2009, Wardruna have had vast worldwide success, transcending music genres, cultures and languages. The group has previously charted in both Germany and the UK and topped the North American Billboard World-music chart for several consecutive weeks.
The group's massive musical contributions to History Channel ́s TV series 'VIKINGS' has exposed their music to a broad audience worldwide. Wardruna merge the academic with the pop cultural and their thorough and serious approach has made them one of today's foremost communicators of Norse culture.
• Top international scholars on Old Norse studies today use Einar's work to exemplify how music might have been executed in earlier times in Scandinavia.
• Einar Selvik has lectured about his work with historical music in Universities such as Oxford, Denver, Reykjavik, and Bergen.
• Wardruna have over 60 placements of music in the History Channel`s hit TV series VIKINGS, in addition to substantial work on the actual music score of the show. Einar Selvik have starred and performed on the show on two occasions (in season 3 & 4).
• Together with Enslaved, Wardruna was in 2014 commissioned by the Norwegian government to write and perform a music-piece for the 200-year anniversary of the Norwegian constitution.
• First concert was held in front of the near 1500 year old «Gokstad» Viking ship in Oslo and Wardruna is the only band ever to be allowed to hold an amplified concert at the Viking ship museum.
• Performed sold out shows worldwide, including major festival headline appearances (Red Rock Amphitheatre, Castle Fest, Hellfest, Summer Breeze, Roadburn, Echoes & Merveilles, Rock oz Arenes, Rock the Coast and many more)
• Independently self-released 3 albums
• Billboard World Music No 1. in the US and Canada
Wardruna discography: Runaljod – gap var Ginnunga (2009) / Runaljod – Yggdrasil (2013) / Runaljod – Ragnarok (2016) / Skald (2018) / Kvitravn (2021)