*When did you really get involved into music in general and into metal specific? Who was responsable for your interest in (metal) music?
I founded the Band Cacumen at the age of twelve. I was inspired by the Woodstock Festival at that time guys like Jimi Hendrix and Alvin Lee from Ten years after. It was a callenge to play his solo in 'I´m Going Home' and I rehearsed month on it … but finally I got it. I got involved into metal when we supported Judas Priest in Europe at their "Ram It Down Tour". And from there on I was a big fan.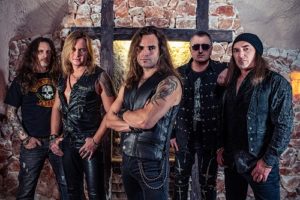 *Which artists or bands did influence you the most?
As I said Hendrix, Clapton and Michael Schenker in the early days. As Bands I like Lynyrd Skynyrd and The Scorpions.
*Which instrument do you play and how and when did you learn to play? Did you had lessons in school or private lessons? If so, was that because your parents expected that from you? Or did you learn to play the instruments by yourself? Do yo still follow some lessons?
I play the lead guitar and I learned guitar at eleven. First I had lessons but my teacher said after one year he cannot teach me nothing anymore so I played to my favourite records. Now I just practice on my own from time to time.
*Do you follow other or are you intrested in other styles of music beside metal? If so, what is the music you prefer to listen to?
No I don´t listen to other music anymore. I think it hurts my creativity.
*Is music a full time job for you now or do you have a job beside music? If so, what kind of job are you doing? If you would be really succesful with music, would you quit your other job?
Music is my full time job since thirty five years.
*If you could start a band with other musicians on other instruments, which artist would you pick for wich instrument and why? (Something Like an "All Stars Band".) Would you still go for a (melodic) heavy metal band? Or would you do something completely different?
No for me only Bonfire exists. I will do it til I die.
*If you had been banned to an uninhabited island and you may pick 5 albums to listen to, wich albums would you choose and why?
Jimi Hendrix – 'Electric Ladyland'
Lynyrd Synyrd – '2nd Helping'
The Beatles – 'Magical Mystery Tour'
The Rolling Stones – 'Get Yer Yah Yahs Out'
Bonfire – 'Fistful Of Fire', because I think it´s the best Bonfire Album ever.
*Every new album of a band or an artist is the best one, that's what they always say. So here is a chance to promote the album. Why should a music lover buy your album? What are the standout tracks for you on this new album and why?
I don´t have to promote it cause it´s amazing. And I´m very proud on it. The heaviest Bonfire album ever. I don´t wanna explain my music. People should listen to it and decide on there own if they like it or not.
– See "CD-Review" for a review (written in Dutch) for the new Bonfire album 'Fistful Of Fire' (AFM Records) –
*I suppose you will promote this album through live concerts. If so, would you prefer small clubs or big festivals? And is there a chance we can see THE SPIRIT in Belgium?
We had to postpone the tour from April to September 2020. I prefer both Festivals and clubs. Nevertheless it´s still not clear if we play the Festival in Summer cause of corona virus. Of course we would play the Spirit im Belgium when they ask us.
Keep the Bonfire burnin´!