*When did you really get involved into music in general and into metal specific? Who was responsable for your interest in (metal) music?
When I was a kid, my stepdad was always listening to music, more specifically heavy metal and progressive rock. This means I was indoctrinated with bands like Yes, Rush, Ozzy Osbourne, Dio etc. from a really early age. Apparently, I actually used to mime the words to «the last in line» by Dio at the age of 3 while using a broom handle as a pretend mic. So in other words I have been a metal head from around the time when I learned how to talk. My serious love for music started when I was around 10-12 years old and metal was always my favourite genre. I was a pretty wierd kid compared to the rest of the kids my age in my hometown haha, collecting cd`s from artists like Mike Oldfield and Vangelis while everyone else were doing normal kid stuff.
*Which artists or bands did influence you the most?
I suppose the bands I have listened to the most, that have also made me think to my self: «Man, I really want my music to sound like this» has to be a combination of Nevermore, Testament, Dimmu Borgir, Dream Theater, Symphony X, Pantera, Metallica…. The list goes on and on, but these are some of the bands that have meant a lot to me over the years and have probably shaped me as a musician in one way or another.
*Which instrument do you play and how and when did you learn to play? Dis you had lessons in school or private lessons? If so, was that because your parents expected that from you? Or did you learn to play the instruments by yourself? Do yo still follow some lessons?
I play guitar and sing. I don`t really consider my self much of a singer, so I`m just gonna answer the guitar part haha. I hurt my knee at the age of 14 and this ended my planned career as a pro football player and at the same time I had been thinking about maybe picking up the guitar some day in the future. A couple of days after my knee injury occured, I visited the local music store and John Petrucci`s «Rock Discipline» (Basically the Bible of how to play metal guitar). I was a huge fan of Petrucci and Dream Theater, so that was like a sign for me. I bought the VHS, went back home, started practicing and basically ended all social contact with other human beings for the next year haha. Besides that I took some lessons at the age of 17, but only for about 6 months. Besides picking up random tips and tricks on YouTube once in a while, everything before and after that is self taught.
*Do you follow other or are you intrested in other styles of music beside metal? If so, what is the music you prefer to listen to?
Sure, I basically listen to all kinds of music; blues, country, grunge, some trance, even some pop songs. The last five years the artist I have listened to the most is without a doubt Alanis Morisette. So in other words I am open to a lot of different genres as long as the music is good. I was never in to rapmusic though and definately never will be. The music I listen to the most in general will probably always be metal.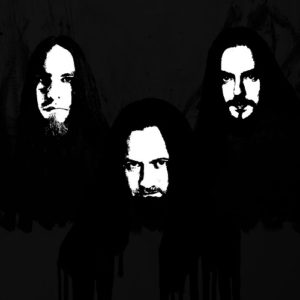 *Is music a full time job for you now or do you have a job beside music? If so, what kind of job are you doing? If you would be really succesful with music, would you quit your other job?
I was a full time musician some years ago and at that time I went through the process of quitting my day job, moving to another city and travelling a lot. It was a fun experience, but if I got the chance to do it again I might actually say no. It`s not all fun and games – there`s a lot of stress, a lot of being away from your family and now that I have kids of my own I`m not sure if I would be interested in being away from home for long runs at a time. I can`t really say for sure what I would do, but if the oppurtunity presents itself, I will have to consider the circumstances and where I am in my life at that time.
*If you could start a band with other musicians on other instruments, which artist would you pick for wich instrument and why? (Something Like an "All Stars Band".) Would you still go for a black / death metal band? Or would you do something completely different?
I would start a stoner metal band! -Not the slow stoner metal stuff, but more kind of «biker music» a combination of White Zombie and Black Label Society. In this case I would actually want to do the singing myself, Zack Wylde would play guitar, Rex Brown on bass and Mikkey Dee on drums!
*If you had been banned to an uninhabited island and you may pick 5 albums to listen to, wich albums would you choose and why?
'Images And Words' by Dream Theater, best album ever made.
'The Odyssey' by Symphony X, second best album ever made.
'And Justice For All' by Metallica, most METAL album ever made.
'Dead Heart In A Dead World' by Nevermore, best guitar metal album ever made.
'Under Rug Swept' by Alanis Morisette, most soothing album ever made.
*Every new album of a band or an artist is the best one, that's what they always say. So here is a chance to promote the album. Why should a music lover buy your album? What are the standout tracks for you on this new album and why?
Simply put, I think we have made a musical product that offers power, interesting music, variety, groove and heaviness. Metal listeners want to hear something that feels like a fist in the face, and that is exactly what we have put together on the 'Viperous' album. I don`t really have a personal favourite on this album, I think all the songs serve their individual purposes well and to really get the full Vredehammer experience, you should listen to the full album.
– See "CD-Review" for a review (written in Dutch) for the new Vredehammer album 'Viperous' (Indie Recordings) –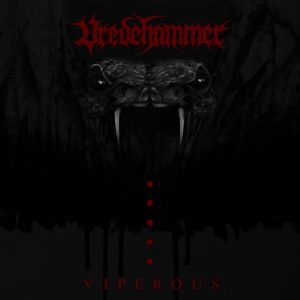 *I suppose you will promote this album through live concerts. If so, would you prefer small clubs or big festivals? And is there a chance we can see VREDEHAMMER in Belgium?
Big or small venues are equally good, sometimes it`s cool to do smaller gigs and other times big ones. In the end it all comes down to the audience and the feedback we get from them. We`ve been lucky enough to play to some really cool people so far and i have a feeling more and more people will start appearing at our shows!
We are working with a new booking agency at the moment and i would be surprised if we DON`T come to Belgium in a not too distant future.
Thanx for the interview.