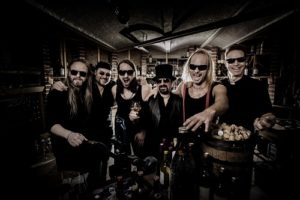 *When did you really get involved into music in general and into metal specific? Who was responsable for your interest in (metal) music?
Dalai Lama is responsible for our interest in metal. The rest of our interest in music is our sole responsibility.
*Which artists or bands did influence you the most?
Artist: Ian Fraser Kilmister or Shane MacGowan.
Bands: Black Sabbath, Pogues, Ramones, Miles Davis, Dubliners, Motörhead, GG Allin, Beethoven (the band who plays his music).
*Which instrument do you play and how and when did you learn to play? Did you had lessons in school or private lessons? If so, was that because your partners expected that from you? Or did you learn to play the instruments by yourself? Do yo still follow some lessons?
We play drum, guitar, banjo, tin whistle, accordion, bass, percussion. We also sing and scream. We all learned to play on our own with a little help from our friends.
*Do you follow other or are you interested in other styles of music beside metal? If so, what is the music you prefer to listen to?
We listen to all kinds of music from jazz and folk to metal and punk. Sometimes, when we drive an old car with an antique stereo, we listen to radio, but I don't know if that should count as music. We prefer Vinyl and CD, you should never trust what you can't see with your own eyes.
*Is music a full time job for you now or do you have a job beside music? If so, what kind of job are you doing? If you would be really successful with music, would you quit your other job?
We all have real jobs and when we get rich we will probably quit them and focus only on music, art and probably movies and writing. Pabs would probably go back to acting, maybe move back to Hawaii and do movies.
*If you could start a band with other musicians on other instruments, which artist would you pick for which instrument and why? Would you still go for a Celtic punk / folk rock band?
We would start a band much like FINNEGAN'S HELL, hard rock with celtic and folk influences, with members from FINNEGAN'S HELL and Kizz. We would play the same instruments as we usually do. It would be a very interesting project and we would probably get along well for at least an hour or so But I mean who would not take the chance to have a band with Kizz.
*If you had been banned to an uninhabited island and you may pick 5 albums to listen to, which albums would you choose and why?
The Beatles, 'Sgt. Pepper's Lonely Hearts Club Band' / The Beach Boys, 'Pet Sounds' / The Beatles, 'Revolver' / Bob Dylan, 'Highway 61 Revisited' / The Beatles, 'Rubber Soul'. Because it is the 5 best rock albums of all time according to Rolling Stone Magazine.
*Every new album of a band or an artist is the best one. So here is a chance to promote you album. Why should a music lover buy your album? What are the standout tracks for you on this new album and why?
It is our third, but in a way also our first album. We released two albums before "Drunk sick and blue" and "Life and Death", but this one is by far the best album so far, both the songs and the production is way better.
– See "CD Review" for a review (written in Dutch) for the new Finnegan's Hell album 'Work Is The Curse Of The Drinking Class' (Black Lodge). –
* Is there a chance that you will promote these songs through live concerts? If so, would you prefer small clubs or big festivals? And is there a chance we can see FINNEGAN'S HELL in Belgium?
We play both clubs and festivals and we prefer both as long as it is a good venue and the audience wants to party with us before, during and after the gig. I hope someone will book us in Belgium. We never played in Belgium yet.