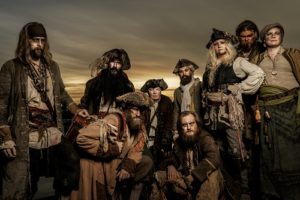 *When did you really get involved into music in general and into metal specific? Who was responsable for your interest in (metal) music?
-Magda: I had a very good teacher in kindergarten that used to play the guitar and sing with us. That really fascinated me and I started to sing with her by myself too, that's probably where I understood I could express myself through music.
-Jim: My seventh grade teacher lent me a brunch of metal albums on vinyl and cd. I was instantly hooked by the unbelievable energy and emotional strength, but I never really thought too much about playing music myself until I went to my first Metallica concert at the age of 16. At that very
moment, I knew I wanted to do what they did, even if never on the same scale. I must have been very clear on this, since I got an electric guitar that same christmas. I remember spending three to five hours a day with roaring power chords and yelling out of key. This kept going for years, until I pretty much knew how to play and sing every song by Metallica, from which I started realising I had acquired some interesting guitar skills that I could start experimenting with.
-Björn: When I grew up, both my elder siblings were playing instruments, and I loved listening to them play. They also performed in school musicals, and I was blown away by the catchy melodies, costumes and choreography. As for metal, my first real love affair was "Full Moon" by Sonata Arctica. A friend of mine used to give me a ride for gymnastics training, and he played Sonata Arctica in his car. The vivid melody lines mixed with drums, guitars and the high pitch vocals really got to me, and was the perfect music to get you psyched up and feel like a super-hero when practicing scary acrobatic runs, flips and somersaults. From there it grew into a habit of listening to heavy metal during practice and making my own compilation CDs with upbeat empowering songs. I still haven't really gotten into the heavier genres of metal, as I prefer the more melodic styles, but we have a lot of metalheads in our band who grew up listening to Black Metal, Death Metal and Thrash.
-Frida: My mother played the violin and brought me to folk music festivals early on in my life. She also used to play the guitar and play protest music from the 60's and 70's for me as lullabies before bedtime. So I think she is a big reason for me playing music today. My first boyfriend introduced me to metal as a genre. We used to jump up and down in his bed listening to it.
*Which artists or bands did influence you the most?
-Björn: Bruce Springsteen's Seeger Sessions has had a huge influence on me, together with traditional Irish bands such as the Wolfe Tones or The Clancy Brothers, but also musicals, especially Andrew Lloyd Webber's Phantom of the Opera. I would like to think that if you combine these three styles, you will end up pretty close to what YE BANISHED PRIVATEERS sound like.
-Jim: Metallica's James Hetfield always had a very special impact on me. I realised quite early how I related to a part of his personality where he could express himself much better through music than by traditional communication with other people. This probably inspired me more than his music by itself and he remained one of my main influences for a very long time. Over the past decade or so, I found new inspiration in Luke Kelly from the Dubliners. Never picked up much of his musical style, but I admired his strength and passion, and as my interest in the Irish folk genre grew, he
quickly became one of my main sources of inspiration. At the end, I guess I turned out to be somewhat of a mix between James Hetfield attitude and ability to express my real self best through singing and playing music and Luke's beautiful love and passion for telling meaningful stories of other things than his inner self.
*Which instrument do you play and how and when did you learn to play? Did you had lessons in school or private lessons? If so, was that because your parents expected that from you? Or did you learn to play the instruments by yourself? Do yo still follow some lessons?
-Magda: I'm a singer and a guitarist. On guitar I'm mostly self taught but I did go to school for my singing. I still take lessons from time to time to make sure my technique is good, since I put a lot of pressure onto my voice. I want it to last a lifetime.
-Björn: My parents forced me to learn the violin when I was a kid. When I was 14, they decided I was old enough to decide for myself. I immediately quit, which is something I still regret 25 years later. Luckily I rediscovered music a couple of years later. I started playing the piano just to compete with my friend who was also learning at the time. Then I branched out to guitar, and eventually accordion when we started the band. Now, I fall in love with a new intrument every year, but I don't take lessons, mostly because I have a very introvert approach to practicing music.
-Frida: I play the violin, viola and guitar. My mom introduced me to the violin as I was four years old and I started taking lessons. Later on I grew tired of the violin and started playing guitar and piano instead to be able to sing along and write my own songs to perform with. But then I got to go
to folk music camps and got inspired and started to really love playing violin again. I've been taking lessons in playing violin, guitar and in singing.
-Hampus: I went through a couple of semesters playing the piano and saxophone as a kid but never enjoyed it. My seven siblings were quite talented musicians playing in different bands and when we were supposed to jam together I got to play the drums since none of them did. Several years later
Björn got me to start a pirate band with him. I pretty much learned everything I know about percussion from the different percussionists I've played with in this band.
*Do you follow other or are you intrested in other styles of music beside metal? If so, what is teh music you prefer to listen to?
-Magda: I listen to a lot of indie pop and americana music, and everything with great lyrics.
-Björn: At the moment I am working my way through the full discography of Visions of Atlantis. I have a feeling it might come to use in the near future.
-Frida: I just love folk music and world music. The rythms and the emotions it brings to me. But I listen to all sorts of music really.
*Is music a full time job for you now or do you have a job beside music? If so, what kind of job are you doing? If you would be really succesful with music, would you quit your other job?
-Magda: I'm a full time musician but I do many things within that field that doesn't involve being on a stage. For example I run a choir for people with mental disabilities once a week and I also teach songwriting workshops.
-Björn: I am a teacher in history and English for students in year 7-9. If music could support me, and still allow me to spend enough time with my family, I'd hand in my letter of resignation today =)
-Frida: I'm also a journalist working at the Swedish radio, so also with sound in one way. I would definitely stop my other job to do music for a while. Though I think I would have to do some journalism on the side after a while to get stimulated and to feel I'm doing the world some good.
-Hampus: I'm trying to finish my PhD thesis and also work with teacher education at the university. I would probably do that even if other options were available. To be honest, living as a pro musician seems to fuck people up.
*If you could start a band with other musicians on other instruments, which artist would you pick for wich instrument and why? (Something like an "all stars band") Would you still go for a folk metal band?
-Björn: Every other band constellation I can think of would be a step down from this project. Personal chemistry is everything when you have to collaborate together as musicians, and we have been working on ours for eleven years now. We have grown as musicians and friends together, creating an environment where everyone feels safe and comfortable. To start over, even with the best musicians in the world would to me only raise insecurity and bring about questions of my own inabilities as a musician.
-Hampus: What Björn said. But also, I would do a solo career playing my own singer song writer material, perhaps with Magda on backup vocals and guitar.
*If you had been banned to an uninhabited island and you may pick 5 albums to listen to, wich albums would you choose and why?
-Björn: Michael Nyman's soundtrack to the movie the Piano. It's an outstanding piece of music that works well to express both joy and sorrow, and the theme song is what made me start playing my first instrument after I quit playing the violin.
*Every new album of a band or an artist is the best one. So here is a chance to promote you album. Why should a music lover buy your album? What are the standout tracks for you on this new album and why?
-Björn: Hostis Humani Generis is our fourth album (second on Napalm Records). From our first album to our last, I think we have a very unique sound, that I still haven't really come across in any other band. Sure, one can say that the melody or call and response lyrics of a particular song reminds you of an old classic, or you can catch influences from Tom Waits or Scandinavian and Irish folk music . But I truly believe that anyone who is familiar with our band, would be able to recognise our sound even if they were presented with a completely new song. We also work a lot with incorporating elements of storytelling, soundscapes and theatrics in our recordings, creating a whole story rather than just a track on an album. Regarding the different songs, there are 13 tracks on the album, not counting the two bonus tracks available in the boxed set. Every song has its different qualities and moods, and we do believe that there will be a lot of different favourites among our audience. For this reason, it was very hard for us to choose three songs for our pre album single releases. I think the largest hype will be around the songs "Rowing With one Hand" and "Master of My Fate", which are very direct and uptempo, but a lot of people will find slower, more emotional gems such as "Capstan Shanty", "Flintlock" "Death of Bellows" and "Why the Big Whales Sing" to be their personal favourites.
-Frida: This album is so much of everything. I think it's really original in the songs, melodies and lyrics, but also in the arrangement of the songs. The whole album tells a story of both history and today. I think everybody will find a song to love on this album. The tunes are really melodic, some are easy to sing along with, and all of them will move you in some way emotionally. I have so many favourite tunes on this album, but let's say Elephant's dance, Rowing with one hand, they are marching down on high street, Death of bellows and Why the big whales sing.
– New album, 'Hostis Humani Generis', out on Napalm Records. –
* Is there a chance that you will promote these songs through live concerts? If so, would you prefer small clubs or big festivals? And is there a chance we can see YE BANISHED PRIVATEERS in Belgium?
Yes, and yes! We love making albums, but truth be told, they are really just a means of documenting our history and reaching out to more people in hope that we will one day get to perform live for them. We are a live band, and as such has always been more comfortable creating a party on stage than hiding in a dark studio somewhere. Belgium has been on the top of our list for a long time, and we have been very close at securing gigs there in the past, but we are hoping 2020 will be the year when we really make it across the border.