Fates Warning signs worldwide deal with Metal Blade Records
Set to kick off USA tour with Queensryche next month
Metal Blade Records is proud to welcome Fates Warning to its worldwide roster! Fates Warning began in the early 1980's playing a traditional style of heavy metal. However, they quickly began to adopt a more technically proficient style and are considered by many to be the first true prog-metal band. While the band has subsequently moved in more melodic and ambient directions, they have remained a vibrant and well-respected cornerstone for the prog camp within the heavy metal strata.
Fates Warning's Ray Alder (vocals) comments: "All of us in Fates Warning are happy to announce that we are back with Metal Blade Records. Metal Blade has been there for us since the very beginning and we are proud to call them part of our family. The journey begins again and we cannot begin to say how excited we are to work together once more. A big thank you to our fans for sticking with us through all these years. We could not be here today without all of you. That is a fact. Thank you everyone. Here's to making some new memories!"
Fates Warning released their latest album, Live Over Europe, last year to critical acclaim. The first live release featuring the current line-up [Ray Alder (vocals), Jim Matheos (guitars), Joey Vera (bass and vocals), Bobby Jarzombek (drums), Mike Abdow (guitars and vocals)], Live Over Europe contains 23 songs and was recorded at various European locations (Aschaffenburg / Germany, Belgrade / Serbia, Thessaloniki and Athens / Greece, Rome and Milan / Italy, Budapest / Hungary as well as Ljubljana / Slovenia) during their January 2018 headlining tour for Theories Of Flight (2016). To preview and purchase Live Over Europe, please visit: fateswarning.lnk.to/LiveOverEurope
Next month, Fates Warning will head back out on the road with Queensryche, touring the USA in support of Live Over Europe.
After the conclusion of this trek, Fates Warning will begin work on their 13th studio album, set for a 2020 release via Metal Blade Records. Stay tuned for more Fates Warning news coming soon!
___________________________________________________________________________________
Polish Black Metal warship Blaze Of Perdition signs to Metal Blade Records!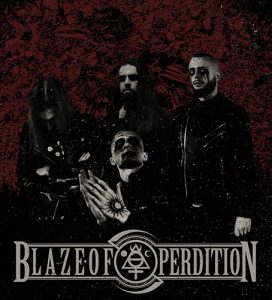 Metal Blade Records is proud to announce the signing of Blaze Of Perdition, one of the leading forces of the unstoppable polish Black Metal scene.
Comments Blaze Of Perdition: "We are thrilled and honored to become part of the label with such an undeniable input into the history of metal music. We're hoping for a long and fruitful cooperation, which will begin with our fifth full-length album that's already shaping up and will bear the name 'The Harrowing of Hearts'."
Blaze Of Perdition was founded in 2007 by guitarist XCIII and started its activity by releasing a split CD 'In the Void and Serpent, the Spirit is One' with the Russian band Pseudogod. The band's line-up changed numerous times over the years, however XCIII and Sonneillon remained the source of all musical and conceptual content. November 2nd 2013 turned out to be fatal as the band's bassist died in a car crash on tour and the vocalist Sonneillon became unable to participate in live activities due to his serious injuries, however remained important in the band's creative process and responsible for the studio vocal recordings, lyrics, graphic design as well as contact with the media.
Blaze Of Perdition recorded four full-length albums and is currently working on the fifth one, planned for release in 2019/2020.
Blaze Of Perdition studio line-up: S. – vocals / XCIII – guitars / M.R. – guitars / DQ – drums
Blaze Of Perdition live line-up: Wyrd – bass/vocals / XCIII – guitars/backing vocals / M.R. – guitars / DQ – drums