Velvet Viper signs with Massacre Records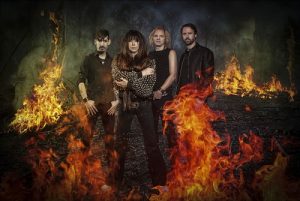 Massacre Records is happy to announce that the epic metal powerhouse Velvet Viper has signed with Massacre Records!
The band around Jutta Weinhold – who formed Zed Yago in 1985 – was originally formed in 1990 and reformed in 2016/2017.
Velvet Viper are currently working on new material and plan to release a new album later this year.
But wait, there's more! Velvet Viper are also confirmed for this year's Wacken Open Air as well as the Headbangers Open Air in Germany!
___________________________________________________________________________________
Lefutray signs with Massacre Records
The Chilean groove thrash metal band Lefutray has signed with Massacre Records, and plans to release its new album "Human Delusions" in April 2019!
The sound of the new album promises to be even more suffocating, heavy and dense than on previous releases.
Lefutray consists of vocalist Juan Vejar, guitarist Cristian Olivares, bassist Miguel Hernández as well as drummer Yonattan Muñoz.