Find the power within you!
Follow acclaimed vocalist Lena Scissorhands (Infected Rain) into a dark world of heavy metal intrigue and get initiated into the Death Dealer Union!
In 2019, metal musicians CC McKenna (drums) and Doug Weiand (lead guitars) set forth on a dark musical path – aligning diverse metal influences with otherworldly channelings of alchemy, the occult and all things esoteric. Little did they know, the final ingredient of their impending amalgamation was on the horizon, set to emerge as Death Dealer Union. After meeting acclaimed frontwoman Lena Scissorhands (also of modern metal frontrunners Infected Rain), a musical pact was instantly formed – propelling the band into the studio with producer Valentin Voluta (also recognized for his work with Infected Rain) to conjure their lauded debut collaborations "Borderlines" and "Beneath The Surface". The tracks went on to premiere in 2022 with top-notch music video visuals, garnering nearly 1 million views on YouTube alone to date.
Now, Death Dealer Union return with two new members – Hunter Havokk (rhythm and lead guitars) and Jonny Heinz (bass) – in tow, and are set to unleash their very first sacrificial offering to the masses. Their debut, Initiation, out September 22, 2023 via Napalm Records, brings forth the huge sound and exciting visuals fans experienced with the band's previous offerings, plus an entire new trove of musical and lyrical elements. While no track is the replicant of another, they all weave a common thread of compelling essence that will have listeners clamoring to heed the word of Death Dealer Union. Initiation kicks off with its instrumental title track, droning deeply into electronic flourishes and spine-tingling organs. The track flows into first album single "The Vow of Silence" – a fast-paced burner featuring aggressive verses and a catchy chorus that fully showcases the album's immense production, once again helmed by Valentin Voluta. "ILL FATED" juxtaposes 80s-influenced clean guitars and sinister metallic riffs as Lena Scissorhands displays her dynamic trademark vocal delivery and introspective wordplay, while later, "The Integument" – which features a sizzling music video accented by heavy metal dance troupe Cherry Bombs – turns the pace all the way up with traditional power metal flavor before transforming into a ghostly, hypnotizing soundscape. Tracks such as "Ekphrasis" and "Mythos" – the latter boasting one of the album's most heart-stopping guitar solos – are rife with chunky 90s heavy metal and even nu-metal-inspired riffage. "The Big Blue", "Back To Me", "The Downfall" and "Anew" dance with metal styles ranging from symphonic power to progressive, showcasing the band's diverse macrocosm of musical skill, before potent, heavy ballad "Love Me When I'm Ugly" provides heartfelt lyrics and melodies. Initiation ends with "Beyond Heaven", an opus of expansive harmonies and eerie embellishments, closing the album with its most theatrical cut.
Find your own power within Death Dealer Union – your Initiation is only the beginning!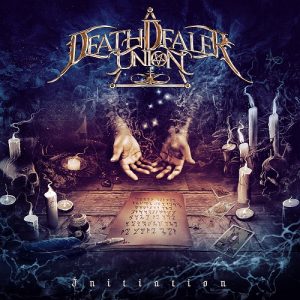 Initiation Tracklist: 1. Initiation 2. The Vow of Silence 3. Ill Fated 4. Ekphrasis 5. The Integument 6. Mythos 7. The Big Blue 8. Back To Me 9. The Downfall 10. Love Me When I'm Ugly 11. Anew 12. Beyond Heaven
Death Dealer Union is: Lena Scissorhands – Vocals : CC McKenna – Percussion : Doug Weiand – Lead Guitars : Hunter Havokk – Rhythm & Lead Guitars : Jonny Heinz – Bass