Los Angeles-based progressive death metal practitioners The Zenith Passage will unleash their towering Datalysium full-length on July 21st through Metal Blade Records, today unveiling the record's cover art, first single, and pre-orders.
While far too many progressive and technical death metal bands are happy to walk the same path and stick to a tried-and-true sound, on their second full-length The Zenith Passage forges new and exhilarating territory. From start to finish, Datalysium is driven by imagination and played by artists who have full command of their instruments, creating something that stands out of any pack while maintaining what made them such a riveting proposition in the first place.
Featuring overhauled lineup that sees original guitarist/keyboardist/backing vocalist Justin McKinney joined by guitarist Christopher Beattie (Dreamer), vocalist Derek Rydquist (ex-The Faceless, John Frum) and bassist Brandon Giffin (ex-The Faceless, Cynic), Datalysium finds the band further pushing disparate influences to the forefront of their sound.
The band elaborates, "There's always been things that were subtly done on previous releases, like jazz fusion passages, dissonant black metal, synth, and orchestral elements, as well as singing. What we haven't done before is put those influences and ideas more upfront in the songwriting and production. Singing has become a pretty prominent part of some of these songs, as well as synth orchestration and really eerie, dissonant, pissed off black metal influence. We're doing all of this while attempting to tell a harmonic and lyrical story that keeps the listener engaged and wondering what could happen next."
The result is the perfect marriage of technical head-fuckery, atmosphere, melody, and shifting dynamics, constantly demanding the listener's undivided attention. From opener "The Axiom Of Error" with its stop-start attack to the agitated, richly textured and unstoppable "Synaptic Depravation," or the dramatic, lush and epic closing title track, The Zenith Passage is relentlessly creative and insistently push their sound in interesting, engrossing directions.
In advance of the release of Datalysium, today the band unleashes first single, "Lexicontagion," noting of the track, "'Lexicontagion' is a representation of the entire musical spectrum from the band. It is a song that takes you on a crazy adventure, with fast speeds and unexpected turns, while maintaining a familiar motif throughout the piece. We wanted to highlight the dynamics of the band on a compositional level and production level. So there's a lot of depth to it, where the listener can discover a new element to the music upon each listen. Which is the case for the entire record, it's a wild ride."
Watch the video for "Lexicontagion" at https://www.youtube.com/watch?v=BnN8S3glTQ8&ab_channel=MetalBladeRecords
Datalysium was recorded between McKinney's home studio and Rydquist's apartment, with some vocals tracked at Flatline Audio with Dave Otero (Cattle Decapitation, Wake), who also mixed the album. McKinney handled the tracking, while they brought in Ryan Williams (The Black Dahlia Murder, John Frum) to produce some of the bass and vocals. Having been friends with Williams for years, it felt natural to have him be a part of the recording process, while Otero also contributed profoundly. A longtime friend of McKinney, this is the first time they have actually collaborated on a record. "Dave is the kind of dude that just gets it, when going for the sound or idea we have in mind, even bringing an idea to light that we never even thought to do and collaborating and expanding on these ideas further. We were expecting some really epic stuff from Dave, but the end result of that has proved to be way more than those expectations."
Datalysium will be released on standard LP, limited-edition LP, CD, and digital formats. For pre-orders, go to: metalblade.com/thezenithpassage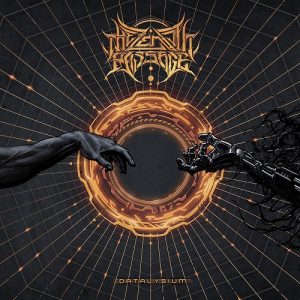 Datalysium Track Listing: 1. The Axiom Of Error 2. Algorithmic Salvation 3. Lexicontagion 4. Synaptic Depravation 5. Deletion Cult 6. Divinertia I 7. Divinertia II 8. Automated Twilight 9. Datalysium
The Zenith Passage: Justin McKinney – guitars / Chistopher Beattie – guitars / Brandon Giffin – bass / Derek Rydquist – vocals