Finnish progressive metallers Fireproven are set to release their farewell album "Epilogue" on May 27th.
In January 2022, Fireproven announced that after this album they will be disbanded, thanking their loyal fans releasing "Epilogue" which will remain their last effort, as a band.
"Hello everyone! We hope that 2022 has started well for you guys. Sadly, we have to announce that Fireproven will no longer continue. There are number of reasons that led us to this decision but we're all still good friends, and will continue to keep it that way. We're going to release our last album later this spring but all shows will be cancelled. We want to thank you all for your love and support during these years. None of this would have been possible without you guys listening to our tracks and showing us your love. Peace and love! Stay healthy!"
Epilogue -tracklist: 1. The Maze 2. The Addict 3. King 4. Haunted 5. Time to Heal 6. Dream Catcher 7. Grace 8. Waves of Extinction 9. Unity
The album coverart was created by Petri Lampela at www.petrilampela.com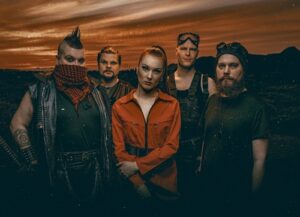 "Epilogue" Album line-up is: Sanna Solanterä – lead singer / Janne Väätämöinen – guitar and backing vocals / Juha Väätämöinen – bass and vocals / Ilari Hannula – keyboards / Nuutti Hannula – drums
Fireproven is a progressive metal band from Finland. The band is known for their long, imagery songs, as well as their energetic live shows. Their first album 'Future Diary' got great scores in multiple reviews, and International Music Video Contest rewarded their music video Shine for the best director of photography. The band's unique sound has already inspired people in Europe and overseas.
The band decided to take things to the next level by hiring a new lead vocalist Sanna Sola back in December 2019. Fireproven pride themselves on their technical abilities and musical versatility, breaking boundaries with their uniqueness.