*When did you really get involved into music in general and into metal specific? Who was responsable for your interest in (metal) music?
-Peter: At the age of 11 in 1981, I started playing drums. At that time, I listened to pop and rock music. In 1983, me and two neighbors started a band. It was our then guitarist Per Krogh Hansen who was responsible for making music within the metal genre we were going to play and later be-came METAL CROSS.
-Ole: I started playing in high school. The first track I ever played live was a copy of 'Shout at the Devil' (Mötley Crüe). I was a guitar player at that time. When I joined METAL CROSS it was as a bass player and I've only played bass since.
-Michael: I started to listen to music in gereral in the midt eighties, but my interest in metal began when I heard Metallica and Iron Maiden, also in the eighties. After that I was totally into metal.
-Esben: I´ve been playing music and singing, since I was a little kid. Playing in different bands on and off but never professionally and actually never heavy metal, all tough this was the biggest dream of all. In 2004 my former band broke up and I didn´t really play music again, until the chance to become a singer for METAL CROSS popped up by coincidence in 2019. I went directly into the studio, after one audition and two rehearsals to record our album 'Soul Ripper'.
-Jon: Started playing the clarinet at an age of 10 years – got my first guitar when I was 14 years old. Very early I kicked on distorted guitar – guess it was Kiss.
*Which artists or bands did influence you the most?
-Peter: Megadeth, Metallica, Iron Maiden, Extreme, Aerosmith, Black Sabbath and Dream Theatre.
-Ole: To me, there are only two kinds of music – the good and the bad. The bands and artist that have had biggest influence on me are bands like Dream Theater, Mr. Big, Van Halen, Thin Lizzy, Metallica, Extreme, U2, Miles Davis, Palle Mikkelborg, Pink Floyd, Anthrax, Joe Satriani, Steve Vai and bands like Whitesnake, Dio, Queensryche and Kiss from the 80s.
-Michael: Metallica, Dio, Megadeth, Dream Theater, King Diamond, Iron Maiden, Thin Lizzy, Helloween, Van Halen, Joe Satriani and more.
-Esben: Through the 90´s where the big interest for metal and grunge started, I listened a whole lot to Pantera, Machinehead, Soundgarden, Nirvana, Grope, Metallica, Sepultura, Anthrax and many many more.
-Jon: Black Sabbath – heard 'Heaven And Hell' in 1980 and quickly addicted to the early Ozzy stuff.
*Which instrument do you play and how and when did you learn to play? Did you had lessons in school or private lessons? If so, was that because your parents expected that from you? Or did you learn to play the instruments by yourself? Do yo still follow some lessons?
-Peter: At the age of 11 in 1981, I started playing drums. I went to private lessons where I learned the basic drum techniques in jazz and rock music. It was my own interest and not an expectation from my parents. We were so lucky to have a rehearsal room in the basement of my parents' house. The drumming within the metal genre, I've learned myself. I follow in between lessons from You Tube.
-Ole: My parrents have never been proud of my music career, so I have never been pressured to play. In addition to rehearsing after the two VHS tapes Billy Sheehan "On Bass" and "Bass Se-crets" everything is self-taught. I have played quite a few heavy copies which I have learned from tabs or just by listened to the tracks. Today, I keep practicing just by playing while I try to make new tracks.
-Michael: I started to play organ / keyboard when I was ca. 13 years old, but after I heard Eddie Van Halen play the guitar, I picked up the guitar when I was 14. I learned myself to play the first couple of years, but took approx. 6 months lessons in evening school. I also took some private lessons, were I learned some more complex soloing. I still search for lessons mainly on youtube, I still find it interesting to learn new stuff.
-Esben: The first instrument I started playing was actually an electric Organ. Farfisa as I recall. I took private lessons after school. Later on it was drum lessons in school, joined the school choir, started playing a bit of guitar at bording school and took song lessons at the local music school, as an young adult.
-Jon: I play the guitar, had done that since I was 14 years old. Have had a few private lessons over the years. The internet is great for new things to learn.
*Do you follow other or are you intrested in other styles of music beside metal? If so, what is the kind of music you prefer to listen to?
-Peter: I like to listen to many different kinds of styles. Rock, pop, blues, jazz, funk. I listen a lot to ToTo, Robben Ford, Simple Red, Andrè Rieu, Johann Strauss Orchestra, John Mayer, Protocol, Si-mon Phillips, and Sting.
-Ole: I listen to all kind of music with quality. However, I have a weakness for a distorted guitar played along with a heavy bass and some hard compressed trash drums.
-Michael: I listen to many styles of music besides metal, everything from rock to pop to prog rock.
-Esben: I really do listen to all types of music, but mainly hard rock and heavy metal. The genre doesn´t really matter to me, as long as the music and the whole idea of the track sort of speaks to me.
-Jon: I prefer metal, but can also like traditional folkmusic – like The Death South.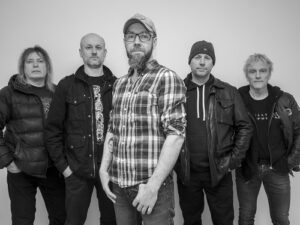 *Is music a full time job for you now or do you have a job beside music? If so, what kind of job are you doing? If you would be really succesful with music, would you quit your other job?
-Peter: I can't live off the income from the music, although I also play in two dance bands. I have a full-time job as an electrician. If I could live on playing music, I'd quit my job.
-Ole: I work as a technical manager for a Danich / Portuguese flooring company. I try to live day by day and act on my feelings. I love playing my own music and it will obviously be a dream to do this full time.
-Michael: I have a full time job as a project manager, if working as a full time musician was possible financially, I would give it a shot 🙂
-Esben: We all have good jobs in METAL CROSS and our music is driven by passion and lust to show you all what we are capable of, in the name of heavy metal. I´m in charge/chief of the technical department for the whole of Scandinavia in the company AL-KO Denmark.
-Jon: I have a full time job in the office of a big buildingsteel manifactor – it would be nice to live of your hobby………lets see :o)
*If you could start a complete new band (something like an all star band) with other musicians on other instruments, which artists would you pick for wich instrument and why? Would you still go for a traditional heavy metal band?
-Peter: I'm thinking it's going to be a funk band. The bassist was supposed to be Henrik Linder. The two guitarist was supposed to be Cory Wong and Steve Lukather. On keyboard Jordan Rudness and Bruno Mars on vocals. I would very much like to do this.
-Ole: My heart beats for metal, so I would definitely go for a metal band, maybe a little harder than METAL CROSS with progressive elements like Dream Theater, Symphony X, Evergrey and so on. The two guitar players in my band will be John Petrucci and Paul Gilbert. On drums Mike Portnoy, on vocals Lady Gaga and on keyboard (and producer) Olof Mörck.
-Michael: Drums: Mike Portnoy (Sons of Apollo, Former Dream Theater) Guitar: Kiko Loureio (Megadeth) Bass: Billy Sheehan (Mr. Big, Sons of Apollo) Vocals: Michael Kiske (Helloween)
-Esben: I would definitely go for a heavy metal band again. I love the drive and the Power, and to be honest with you, I wouldn´t choose any other guys then the guys from METAL CROSS to play with and then show MY idols, what we do, how we do it and why we do it, and then play a support gig for them.
-Jon: Singer: Dio, Bass: Geezer Butler, Drums: Joey Jordison, Guitar 1: Jake E. Lee, Guitar 2: Ola Englund playing traditional metal with a lot of trash.
*If you had been banned to an uninhabited island and you may pick 5 albums to listen to, wich albums would you choose and why?
-Peter: 1. Sting-'Ten Summoner's Tales' 2. Dream Theater-'Images And Words' 3. Megadeth-'Peace Sells… But Whoe's Bying' 4. Toto-'4' 5. Iron Maiden-'Powerslave'
I have chosen these 5 albums because they are a mix of slow, fast and sensitive and not sensitive tracks. You'll always be able to find a number that will fit to your mood.
-Ole: 1. Dream Theater-'Images And Words' 2. Mr. Big-'Lean into it' 3. Van Halen-'1' 4. Chris Minh Doky-'Minh' 5. Metallica-'Master Of Puppets'
I agree with Peter – favorite music is very much about mood. There have been made a lot of good music and have I answered another day, bands like Led Zeppelin, Toto, Pretty Maids, Rush ect. easily could have been on my list
-Michael: Dio-'Holy Diver', the perfect old school metal album! Dream Theater-'Images And Words', super melodic and progressive. Steve Vai-'Passion And Warfare', if you are in to instumental guitar, this is the album. Iron Maiden-'Powerslave', for the nostalgic. Van Halen-'Van Halen 1'.
-Esben: I would bring Pantera's 'Far Beyond Driven' and 'The Great Southern Trendkill', Anthrax's 'Sound Of White Noise', Machine Head's 'Bloodstone And Diamonds', and Hatesphere's 'The Sickness Within'.
-Jon: Black Sabbath-'Vol. 4' – the roots of metal, Black Sabbath-'Heaven & Hell' – the roots refined, Dio-'Holy Diver' – love that guy, Metallica-'Master Of Puppets' – whoooooo, Candlemass-'Nightfall' – that's HEAVY.
*Whatt happened with METAL CROSS in 1989? Why did the band quit? And how did it all start again after all these years?
-Peter: I think we drove tired of practicing three times a week with the hope that we would become stars. We fought with record labels and got stuck. We disagreed about the future and had some arguments in the rehearsal room. Then we chose to stop. 25 years after (2014): Our then lead singer Henrik Kjellerup was contacted by a Danish record label called Horror Records. The director of Horror Records was a fan of METAL CROSS and wanted to release a double album containing our old demos, live tracks and three tracks from old records. We agreed to meet again. We had dinner and had some beers and talked about the good time we had together in METAL CROSS in the eighties, and what we should do about the release of a double album. We agreed to let Horror Records release the double album. Then we went to the rehearsal room, to try to play some of the old METAL CROSS songs together again. It was fun and we decided to meet again later, to practice more seriously. later we started to play concerts around in Denmark and now we are happy to release our first studio-album.
-Ole: I don't have much more to add to what Peter already said. After the break guitar player Michael Hartmann went to guitar school in the US. When he went home, Peter, Michael and I formed the band Avalanche. We got a lot of attention to the band but it only lasted for a short time for me for personal reasons.
-Esben: Since I was only three years old at the time, I will leave that question to be answered by the other guys.
-Jon: We really felt we were a great band but alle the doors we knocked didn't open – it broke us down. 2009 Horror records contacted us for publishing our demo material and our last concert live – after some time it was finally ready and Metal Magic festival asked us to do a gig there in 2014, after that we couldn't stop.
*Every new album of a band or an artist is the best one, so they say. – We do know 'Soul Ripper' is teh first studio-album for Metal Cross. – So here is a chance to promote you album. Why should a music lover buy your album? What are the standout tracks for you on this new album and why?
-Peter: We have been working on this album 'Soul Ripper' for about two years. I think that we have written tracks that are both melodic and contain heavy metal, power metal and trash. We've hit a sound that's heavy and modern. The music is well played, pounding and cash. The texts are about things that you experince in everyday life. War, love, stress and dependency problems. My favorite number is 'Soul Ripper'. I think it's a track with bang on and song and music fit really well together. There are also some good tempo shifts in it.
-Ole: It's hard to be humble and at the same time encourage people to buy the album. I think I'll say it this way – "you should listen to the new METAL CROSS album if you're into Metal". METAL CROSS songs are a part of my youth – a kind of soundtrack. I've been a METAL CROSS fan since Michael Hartmann, my freind since I was four, joint the band and I love the songs. I was helping the band at a lot of their jobs towing instruments before I was offered to play bass when Flohr left the band. If I have to point out a special number, it will be 'Written in the Sand' because it was the first number where I was a part of the creation back in 1989. I therefore also have found it difficult to write new songs because of my passion for the old ones why I'm happy about that some af the guys see 'Soul Ripper' as a favorite.
-Esben: First of all, we already now get really great reviews of the album 'Soul Ripper'. With that said 'Soul Ripper' is a honest, pure and solid heavy metal album delivered directly from what we believe in in METAL CROSS without being dictated by anyone. We leave room to every idea that strikes our minds and allways gives it a shot. That leaves us with the album 'Soul Ripper', which we are so bloody proud of. Espscially the tracks 'My Time', 'Soul Ripper', 'The Drone' and 'Mento Mori'. Outstanding tracks in my opinion and I simply love it.
-Jon: Hmmm – it's true metal, fabricated with the heart and love for metal music, and we love to play it live. Have no direct favorite – would't you those amoung your children :o)
– See "CD-Review" for a review (written in Dutch) for the new METAL CROSS album 'Soul Ripper' (From The Vaults) –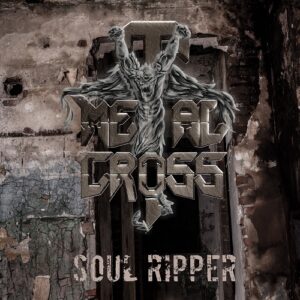 *Is there a chance that you will promote these songs through live concerts? If so, would you prefer small clubs or big festivals? And is there a chance we can see METAL CROSS in Belgium?
-Peter: Yes, there are definitely chances that we will perform these songs at live concerts. Currently we perform in clubs and smaller festivals in Denmark. We prefer small clubs as well as big festivals. And yes, we would love to perform in Belgium.
-Ole: Hell yes, I you guys give METAL CROSS a change to play in Belgium I'll be there.
-Esben: We wanna do it all. The stage is where we and our music belongs. Right in front of our fans. So hell yeah…. We wanna to small intimate clubs, festivals and bigger venues around Europe including Belgium. No doubt about it…… Bring it on…
-Jon: We will be delighted to visit Belgium – small clubs or big festivals, it doesn't matter.