*When did you really get involved in music in general and metal-specific? Who was responsible for your interest in (metal) music?
I got into both playing music/metal around the same time roughly around age twelfe. It was definitely a combination of a few things I saw and heard from some people in school, movies I had seen, some songs my older brother showed me, can't really say it was one specific thing. All I knew was that I fell in love with everything to do with metal and all its varieties, and I especially wanted to make music and play it as much as I could. Guitar / shred has always been my primary interest but I always wanted to make actual music/songs and not just be confined to one thing, so being a composer/multi-instrumentalist has been a big part of my life as well.
*Which artists or bands did influence you the most?
Too many to count like most people would say, but truthfully in the context of Primalfrost, one of the biggest influences for me since the beginning has been the music of Bathory and the man behind it, Quorthon. People often overlook Bathory for being "Black Metal" but a lot of the bands catalog covered far more and was one of the pioneers of folk / viking metal and directly influenced a lot of bands in that style. Plus, the fact that Quorthon was the sole member/multi-instrumentalist for the band very much so influenced me to do the same, though I have always played in / been a member of bands outside of PRIMALFROST.
*Which instrument do you play and how and when did you learn to play? Did you have lessons in school or private lessons? If so, was that because your parents expected that from you? Or did you learn to play the instruments by yourself? Do you still follow some lessons?
I've always been a guitarist first and foremost, which I started playing at age twelve. I picked it up solely on my own as there was a guitar sitting around my house that hadn't been touched in decades, and from there it was a long journey of learning from the internet and tab books. I grasped a lot of music theory from my own learning as well as playing violin in my school orchestra. Aside from doing a short summer program at Berklee College of music that I received on scholarship at age 15, I've truthfully had no formal training. Plus I've never had friends / family / classmates with any sort of passion for guitar / metal music, so it's been an incredibly lonely road for me, and still is to this day.
*Do you follow others or are you interested in other styles of music besides metal? If so, what is the kind of music you prefer to listen to?
Most of my taste is metal music (and a wide plethora of its subgenres to be fair) but I do certainly love other genres like progressive house, dream / space pop, anything with meaningful / powerful soundscapes. Funk / blues are things I grew up on, so even that is still a part of my taste to this day. Some of my favourite non-metal artists include Jamiroquai, London Grammar, Lana Del Ray, Dirty Loops, etc.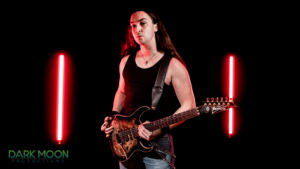 *Is music a full-time job for you now or do you have a job besides music? If so, what kind of job are you doing? If you would be really successful with music, would you quit your other job?
Pre-covid I waited tables when not on tour (which worked out well for the most part) I've since gone back to school for Data Analytics (basically computer programming) so I can work remotely going forward with the current state of the world. Belphegor would be a full-time touring gig for me if this pandemic wasn't still wreaking havoc on the world, so who knows. I've also been an avid stock investor since age eightteen, so having that has saved me big time during crappy and uncertain periods like now.
*If you could start a completely new band (something like an all-star band) with other musicians on other instruments, which artists would you pick for which instrument and why? Would you still go for a melodic death metal band with influences from power metal, black metal, and Viking metal?
I could never answer that question accurately, to be honest. My taste in metal outside of PRIMALFROST's influences is such an even concentration of so many subgenres, it would just be a giant mess.
*If you had been banned to an uninhabited island and you may pick 5 albums to listen to, which albums would you choose and why?
That's a tough one, but right now I'd say: Stormlord – Mare Nostrum, Shade Empire – Omega Arcane, Dissection – Reinkaos, London Grammar – Truth is a Beautiful Thing, and Humanity's Last Breath – Self Titled.
*You started PRIMALFROST in 2012 and did release quite fast an ep ('Chapters Of Time' (2012)) and a first full-album ('Prosperous Visions' (2014)). Why did it take so long to get a follow-up ready?
There were a lot of factors that got in the way to delay this album from happening. Touring, work, money, mental health issues, crippling doubt, etc. bottom line is the album is here and it's out and I'm incredibly proud of it. It definitely won't be another seven years till the next one is out.
*Every new album of a band or an artist is the best one, so they say. So here is a chance to promote your album. Why should a music lover buy your album? What are the standout tracks for you on this new album and why?
The sound of PRIMALFROST combines the lush melodies and atmosphere that are easily palatable to most people, with the grit / power / intensity of extreme metal music. The band has a sound that is matured, refined, and honed to at the very least be understood and appreciated by most people and certainly be a favourite for fans of symphonic metal and melodic death metal. The track 'Stormbearer' greatly exemplifies these characteristics into a short song that showcases what the entire album brings to the table.
– See "CD Review" for a review of the PRIMALFROST album 'Lost Elegies' (Independent Release) –
*Is there a chance that you will promote these songs through live concerts? If so, would you prefer small clubs or big festivals? And is there a chance we can see PRIMALFROST in Belgium?
I just played in Belgium with Belphegor last month funny enough. Both clubs / festivals have the potential to be some of the best as well as the worst gigs so it really depends. PRIMALFROST will remain a studio / one man project but depending on the response of this album throughout the new year, it may in fact be brought into the live setting.
Live foto (Luc Ghyselen) tijdens concert van Behemoth op Mass Deathtruction Fest (20/11/2021)