***Walpurgisnacht is een van oorsprong Europees voorchristelijk feest, dat wordt gevierd in de nacht van 30 april op 1 mei. Het is genoemd naar de heilige Walburga, wier translatie op 1 mei werd herdacht. Walpurgisnacht heeft betekenis voor heidenen en wicca's. Het volksgeloof wilde dat in deze nacht de boze geesten vrij spel hadden. Vieringen rond Walpurgisnacht komen voor in Duitsland, Tsjechië, Estland, Zweden, Finland en Nederland. Walpurgisnacht is vooral door Goethes Faust II (1832) sterk gemythologiseerd. Vanwege deze uiteenlopende tradities heeft het feest ook diverse betekenissen en functies. De oorsprong gaat in ieder geval terug op feesten die zich richten op vruchtbaarheid en op de dunne scheidingslijn tussen leven en dood. (bron: wikipedia)***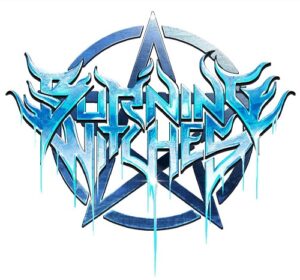 Burning Witches release music video for new single "The Witch Of The North".
Today, heavy metal coven Burning Witches are proud to release not only the title track of their upcoming new studio album, "The Witch Of The North," but also their first ever high-quality music video to go along with it. And they couldn't have chosen a better date for the release of this new single: it coincides with Walpurgis Night, the traditional night of the witches, deeply rooted in Central and Northern European folklore.
While the song "The Witch Of The North" showcases Burning Witches at their heaviest and features their most anthemic chorus to date, its music video brings the stunning album over artwork by Claudio Bergamín to life. Witness the forest witch conjure a demon warrior out of the flames and lead it into battle. Sorcery, swordplay, fire & blood – it doesn't get more METAL than this!
Happy Walpurgis Night!
"The Witch Of The North" (Official Video): https://youtu.be/-ij-ECgDdBg
Burning Witches comment on the video: "It was a big dream of us, to finally produce a video clip with an acclaimed company like Grupa 13 and a bit of a bigger budget. The title track of the new album was the perfect song to transpose visually, it is not a typical single, it is more of an epic grower. This way we have visually reflected the song for eternity! We hope you will love it as much as we do!"
Preorder the album here: http://nblast.de/BW-WitchOfTheNorth (several limited formats – be quick!)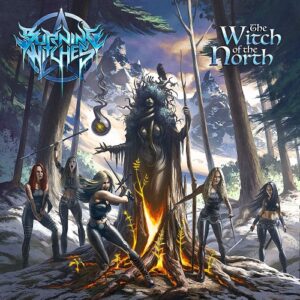 Tracklist 'The Witch Of The North' (Release Date: May 28, 2021): 01. Winter's Wrath 02. The Witch Of The North 03. Tainted Ritual 04. We Stand As One 05. Flight Of The Valkyries 06. The Circle Of Five 07. Lady Of The Woods 08. Thrall 09. Omen 10. Nine Worlds 11. For Eternity 12. Dragon's Dream 13. Eternal Frost 14. Hall Of The Mountain King (Bonus)
Few bands in recent memory have established themselves as quickly as Burning Witches, and few are able to write such timeless, grand tunes with somnambulistic ease; carrying Judas Priest in their hearts without becoming overly nostalgic, whilst rapidly developing their own unique voice. "We're not really into bigger experiments," confesses guitarist and main songwriter Romana. "We're all burning for classic metal like Maiden, Priest and Slayer. For me nothing's better than this kind of music, so Burning Witches will always stay true to themselves."
Now, the Witches opened a particularly gripping page in their grimoire: an album forged in the fires of a pandemic, created with patience, finesse and pitch-black lifeblood during a time in which even the Swiss/Dutch coven had to retreat into the isolation and quietness of the dark woods. Right there they hatched new spells and new ways of weaving their potent magic into the world. For Freya, for the druidesses, for the witches as past, present and future.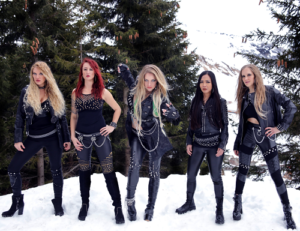 Several recording sessions with Swiss metal legend V.O. Pulver and their producer, thrash titan Schmier (Destruction), at the end of 2020, enabled this foremost incarnation of the band to take their explosive heavy metal to new heights. With "Circle Of Five," "We Stand As One" or the title track there's an ample amount of rousing, blistering hymns; but for Burning Witches – and you can call that old fashioned if you like – it's the album that counts, from its intro up to the concluding cover song.
Speaking of cover songs: after "Holy Diver" and "Battle Hymn" this time sees "Hall Of The Mountain King" by the mighty Savatage – including guest solos by Chris Caffery – what a choice, what a rendition!
"The Witch Of The North" sounds unleashed and completely rounded. We're looking at five pure musicians that have sought and finally found each other.
This coven can't be stopped by prejudice, nor by stakes, nor diatribes. The era of the Witches has begun. And anyone who won't join this black magic circle will bitterly regret it for all eternity.
______________________________________________________________________________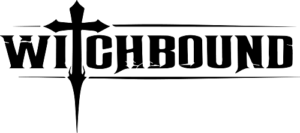 Witchbound release "End Of Paradise".
It's Walpurgis Night – time to let the witches dance.
So Witchbound could hardly choose a better date for their second album "End Of Paradise".
The new long player comes up with 15 varied songs. While the first album was a bit overshadowed by the common STORMWITCH past, Witchbound have proven that they can shed the past and are absolutely able to create their own sound!
The band from Heidenheim, which has meanwhile grown into a sextet, combines classic melodic metal with modern elements and benefits from the vocal variability with two lead vocals. Achim Koehler was responsible for the mix.
The album is available from El Puerto Records as a limited edition (111 worldwide!) And / or as a CD in stores: https://shop.el-puerto-records.com/en/bands/witchbound/ or digital: https://backl.ink/144924184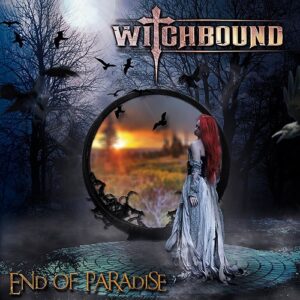 Tracklist Witchbound – "End Of Paradise": 1. Prelude 2. Battle of Kadesh 3. Interstellar Odyssey 4. End of Paradise (https://www.youtube.com/watch?v=LBdvnetS2LI) 5. Carved in Stone 6. Flags of Freedom 7. Torquemada 8. Nevermore 9. Last Divide 10. Sea of Sorrow 11. Foreign Shores 12. Dance of the Dead 13. These Tears 14. As long as we can rock 15. Our Hope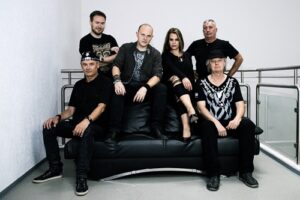 Witchbound are: Stefan Kauffmann – Guitars / Peter Langer – Drums / Natalie Pereira dos Santos – Vocals / Tobias Schwenk – Vocals / Julian Steiner – Guitars / Frank Bittermann – Bass