*When did you really get involved into music in general and into metal specific? Who was responsable for your interest in (metal) music?
I was about 16 and took the usual route into heavy music via Metallica. Had a few mates in bands in high school and was always interested but thought I'd taken up an interest in music too late to start. My cousin just started playing recently and over his place one day he showed me how a Boss Overdrive pedal worked. As soon as I heard that sound I was hooked and needed to know more – very pivotal moment for me! Quickly developed heavier tastes through Fear Factory, Pantera – then Megadeth, Testament and the heaviness has progressed since then!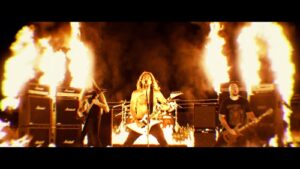 *Which artists or bands did influence you the most?
Testament more than any other band – learned everything I know about vocals singing along to 'The Gathering' in particular – love Chuck Billy's vocals on that one in particular. Gotten huge influence from Eric Peterson's guitar work too actually. Learned to love melody via Melbourne's Vanishing Point early on, and have been influenced by Slayer, Sodom & early Sepultura greatly also. Later influences include Vital Remains, Morbid Angel, Angelcorpse, Pestilence, Deicide, Vader, Bloodbath etc. too
*Which instrument do you play and how and when did you learn to play? Did you had lessons in school or private lessons? If so, was that because your parents expected that from you? Or did you learn to play the instruments by yourself? Do yo still follow some lessons?
I play guitar (some lead but 90% rhythm) and do vocals. I began when I was sixteen as stated above and was mostly self taught (I did have a good friend Steven Stergiadis give me some lessons when I was beginning which was a great help getting started). No there was never any influence from my parents regarding music and I am for the most part self taught. I've been lucky to just learn small things from many great players around me and have just read and researched about any techniques that I wanted to incorporate into my playing.
*Do you follow other or are you intrested in other styles of music beside metal? If so, what is the music you prefer to listen to?
I do like a lot of different music – I love bands like Creedence, Pink Floyd, Zeppelin, ACDC, Clutch, James Brown, Jimi Hendrix, Rose Tattoo, Dropkick Murphys – I also really enjoy soundtracks (Hans Zimmer, Howard Shore) and some classical too. Love some old school rock & roll too, like Little Richard etc.
*Is music a full time job for you now or do you have a job beside music? If so, what kind of job are you doing? If you would be really succesful with music, would you quit your other job?
I am currently a primary school art teacher, which I love. I really enjoy working with kids especially in the field of art – which is another great passion of mine (I painted the cover of the latest album and designed all the associated merchandise). I think if I had the option I would pursue music full time, but not at the expense of my family – it must be very difficult to juggle family and touring and for me, as much as music is a lifelong passion for me, my wife and son are my greatest priority.
*If you could start a band with other musicians on other instruments, which artist would you pick for wich instrument and why? (Something Like an "All Stars Band".) Would you still go for a thrash metal band? Or would you do something completely different?
I am lucky as I feel like I am making exactly the type of music I want to hear with dream musicians and great guys. A nice blend of thrash & death metal is exactly what I love to write and play. As far as artist's I would love to work with – probably have to choose Dave Lombardo, Steve DiGiorgio, Chuck Billy & Dave Suzuki
*If you had been banned to an uninhabited island and you may pick 5 albums to listen to, wich albums would you choose and why?
Wow tough question – I'm gonna choose five that get spinned on and off all the time in my car.
-Slayer – 'Reign In Blood', unmatched energy & violence and so many original ideas in one album. Untouchable.
-AC/DC – 'Powerage', my favourite of theirs and always puts me in a good mood – especially 'Gone Shootin''.
-Vital Remains – 'Icons Of Evil', The most extreme album I own – just incredible riffs, drumming, leads and relentless – just pure fucking evil.
-Deicide – 'Deicide', Absolute darkness – those layered vocals shrill & deep are blood curdling and incredible – great riffs here too.
-Morbid Angel – first 4 albums – I know that's cheating, but each has so many layers of complexity and is interesting and inspired.
*Every new album (or ep) of a band or an artist is the best one, that's what they always say. So here is a chance to promote the album. Why should a music lover buy your album? What are the standout tracks for you on this new album and why?
I think this captures the essence of us as a band more than ever before. It has iconic & recognisable riffs – that make up unforgettable songs. There is an incredibly dark atmosphere through melody & sampling & the performances from each member is amazing – especially the drums, we've received heaps of comments about them and they are remarkable. The way this thing comes together really is impressive and is something I am very proud of – from the packaging, to the lyrics to every second of every song – this is a release that we all stand behind 100%.
– See "CD-Review" for a review (written in Dutch) for the new In Malices Wake album 'The Blindness Of Faith' (Independent release) –
*We suppose you will promote this album through live concerts (when of course everyting is getting back to "normal" after the Covid 19 disaster). If so, would you prefer small clubs or big festivals? And is there a chance we can see In Malices Wake in Belgium?
I would love a mix of both – we've played a tonne of small pubs and clubs and love the intimacy of it – but some huge festivalls would really be a dream come true. Ever since seeing Wacken in 2010 I have vowed to play there and in wider Europe and when we make that happen, Belgium is on that list! I visited there in 2010 too and it was beautiful – I would love to return with the band.
Thank you very much for the interview!