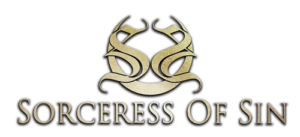 *When did you really get involved into music in general and into metal specific? Who was responsible for your interest in (metal) music?
Each band member of 'Sorceress of Sin' has been deeply involved in music from a very young age, and, many years on, are now, not so young! Paul and Topher are very heavily into metal music and have only ever really followed that style seemingly since birth! Constantine began his interest in music with a more classical influence, however, his passion for composing was quickly influenced by a more metal understanding and feel. Lisa has always appreciated and enjoys all genres of music but had a burning belief that she would be best suited to writing metal music and meeting Paul allowed that reality to be manifested following numerous years of attempts to get in to the metal field. Tom is an outstanding font of knowledge on all things music and as an exemplary music producer has a keen interest and understanding of all music genres.
*Which artists or bands influenced you the most?
Lisa doesn't really feel influenced by specific bands or singers as prefers to concentrate more on her own music and vocal ideas. Paul is a melodic metal music guru and owns literally thousands of albums so he often plays obscure material that sometimes has an influence on a specific track of ours. Constantine has been trained over the years by some of his guitarist icons and his understanding and feel for his unique style of melodic metal composition has been influenced by their input. Topher is a creative soul and is influenced by slightly different genres of metal to the rest of the band but this adds an element of spice to our overall product as do the prog based additions of keyboard and orchestral elements from Tom. As a band I think we would all agree we are influenced mainly by Helloween, Iron Maiden, Arch Enemy, Doro and Nightwish to name just a few.
*Which instrument do you play and how and when did you learn to play? Did you had lessons in school or private lessons? If so, was that because your parents expected that from you? Or did you learn to play the instruments by yourself? Do you still follow some lessons?
Lisa Skinner: Lyricist & Vocalist – Constantine Kanakis: Guitar – Topher O'Meagher: Bass Guitar – Paul Skinner: Drums – Tom Maclean: Guest Bass, Keyboards & Orchestral Arrangement
All the musicians in 'Sorceress of Sin' are self-taught with a deep personal desire and dedication that has got them to the standard they are today. They are all practically obsessive and their instruments are a gravely integral part of all their lives. We have all had differing forms of assistance along the way and the internet and online workshops of information have allowed for 24 hour improvement!
*Do you follow other or are you interested in other styles of music beside metal? If so, what is the music you prefer to listen to?
Most of our band also have a classical and prog musical interest and we also enjoy an interest in rock music but none of the 'Sorceress of Sin' band members prefer any genre more than that of melodic power metal.
*Is music a full-time job for you now or do you have a job beside music? If so, what kind of job are you doing? If you would be really successful with music, would you quit your other job?
Certainly, as a band, we would genuinely love to spend our time concentrating solely on our music and the creation of it and would, therefore, all likely quit any other work should the music ever become sustainable. However, as it stands, this is a band filled with workaholics! Lisa practically has 3 full time jobs alone! Constantine currently works night shifts as this is more conducive to his creative writing patterns. Paul manages a Post Office so that he is able to be as flexible as possible around practice and rehearsals, Topher works tirelessly in the field of music as a photographer and videographer at music events and Tom is on call with his studio 24 hours!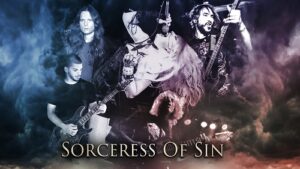 *If you could start a band with other musicians on other instruments, which artist would you pick for which instrument and why? (Something Like an "All Stars Band".) Would you still go for a melodic power metal metal band? Or would you do something completely different?
We would definitely choose to remain with melodic power metal as we all appreciate the dynamic feel of the music genre alongside the powerful melodies within the vocals and would likely choose, on drums, Jorg Michael for his powerful and direct style or Jukka Nevalainen for his authoritave and perfect spacious playing. Steve Harris on the bass would fit our characters and personalities in our 'superband' as we all have strong personalities and feel that is an important quality to get the passion for the music across. Jeff Loomis for his speedy riffs and Gus G for his melodic phrasing on the guitars (or Malmsteen for his neo-classical influences if we were allowed three)! And Jens Johansson on the keyboard just because he is a keyboard metal hero! Finally Michael Kiske and Floor Jansen mixed together on the vocals as we love the power of an operatic melody mixed with the screaming passion of a vocalist such as Kiske.
*If you had been banned to an uninhabited island and you may pick 5 albums to listen to, which albums would you choose and why?
1. Helloween: Keeper of the Seven Keys, Part 2 / 2. Stratovarious: Visions / 3. Malmsteen: Odyssey / 4. Arch Enemy: Will to Power / 5. Firewind: Alliegance. … Because they are simply genius! If we could sneak Darkmoor: Tarot in somewhere we would take that one too for the optimistic cutting melodies!
*Every new album (or ep) of a band or an artist is the best one (we do know it's the first album), that's what they always say. So here is a chance to promote the album. Why should a music lover buy your album? What are the 'standout' tracks for you on this new album and why?
Our debut album is a direct hit of powerful and passionate melodic twists and turns. We are genuinely proud of each of the 10 tracks as they are all so unique and overflowing with passion in their own right. We all agreed that 'Vixen of Virtue' should be the first single released and so this is probably our agreed 'standout' track. However, we all loved recording 'Empyre Of Stones' too for its anger and drive. 'Mirrored Revenge' is the album title track and this too is a powerful melodic metal number, however, tracks such as 'Cold Carnality' have a knockout guitar solo and others who have already heard the album have differing views on which tracks 'standout' so we are hopeful there will be something that appeals to everyone.
– See "CD-Review" for a review (written in Dutch) for the new Sorceress Of Sin album 'Mirrored Revenge' (Independent release) –
*We suppose you will promote this album through live concerts (when of course everyting is getting back to "normal" after the Covid 19 disaster). If so, would you prefer small clubs or big festivals? And is there a chance we can see Sorceress Of Sin in Belgium?
As a band we really don't have a preference as to where we play, we just love to play, especially at the moment! The small, local clubs are just as enjoyable as big festivals! We would certainly love to get out to Belgium and play for you guys!