Athens-based doom slingers Acid Mammoth team up with Cvlt Nation to premiere the very first excerpt off their upcoming third album 'Caravan', coming this March 5th on Heavy Psych Sounds. The band will also reissue its first two albums 'Acid Mammoth' and 'Under Acid Hoof' on the label.
Once again, the father and son duo on guitar treats the listener to a horde of fuzzed-out, Iommi-worshipping riffs, while a behemoth bass relentlessly crushes everything under its acid hooves. Drums are thundering, unearthly beats of harrowing doom, and Chris Babablis Jr.'s vocals will mesmerize you with his woeful chants. Heavier and more multi-faceted than its predecessor, "Caravan" is meant to tear you down until the final breath. Prepare to be doomed!
🔊Make your speakers rumble with new song "Berserker" at https://www.youtube.com/watch?v=Zi59QiNYXlQ&feature=youtu.be&ab_channel=HEAVYPSYCHSOUNDSRECORDS 🔊
"Caravan" is the sequel to Acid Mammoth's 2020 "Under Acid Hoof" album, as well as their fourth release on Heavy Psych Sounds Records. It was written and recorded during lockdown, and stands as a heavy, sublime and pitch black journey into the vast unknown. Like their previous works, "Caravan" was recorded, mixed and mastered by Dionysis Dimitrakos at Descent Studio in Athens, while drums were recorded at Ignite Studio, with an artwork by Branca Studio. "It is a witchy album for witchy ears, a heavy opus that has emerged straight from the deepest abyss." says the band.
New album "Caravan" is out on March 5th and available now via Heavy Psych Sounds: Deluxe Edition 3-color striped red/transparent/black vinyl + CD + t-shirt + shopper + patch + poster / Special bundle w/ all releases on vinyl and CD + t-shirt + totebag + patch + poster / Ultra LTD transparent red splatter black vinyl / LTD blue solid vinyl / Black vinyl / CD and digital
Heavy Psych Sounds will also reissue Acid Mammoth's self-titled debut album for the first time on vinyl and digipak, as well as their sophomore album "Under Acid Hoof" with two new bonus tracks. Available from March 12th.
Acid Mammoth New album 'Caravan' Out March 5th on Heavy Psych Sounds.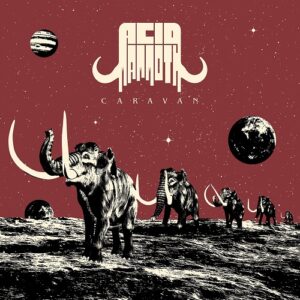 Tracklist: 1. Berserker (5:01) 2. Psychedelic Wasteland (8:53) 3. Ivory Towers (6:18) 4. Caravan (11:07) 5. Black Dust (8:57)
Acid Mammoth is a doom metal band from Athens, Greece. The band was formed in 2015 by Chris Babalis Jr. (Vocals & Guitars) and Dimosthenis Varikos (Bass). Acid Mammoth is more than just a band of friends: they are a family. In late 2016, the band recorded its self-titled debut full-length, which was released digitally in the fall of 2017. The album was well-received, and it wasn't long before the band got in the studio again to record its second full-length "Under Acid Hoof", this time darker, heavier and fuzzier.
In September 2019, the band signed to Heavy Psych Sounds Records, which welcomed the Greek doomers to their roster after the first listening of the new album. Their second effort "Under Acid Hoof" was released on January 24th, 2020 and was very well received by fans and critics alike. This fall, the band took part in Heavy Psych Sounds' series of split releases: "Doom Sessions Vol. 2" featured Acid Mammoth alongside Italian unit 1782, for an ultra heavy release presenting three new tracks from each band.
Acid Mammoth: Chris Babalis Jr. – Guitar & vocals / Chris Babalis Sr. – Guitar / Dimosthenis Varikos – Bass / Marios Louvaris – Drums