*When did you really get involved into music in general and into metal specific? Who was responsible for your interest in (metal) music?
Music has always been a huge part of my family, and I have been singing since before I can remember. I used to take my Dad's old SM87 and stand on the hearth of our fireplace and pretend it was a stage 😉 Metal I didn't discover until I was eight years old, and that was thanks to my brother lending me his brand new Megadeth casette tape. I was immediately enthralled, and it was the first time I ever felt truly connected to an album. From that day forward, I was in love with heavy music.
*Which artists or bands did influence you the most?
In the beginning I listened to a lot of traditional metal; Iron Maiden, Judas Priest, and Queensrÿche among others. Then I discovered melodic death metal, and that opened up a whole new world. Bands like Mercenary, Soilwork, and Fleshgod Apocalypse still influence me to this day. Lately, I have been listening to popier metal, like Ghost, and heavier synth bands like Dance With The Dead and Carpenter Brut. There is so much amazing music out there, and I always give everything a try.
*Which instrument do you play and how and when did you learn to play? Did you had lessons in school or private lessons? If so, was that because your parents expected that from you? Or did you learn to play the instruments by yourself? Do you still follow some lessons?
I play no instruments, just my voice. Back in school band I played clarinet, but I sucked at it and never put much time into it. If I could go back, I would force myself to take piano. Maybe one day when I have more free time I'll be able to get lessons!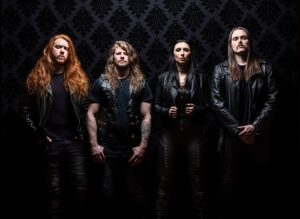 *Do you follow other or are you interested in other styles of music beside metal? If so, what is the music you prefer to listen to?
I listen to a lot of different genres, including pop, hip hop, country and classical. There are different moments when I feel like different types of music are more appropriate, so I try to keep an open mind. Classical is probably my favourite though, there are some composers that have such a wide breadth of catalogue that they always have something right for the mood!
*Is music a full time job for you now or do you have a job beside music? If so, what kind of job are you doing? If you would be really succesful with music, would you quit your other job?
I do have a day job, yes, but I don't really like to talk about it. That is the dream to one day be able to quit, of course, but we are definitely not there yet. Hopefully one day.
*If you could start a band with other musicians on other instruments, which artist would you pick for wich instrument and why? (Something Like an "All Stars Band".) Would you still go for a power metal / heavy metal band? Or would you do something completely different?
I probably would go for power metal, yeah; it's definitely one of my favourite genres to sing and write for so it just works for me. I think I would go for Gee Anzalone (Dragonforce) on drums, he's just so damn fast, and guitar I would choose John Schaffer (Iced Earth) for rhythm and Olof Mörck (Dragonland) on lead, and of course the legend Steve Harris (Iron Maiden) on bass 😉
*If you had been banned to an uninhabited island and you may pick 5 albums to listen to, wich albums would you choose and why?
This is a hard one! There are so many great albums out there… I suppose an easy one is 'Brave New World' by Iron Maiden, it's one of, if not my favourite Maiden record. Second would be 'Veleno' by Fleshgod Apocalypse; that was the number one release of 2019 for me and I can listen to it beginning to end on repeat endlessly. Definitely going to have to give two spots to Lost Horizon, as both their records 'Awakening The World' and 'A Flame To The Ground Beneath' are super important to me and I can never listen to one without the other. Lastly… Oh dear, too many to choose from… I guess we'll give the last spot to 'Dystopia' from Iced Earth; they have been one of my favourite bands since I first heard 'The Crucible Of Man' back in 2008, but I'm going with a Stu-era record not just becuase he's a fellow Canadian and has done such a killer job filling Matt (Barlow)'s shoes but becuase has really made the band his own and I am so proud of him 
*Every new album (or ep) of a band or an artist is the best one, that's what they always say. So here is a chance to promote the album. Why should a music lover buy your album? What are the standout tracks for you on this new album and why?
It is insanely difficult to pick a favourite track from 'Abyss', as we wrote the record with all tracks in mind at once and meant for it to be listened to from beginning to end, so there isn't really a 'single' or particularly standout track in my opinion, but if I had to choose one, I think 'Legacy' would be my favourite. We really tried something new on that track; I call it our 'black metal' track becuase it has a bit of a black metal influcence and I'm a big fan of black metal 😉 This record is one of our brightest and most uplifting albums, and we experimented with a lot of genres, so I think there will be a little somethign for everyone on 'Abyss'.
– New album, 'Abyss', out on Napalm Records. –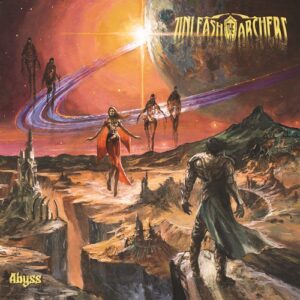 *I suppose you will promote this album through live concerts (when of course everyting is getting back to "normal" after the Covid 19 disaster). If so, would you prefer small clubs or big festivals? And is there a chance we can see Unleash the Archers in Belgium?
I think we are excited just to hit the road in general! Whether it's big or small, we can't wait to see all of our fans again and hang out with you all. We have plans to play a few festivals, plus we have a few tours in the works for the fall of 2021, and we'll be announcing all of those over the next few months (if Covid allows). Yes, we will definitely be coming to Belgium! We always have an awesome time when we play there and can't wait to do it again… We might just have an exciting festival announcement pretty soon here so keep an ear to the ground!
"Thanks so much for your support and see you on the road in 2021!" – Brittney Slayes
– P.S.: Unleash The Archers are announced in the Alcatraz 2021 line-up! –