*When did you really get involved into music in general and into metal specific? Who was responsable for your interest in (rock / metal) music?
I was very young. I learnt the guitar at 7, 8 years old thanks to my parents and my beatlemania. I belong to a very musical family and it made things easier for me even to learn one instrument and even to chose this career. The Metal thing!? My father liked Deep Purple, Led Zeppelin and Queen and I have an older cousin who used to listen to Iron Maiden, Dio, AC/DC, things like that and I liked that, but I stood on the Beatles. But I remember on watching "The Trooper" video and get very interested in that heavier music, than later Guns and Roses performed on Rock in Rio II in 1991, and it took me away a bit from the Beatles, and when I listened to Sepultura's Orgasmatron I definitely went to the right side of the thing, the METAL.
*Which artists or bands did influence you the most?
First, the Beatles, and ELO and Yes. In metal I can say it was the old Amorphis, Paradise Lost, Rainbow, old Helloween and Cathedral (I know it sounds messy, but thats true) … and into folk music, I'd say Donal Lunny, Solas, Lunasa, Capercaillie and Dan Ar Braz.
*Which instrument do you play and how and when did you learn to play? Did you had lessons in school or private lessons? If so, was that because your parents expected that from you? Or did you learn to play the instruments by yourself? Do yo still follow some lessons?
In the band I play guitars, banjo, bouzouki and flutes (flutes itself and Irish whistles). I start learning guitar with my parents, I did start studying classical guitar for a while, but I quit( it´s a shame!). The other instruments I learnt by myself and I can say I'm still studying a bit.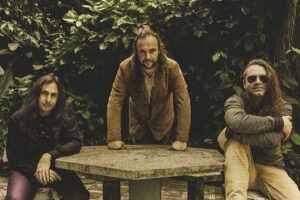 *Do you follow other or are you intrested in other styles of music beside metal? If so, what is the music you prefer to listen to?
I listen to Irish music a lot. And old progressive bands as well. The Brazilian Popular Music I love, the artists from my state, like Milton Nascimento, Beto Guedes, Lô Borges, Djavan from Alagos and Chico Buarque from Rio de Janeiro, I love these guys.
*Is music a full time job for you now or do you have a job beside music? If so, what kind of job are you doing? If you would be really succesful with music, would you quit your other job?
I work with music, not only the band, because I have a studio and I record and produce different artists … and I use to work in festivals and cultural productions as well. Things are not easy, but Im a happy man, but of course if the band get me much more money than it actually gets.
*If you could start a band with other musicians on other instruments, which artist would you pick for wich instrument and why? (Something Like an "All Stars Band".) Would you still go for a Celtic folk rock / metal band? Or would you do something completely different?
I'm going to set two different line ups, ok!? One Rock/Metal and other Celtic.
The Metal one: Ian Paice on drums, me and Paul Gilbert on guitars, Pete Trewavas on the bass, Don Airey on Keyboards and Michael Kiske on vocals.
The Celtic: John Doyle on guitars, me on the banjo, Mick McGoldrick on flutes and pipes, Finn Maggil on fiddle.
*If you had been banned to an uninhabited island and you may pick 5 albums to listen to, wich albums would you choose and why?
The Beatles – 'Revolver', Marillion – 'Seasons End', Edge of Sanity – 'Purgatory Afterglows', Amorphis – 'Tales From The Thousand Lakes' and Helloween – 'Keeper Of The Seven Keys (double edition).
Because they are GRAND!!!
*Every new album (or ep) of a band or an artist is the best one, that's what they always say. So here is a chance to promote the album. Why should a music lover buy your album? What are the standout tracks for you on this new album and why?
Your newer releasing must be your best work ever, otherwise there's no sense at all (on doing something you like less than what you previously did). I believe 'The Tribes Of Witching Souls' is our best work for its variety, for it´s sound, it´s arrangements and everything. You can find a bit of old progressive influences, some Beatles influences as well in vocals harmonies and leads, Celtic instrumentation and themes, heavy guitars and etc. I believe we cant be compared to any other band, and Im not saying we are better than any other, but the music we do is really different than most or all other called folk metal bands.
– See "CD-Review" for a review (written in Dutch) for the new Tuatha De Danann album 'The Tribes Of Withing Souls' (Trollzorn) –
*I suppose you will promote this album through live concerts (when of course everyting is getting back to "normal" after the Covid 19 disaster). If so, would you prefer small clubs or big festivals? And is there a chance we can see Tuatha De Danann in Belgium?
We cant wait to be back to stage, man, really! I like every situation, from small pubs to big stadiums. We´d love to go to Belgium, it's one of the countries I really like to know, specially now that I recently found out that a branch of my family came from there. And after watched the film "In Bruges" hahahahahaha.