Heavy rock shamans Appalooza debut new single "Conquest"; share details and preorder for upcoming album "The Holy Of Holies" on Ripple Music.
Hailing from the French west coast, heavy rockers Appalooza confirm a February 5th release for their sophomore album 'The Holy Of Holies' on Ripple Music, available for preorder. The trio unveils more details and a compelling visualizer for their first single "Conquest".
Appalooza is a long-gone stallion speeding after a lost freedom. Formed in Brest, France, in 2012, they take their cue from the alt-heavy firepower of Alice in Chains, the rock'n'roll stampede of the likes of Queens of the Stone Age or Them Crooked Vultures, propelling themselves with a creativity and sense of direction that are only the essence of great bands. Spirituality and ancient myths color a spacious sound that nonetheless worships at the altar of modern and unwaveringly hard-hitting heavy rock.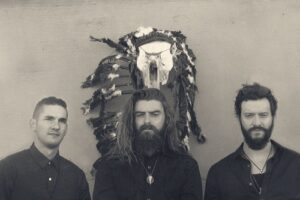 Says Appalooza about the new album: "'The Holy Of Holies' is an ironic comment on religion. A storm is coming and ready to send mankind to a certain death. They are deprived and punished for their individualism, appearing already dead. They accept it and seek a new being to venerate, then send a scapegoat to the desert with all their sins, to find the demon Azazael, the Holy of Holies. This fallen angel takes possession of mankind. He reincarnates them into a half-man half-beast species by transplanting a horse skull, symbol of a lost freedom. Our lyrics deal with subjects such as the lie of religion, the failure to assist a person in distress, the exploitation of man by man, the disappointment that one may have in general towards people, the eternal questioning about our existence and the universe."
🔥Get compelled by the force of new single "Conquest" at https://www.youtube.com/watch?v=MmODp7mphU4&feature=youtu.be&ab_channel=AppaloozaOfficial 🔥
'The Holy Of Holies' was recorded by Adrian Bernardi at Le Faune Studio, Saint-Uniac, Brittany, France; mixed by Adrian Bernardi, Jeff Ferrand and Appalooza; and mastered by Jeff Ferrand at Wood Box Studio, Montaigu, France. Artwork was designed by Wild Horse Artworks.
It will be released on February 5th, 2021 through Ripple Music in 2xLP Deluxe Edition vinyl (Hot Pink/Grey), CD and digital.
Appalooza New album "The Holy Of Holies", out February 5th, 2021 on Ripple Music.
Tracklist: 1. Storm 2. Snake Charmer 3. Reincarnation 4. Nazareth 5. Conquest 6. Azazael 7. Distress 8. Thousands Years After 9. Canis Majoris
Appalooza released their first two demos "Squamata" and "Chameleon" respectively in 2013 and 2014, further to which they embarked across the pond for their first ever US tour, taking them to Colorado, Nevada and California. Fired up by a brand new energy ensuing from this successful experience, the band officially released their eponymous debut in 2018, quickly followed by a second North American taking them from the Midwest lands to the Pacific Coast.
Some hundred shows later, Appalooza signed to Californian powerhouse Ripple Music for the release of their sophomore album "The Holy Of Holies" in early 2021. The beginning of a new era driven by an album that perfectly embodies the trio's musical and visual reincarnation, through an intense sonic escape and ultimately, freedom.