*When did you really get involved into music in general and into metal specific? Who was responsable for your interest in (metal) music?
-Frater Arnhwald: Music is a call, like religion. You dedicate your life to it as soon as you hear it. I heard that call when I was a child – I loved every bit of music I was exposed to, be it classical or pop radio hits. As a teenager, a friend of mine lent me tapes from Scorpions, Iron Maiden and Metallica, and it was a true revelation.
-The Witchfinder General: As far as I'm concerned, I got into music and metal more or less at the same time. I was like 11 or 12 years old and the point of no return occurred when I discovered Rammstein back then, which is still my favorite band today. I think we can still hear some of their influence in my guitar playing today.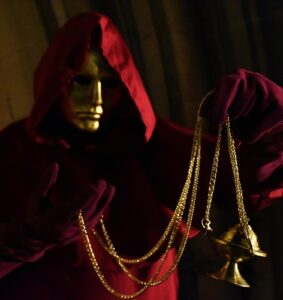 *Which artists or bands did influence you the most?
-Frater Arnhwald: Every influencial band had an influence. As a singer, and within the context of Ecclesia, I'd say Ronnie James Dio, Bruce Dickinson and Rob Halford.
-The Witchfinder General: As I said in the previous answer, Rammstein got me into the idea of buying a guitar and learning to play it. During my teen years, I got mainly influenced by the mainstream bands, as almost any teenager I'd say, namely Sepultura, Slayer, Metallica, Megadeth, Motörhead, Iron Maiden…nothing really original. I also got into extreme metal pretty young but the more extreme bands influenced me more as a composer than as a guitarist.
*Which instrument do you play and how and when did you learn to play? Did you had lessons in school or private lessons? If so, was that because your parents expected that from you? Or did you learn to play the instruments by yourself? Do yo still follow some lessons?
-The Witchfinder General: I bought my first guitar at the age of 12 or 13, with a small Peavey amp which I still have today. It was all a personal choice and I learned to play all by myself as my parents couldn't afford any lesson for me. First thing I did was learning how to read a tab, then when I understood the system…here I went ! However as I'm speaking today, I still never had any guitar lesson. Maybe I should.
-Frater Arnhwald: I started with piano and took lessons, then switched to guitar before discovering I could sing metal. As a singer I took lessons – and now I teach vocal technique. I think it is important for a metal singer to know how it works, and how to be able to sustain such a technique on the long run. There are no musicians in my family but my parents saw that I was kind of gifted in that regard, so they decided to give me the chance to educate myself as a musican.
*Do you follow other or are you intrested in other styles of music beside metal? If so, what is the music you prefer to listen to?
-The Witchfinder General: I don't listen to a lot of things beside metal music, I have to confess. However I love religious music, especially old Catholic chants, but not only. They convey a certain kind of energy that you can't find in any other music. Beside that, I don't focus on genres, I'm more interested in artists. For example, I really enjoy some of the music by Depeche Mode, ZZ Top, Rebel Son, or Combichrist.
-Frater Arnhwald: Sacred music and romantic / post romantic symphonic music. But there's nothing sweeter than the chant of an howling witch burning in a pyre.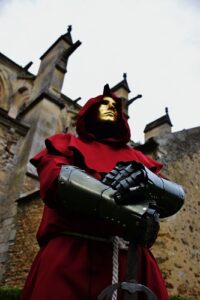 *Is music a full time job for you now or do you have a job beside music? If so, what kind of job are you doing? If you would be really succesful with music, would you quit your other job?
-The Witchfinder General: I don't make a living from music, but some members of Ecclesia do, at least partially. Beside music, I burn witches on stakes and chase the heretic. It's a full-time job that is very time-eating, you never really have time for yourself. Also, it doesn't pay much, but the good thing is that it opens for you the gates of Heaven. So there's no way I would leave this marvelous job.
-Frater Arnhwald: ora et labora.
*If you could start a band with other musicians on other instruments, which artist would you pick for wich instrument and why? (Something Like an "All Stars Band".) Would you still go for a heavy metal / doom band? Or would you do something completely different?
-The Witchfinder General: I don't know…isn't Ecclesia already an all-star band ? For me, it is. I already have a few other projects beside this band and they're musically radically different. I always have plenty of new band ideas, but there are only 24 hours in a day, and I just don't have the time for it. However, if I were to start a new project right now, it would be of course completely different. I don't see the point of playing the same kind of music in two different bands.
-Frater Arnhwald: a band is not a combination of individual talents, but a chemistry aiming to create something wider and stronger. Like Church: no matter the personal abilities or disgraces of the ones forming it, his essence remains holy thanks to its mystical principle.
*If you had been banned to an uninhabited island and you may pick 5 albums to listen to, which albums would you choose and why?
-The Witchfinder General: Really hard to say, there are way more than five albums which mean a lot to me. I'd say: 'Anthems To The Welkin At Dusk' by Emperor, 'Herzeleid' by Rammstein, 'Beneath The Remains' by Sepultura, 'Melissa' by Mercyful Fate and 'South Of Heaven' by Slayer. But if you ask me tomorrow, I'll probably answer five other albums.
*Every new album (or ep) of a band or an artist is the best one, that's what they always say. So here is a chance to promote the album. Why should a music lover buy your album? What are the standout tracks for you on this new album and why?
-The Witchfinder General: you should buy "De Ecclesiæ Universalis" because it's cool from the beginning to the end, it has a great sound, awesome artwork, and it has both an old-school and a more modern vibe. Also, all the benefits will go to the Church to buy new instruments of torture. The Vatican needs you.
– See "CD-Review" for a review (written in Dutch) for the new Ecclesia album 'De Ecclesiæ Universalis' (Aural Music) –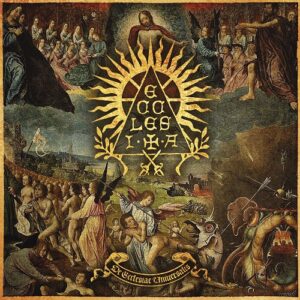 *I suppose you will promote this album through live concerts (when of course everyting is getting back to "normal" after the Covid 19 disaster). If so, would you prefer small clubs or big festivals? And is there a chance we can see Ecclesia in Belgium?
-The Witchfinder General: we don't have any preference, we like both. By the way, we are confirmed (but not announced yet) for a French festival next February. We don't have any plans to bring the Inquisition to Belgium right now, but we hope we will be able to soon !