*When did you really get involved into music in general and into rock specific? Who was responsable for your interest in (rock) music?
I started to listen different musical genres when I was very young. My parents had a great vinyl collection: from classical, to rock. I fell in love with everything related to that. The music, of course, but also the ritual of spinnig a vinyl, the smell of it, the cover's details, the credits. I had a classical guitars at home as well. That's where it all started. Then I built my musical tastes and of course, as I young guitar player, becomes obvious to approach rock music.
*Which artists or bands did influence you the most?
The first vinyl that I boght was 'Somwhere In Time' from Iron Maiden. I remember that I didn't know nothing about the band, but I was impressed by the cover and even today Iron Maiden are one of my main influences. I can mention Queensryche, Fates Warning, Slayer within the metal genre. I love Blue Oyster Cult, Jimi Hendrix, Deep Purple, Pink Floyd, the Beatles but also artists like Damien Rice, Johnny Cash, Kratfwerk, King Crimson, Nick Drake. I love music at 100%. I could be influenced by literally everyone.
*Which instrument do you play and how and when did you learn to play? Did you had lessons in school or private lessons? If so, was that because your parents expected that from you? Or did you learn to play the instruments by yourself? Do yo still follow some lessons?
As I said before I'm a guitar player. I started when I was 13 years old (1987) where there no school around, no instructional videos or YouTube, of course. I fell in love with guitars, to play was exculsively my choice. My only school were to play along with the vinyls and to share what I've learned with our musicians. Actually I love to take the advantage of the Internet trying do discover the "secrets" of other musician in order to improve myself. I play a bit the piano as well, but honestly I'm not so able with it!
*Do you follow other or are you intrested in other styles of music beside rock? If so, what is the music you prefer to listen to?
Again, music has no boudaries. For me music is solely based on emotions. Music is something that accompanies me within my personal paths. Is the soundtrack of my life. I listen to every kind of music could give me unique emotions. Of course Rock is my favourite one, but again within the Rock music itself there's plenty of different styles, sounds, in the end, emotions…
*Is music a full time job for you now or do you have a job beside music? If so, what kind of job are you doing? If you would be really succesful with music, would you quit your other job?
When I was younger music was my full time job. Within the late 90's I lived with music. Unfortunately everything becomes more difficulties in the middle of 2K, where Internet changed everything. I think in life one of the best things that can happen is to do a job that you love. I love music, so why not to be a full time musician if I'll have the chance?
*If you could start a band with other musicians on other instruments, which artist would you pick for wich instrument and why? (Something Like an "All Stars Band".) Would you still go for a alternative rock band? Or would you do something completely different?
Probably I'll start a band with hundred of elements in it. I love too many musicians! Probably my "All Stars Band" would be composed by Neil Peart on Drums, Jaco Pastorius on Bass, David Gilmour / Adrian Smith on Guitar and Loreena McKennitt as vocalist. But of course there would not be more space for me! Unfortunately I cannot imagine what kind of genre would be born!!!
*If you had been banned to an uninhabited island and you may pick 5 albums to listen to, wich albums would you choose and why?
Another very difficult question, I would say. In any case let me say 'Animals' (Pink Floyd) , 'Empire' (Queensryche), 'South Of Heaven' (Slayer), 'Seventh Son Of A Seventh Son' (Iron Maiden), '0' Damien Rice. The reason why? There's a different kind of emotions within these albums that is not that different of me, as a person.
*Every new album (or ep) of a band or an artist is the best one, that's what they always say. So here is a chance to promote the album. Why should a music lover buy your album? What are the standout tracks for you on this new album and why?
I exactely know what you mean. Honestly any of my albums could be the best one. All the albums I've made are like small children. How could I pick the best one? As I said music for me is mainly a stream of emotions. The new A Perfect Day album could shake you in the deep of your heart and soul. Or at least that's my hope. That's why I suggest to listen to 'With Eyes Wide Open'. We released an album made by ten songs that could be used as a single. No filler at all. My standout tracks are 'Give It Away', 'Whatever You Want Me (To Do)', 'Mama Said', 'The Love We've Waited', but tomorrow will not be the same!
– See "CD-Review" for a review (written in Dutch) for the new A Perfect Day album 'With Eyes Wide Open' (Rock Of Angels Records) –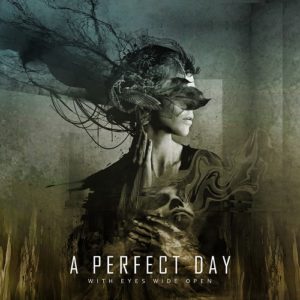 *I suppose you will promote this album through live concerts (when of course everyting is getting back to "normal" after the Covid 19 disaster). If so, would you prefer small clubs or big festivals? And is there a chance we can see A Perfect Day in Belgium?
We're living a very difficult period, of course. All kind of work are negatively impacted by Covid-19 crisis, but of course the entertainment are probaly impacted the most. I really hope to start to play live as soon as possible. To play in front of a crowd, no matter how big would be, is everytime an honour for me. I respect every single person that decided to dedicated their time to listen to my music, especially live. To share my emotios with yours it's just the goal of my life as a musician, and I hope I'll could do that in Belgium as well. I played several times in your Country in the past and I have really good souvenirs.