*When did you really get involved into music in general and into metal specific? Who was responsible for your interest in (metal) music?
I was interested in music from a very young age, i always loved guitar based music and bought my first album when I was 13, It was 'The Damned' – Damned Damned Damned. I was full on hooked on music after that and would use all my money to buy Punk albums and singles every weekend. I think it was when I first heard 'Motorhead' that i started to really get into metal, they had that punk / metal crossover thing going on and it was awesome!
*Which artists or bands did influence you the most?
Discharge and Motorhead were the main influences for Onslaught when we started as a band, it still remains that way in 2020 and it's probably more noticeable than ever on the new album.
*Which instrument do you play and how and when did you learn to play? Did you had lessons in school or private lessons? If so, was that because your parents expected that from you? Or did you learn to play the instruments by yourself? Do you still follow some lessons?
I play guitar and learnt when I was 16. I had a few lessons at the start to pick up the basics from a friend and then I was pretty much self taught after that. My family wasn't musical in any way so there was no encouragement from the parents whatsoever and the only thing they taught in school was piano, so no good there haha. No, if there's something I really need to know I can figure it out myself
*Do you follow other or are you interested in other styles of music beside metal? If so, what is the music you prefer to listen to?
I listen to many different styles of music, although metal and punk music are my main preferences. I also like a lot of 70's funk music and Latin guitar music but I will listen to anything as long as it is cool.!
*Is music a full time job for you now or do you have a job beside music? If so, what kind of job are you doing? If you would be really successful with music, would you quit your other job?
Unfortunately music can no longer be a full time job for all but a few lucky bands due to the illegal down loading phenomenon several years ago. It completely destroyed the record sales market for artists as we know. Since then every single band from the smallest up to Metallica / Iron Maiden have seen losses of upto 90% in album sales figures. So yes, while we earn money from touring we still have to work when the band is not on the road. Personally I run a construction company so I can take as much time off work as I wish when touring begins, so it's not really a problem for me.
*If you could start a band with other musicians on other instruments, which artist would you pick for which instrument and why? (Something Like an "All Stars Band".) Would you still go for a thrash metal band? Or would you do something completely different?
I don't think it would be a Thrash Metal band but it would be extremely aggressive music for sure.! My dream line-up would have been: Keith Flint (The Prodigy) – Vocals.. Insane frontman with great energy and attitude. His vocal style would perfectly fit the 'Apocalyptic' nature of this ultra eclectic band. Myself (Onslaught) – Rhythm guitar.. I cannot comment on myself but everything
would have to be super Heavy and Dark in the extreme. Dimebag (Pantera) – Lead Guitar.. he was the ultimate guitarist in a one guitar band, so I think with two guitarists in the line up the potential would have been absolutely limitless. It would be an immense wall of guitar brutality. Rainy (Discharge) – Bass.. Rainy is such an underrated bassist, he plays some incredible stuff and i love his bass tone, it would fit so perfectly with the guitars in this band. Gene Hoglan (Testament) – Drums.. Every great band needs an awesome drummer and this shit would be so heavy and tight.. Gene is the best for me and a very cool guy, so it's a no brainer.
*If you had been banned to an uninhabited island and you may pick 5 albums to listen to, which albums would you choose and why?
Ah Cool I like this 🙂 i'm hoping this will happen someday haha.
1. Discharge – 'Hear Nothing See Nothing Say Nothing'
2. Metallica – 'Master Of Puppets'
3. Sex Pistols – 'Never Mind the Bollocks'
4. Tubeway Army – 'Tubeway Army'
5. 'Down in the Park' – Gary Numan
I would need my Top 3 favourite albums to keep me inspired and full of energy throughout each day and then I would need maybe two albums to relax with. They would help me chill out at night under the starry skies while I drink the many crates of beer that were also amazingly washed up on to the desert island beach..!
*Why did it take seven years to get a new album ready?
Touring, touring and more touring. Onslaught toured the 'VI' album for over two years into 2016 and then it became the 30th year Anniversary for 'The Force' album. We had such a great demand from fans and promoters to play the album in its entirety, so we toured the world again for another two years, it was crazy… We then spent 2018 / 2019 writing the record and seven years had completely disappeared! It was scary where the time had gone.
*Every new album (or ep) of a band or an artist is the best one, that's what they always say. So here is a chance to promote the album. Why should a music lover buy your album? What are the standout tracks for you on this new album and why?
Yes, that's standard for musicians of course..! But I really do believe that this is the best 'Onslaught' release so far..! 😉 hahaha. 'Generation Antichrist' is angry music for angry people, taking Onslaught to a whole new level of brutality, it's a perfect balance between 'Onslaught 1986 & Onslaught 2020'. Tracks like 'Strike Fast Strike Hard', 'Religiousuicide' & 'Generation Antichrist' would
sit perfectly on 'The Force' album, as we have drawn on many influences from those early days. I think the fans are gonna like the politically charged 'Bow Down To The Clowns' too… but HEY they will like everything on the album..!!! hahaha 🙂
– See "CD-Review" for a review (written in Dutch) for the new Onslaught album 'Generation AntiChrist' (AFM Records) –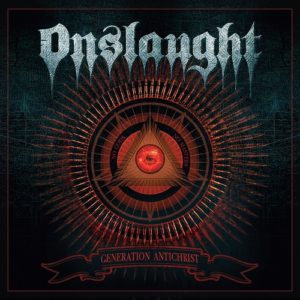 *I suppose you will promote this album through live concerts (when of course everything is getting back to "normal" after the Covid 19 disaster). If so, would you prefer small clubs or big festivals? And is there a chance we can see ONSLAUGHT in Belgium?
Yeah for sure, we cannot wait to get back on the road, it's so frustrating right now because we had many many great shows / festivals lined up for 2020..! To be honest we love playing both, it's so cool being face to face with the fans and to have that very personal interaction that you get in a club. But Festivals are amazing also because we can reach out to so many new fans at one time and we are able to put on a bigger and better show.. So the perfect scenario would be to play festivals on a weekend and play club shows midweek.! Oh yes definitely, Belgium has to be played as much as possible, it's where our European journey began back in 1986 and we will never forget our Belgian fans. We are confirmed to play 'Oiljst Omploft XI' Festival in Sint Anazaal, Aalst on 20/03/21, We're really looking forward it!
Thanks for the interview my friend it was cool..!
Be safe
Nige