*When did you really get involved in music in general and into metal specifically? Who was responsible for your interest in (metal) music?
I think I always enjoyed music from a very early age. My first Musical memories will always take me back to endless car drives with my father listening to Scorpions, Lenny Kravitz, Iron Maiden and a bunch other artists which I still hold very dear to my heart because of these times. I think I was 3 or 4 back then. I was already into heavy music when I picked up the guitar for the first time. I should be around 15 and we were in 2009. I'll never forget that moment. It truly helped shape everything which happened next in my life. I can't recall how I got into metal. I think it was just a natural progression in taste like many kids in their teenage years. Always trying to find the next heaviest thing and all of the sudden I was switching Metallica for Black metal bands!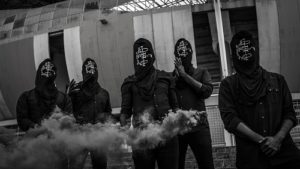 *Which artists or bands did influence you the most?
Back then, Ragnarok, Belphegor, Behemoth, Infernal Kingdom, Taake, etc. Today, honestly I get inspired by anything I feel its fresh to my ears in present time and everything I feel its honestly free and expressions liberation above all things.
*Which instrument do you play and how and when did you learn to play? Did you have lessons in school or private lessons? If so, was that because your parents expected that from you? Or did you learn to play the instruments by yourself? Do you still follow some lessons?
Guitar. My first instrument, which I still have, was an acoustic guitar and offered to me by my father. Honestly I didn't pick up lessons for the first 3 or 4 years. I always felt like it should be something I could learn and experience on my own and without anyone telling me how to achieve certain things. I still believe that. Music is personal. Of course I'm not talking about technique but mostly about reaching to certain moments and feelings with the instrument you have in your hands. Spending your own time with it and discovering what you can do with it, how can you express yourself without any words attached to it and how is it shaping your inner self in a completely new way.
*Do you follow others or are you interested in other styles of music besides metal? If so, what is the music you prefer to listen to?
Of course. I'm a sucker for orchestral music and cinematic orchestrations. Besides that, I always find myself leaving my skeleton and dive into another dimension with artists like Wardruna, Obsidian Kingdom, Crippled Black Phoenix, Dool, Varsovie, Wolvenest and many many others. These are the ones which I find myself listening to the most these days.
*Is music a full time job for you now or do you have a job beside music? If so, what kind of job are you doing? If you would be really successful with music, would you quit your other job?
I have worked with music, musicians and most things about the music industry for about 5 years now. I am Music Video Director and I have been working with this genre (Extreme Music) since then. I divide my daily routine in half in order to keep the visual projects I love and this band, which takes most of my day because of the amount of work it requires me doing. I would never leave my main job. I'm not saying I wouldn't do Music for a living, which of course I would if I could. But I would never leave my Visual creations aside because it also defines who I am. I'm not complete if I leave one of the two aspects of my life behind.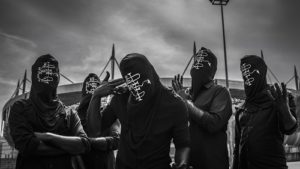 *If you could start a band with other musicians on other instruments, which artist would you pick for which instrument and why? (Something Like an "All Stars Band".) Would you still go for a black metal band? Or would you do something completely different?
I would never create another band. I have everything I have ever wished for in GAEREA.
*If you had been banned to an uninhabited island and you may pick 5 albums to listen to, which albums would you choose and why?
'The Satanist', because it is the most impactful metal album of this century. 'Limbo', in order to not forget who I am. 'The Wild Hunt', because its pure freedom under musical form. 'A Year With No Summer', because even after 3 or 4 years since Obsidian Kingdom released that record, I am still digesting it and discover how incredibly well written that record is with every new listen. And honestly, anything compiling my favourite songs from Johnny Cash. That would require a lot of songs. Why? Because it is the most incredible person in the Music World that ever existed.
*Every new album (or ep) of a band or an artist is the best one, that's what they always say. So here is a chance to promote the album. Why should a music lover buy your album? What are the standout tracks for you on this new album and why?
Anyone can claim their love for music. Anyone can like Extreme Music. Not many can find Liberation and Salvation by letting their emotions rip them apart with a record. This is how I feel with this album. I invite anyone who needs a newer perception about their rotten Mind to dive deep into our own world and try to get out of it Mentally alive.
– See "CD-Review" for a review (written in Dutch) for the new Gaerea album 'Limbo' (Seasons Of Mist) –
*I suppose you will promote this album through live concerts (when of course everything is getting back to "normal" after the Covid 19 disaster). If so, would you prefer small clubs or big festivals? And is there a chance we can see Gaerea back in Belgium?
Belgium is one of our favorite countries to play. We have played very big stages and very small ones in your country. From Throne Fest to small cafes with only 20 or 30 people. We loved both types of experiences. Throne Fest helped us shape the type of band we can be on a bigger stage and how we can let our wings wide open for all to see. Still, it is in shows like the one in Antwerp Music City that we can feel the power of music flowing in everyone around us. Sweat, Tears and Endless Screams still echoes in my head everytime I remember that night. Truly Magical.