*When did you really get involved into music in general and into metal specific? Who was responsable for your interest in (metal) music?
I believe I was about 6 years old when I heared Elvis Presley, Jailhouse Rock and it blew me away. Then I discovered Sweet, Slade and Kiss and all of them had on thing in common for me, the most hard rockin songs was the best ones but the band that really got me in to Metal was Motörhead when I was 13!!!!!!! Man I almost didn´t listen to anything else for 3 years between 1980-1983.
*Which artists or bands did influence you the most?
I guess my biggest influence was Motörhead with their attitude and musicaly I would say Deep Purple, Black Sabbath, Jethro Tull and Jimi Hendrix.
*Which instrument do you play and how and when did you learn to play? Did you had lessons in school or private lessons? If so, was that because your parents expected that from you? Or did you learn to play the instruments by yourself? Do yo still follow some lessons?
I play the bass and I started to play it when I was 15 years old and I took one year lesson (before that I played saxophone for 6 years so I had the music theorie already from that instrument) but mostley I have listened to other bassplayers like Geezer Butler, Gary Thain and Stuart Morrow from New Model Army.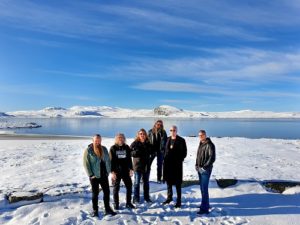 *Do you follow other or are you intrested in other styles of music beside metal? If so, what is the music you prefer to listen to?
I am trying to check out new music all of the time and I try do not just focus on metal. I listen a lot to Alt country, Singer song writers, Atmospheric black metal and off course Folk music wich you might hear in the music of Dun Ringill.
*Is music a full time job for you now or do you have a job beside music? If so, what kind of job are you doing? If you would be really succesful with music, would you quit your other job?
I work as a chef teacher and I love my work! I have to major interest in life and that is music and food so I have the best of both worlds. I would like to keep my job but maybe just work 50 % there and then 50 % as a teacher, as it is now I work 100 % as a teacher and almost 50 % as a musician….
*If you could start a band with other musicians on other instruments, which artist would you pick for wich instrument and why? (Something Like an "All Stars Band".) Would you still go for a doom metal band? Or would you do something completely different?
I have two other projects already and one is a down to earth rock´n roll band with close friends and the other project is a solo project where I write everyting and then invite other musicians to take part on different songs. But my all time favorite band would be me on bass, Ian Paice on drums, Stevie Ray Vaughan and David Gillmore on guitar, Per Wiberg on organ, Ronny James Dio and Warren Haynes on vocals, Ian Anderson on flute and back up vocals.
*If you had been banned to an uninhabited island and you may pick 5 albums to listen to, wich albums would you choose and why?
Motörhead: 'Ace Of Spades', because it changed my world.
New Model Army: 'No Rest For The Wicked', because it changed my world.
Tool: 'Aenima', becuse it changed my world.
Iron Maiden: 'Killers', because it changed my world.
Steve Earle: 'El Corazon', because it changed my world.
*Every new album (or ep) of a band or an artist is the best one, that's what they always say. So here is a chance to promote the album. Why should a music lover buy your album? What are the standout tracks for you on this new album and why?
We have put our soul and heart in to this album and it is a perfect mix of heavy doomy music with nordic folk music influences and with killer vocals and all is flawored with different kind of instruments. This album demands the listener to give it a couple of spins before the door to the 'Library Of Death' opens in full and then you are hooked for life. Like all Tool albums, it takes time to get in to it and then you never get bored of it.
– See "CD-Review" for a review (written in Dutch) for the new Dun Ringill album 'Library Of Death' (Argonauta Records) –
*I suppose you will promote this album through live concerts (when of course everyting is getting back to "normal" after the Covid 19 disaster). If so, would you prefer small clubs or big festivals? And is there a chance we can see Dun Ringill in Belgium?
As it is now we will have som kind of release party on line July 31st, release day for the stream and the CD and then we will do an on line gig September 19th when the Vinyl is here aswell (It is delayed from the pressing plant due to Covid 19). We had 2 tours booked as suport act to Pentagram this summer and fall and as it looks for now they are about to be reschedualed ´till next summer and fall. We are planing a tour on our own in January in the EU aswell and I do hope we can get some gigs in Belgium too, I love to play there! We played there a copule of times with Mine and Hans other band The Order of Israfel. We will try to do good PR on all social medias and I do think it is a small window open now for small bands when all the major acts are postponing their releases because of Corona.