*When did you really get involved into music in general and into metal specific? Who was responsable for your interest in (metal) music?
I'd toyed with the idea of playing the sax as a kid, and thought it sounded sexy as fuck. Played the clarinet for a bit as I figured it might be a gateway but then started getting drunk in my teens listening to rock/punk/metal. I had a bunch of friend groups who were in to different types of that sort of music, which helped open me up. My uncle had always played in bands and he encouraged me to buy my first bass, which I played for about a year learning all the classics and basics. I had a close group of friends and when we started smoking weed my passion shifted to down tuned and fuzz, psychadelics opened me up to progressive metal, this era I was playing a guitar which again was on recommendation from my uncle. All the while collecting passions outside of heavy music, anything hard and subculture was a must listen. So to answer your question, I guess my uncle had a lot to answer for! And I have him to thank him for that. Chemicals seemed to steer my musical voyage.
*Which artists or bands did influence you the most?
That spans a good twenty years of playing varied types of music, so it's quite hard to pinpoint. In the early years it was bands like System of a Down and Rage Against the Machine, Kyuss and Queens of the Stoneage, Fu Manchu, through to the likes of Tool, Neurosis, Mastodon. Vocally I see Maynard James Keenan, Layne Staley, and Eddie Vedder as influences, even if I sound nothing like any of them. That's what I belt out in the shower but is nothing what we sound like.
*Which instrument do you play and how and when did you learn to play? Did you had lessons in school or private lessons? If so, was that because your parents expected that from you? Or did you learn to play the instruments by yourself? Do yo still follow some lessons?
So following on from bass guitar which I did have private lessons with, purely because I wanted to learn it, I decided to self teach myself the electric guitar. Playing bass was great but I wanted to learn to solo, shred, riff. This was self taught through tabs and listening to riffs to learn them. This went on for quite a while before I decided to try vocals. I am a vocalist now and have been for probably about 13 years. Again I'm a self taught vocalist, so everything has been pieced together and learnt as I've gone along. Lessons aren't really my thing, I sing a lot around home and we rehearse enough as a band to keep me gig ready. It took a while to get something sounding good when we first started, but go to rehease and play like shit, keep going and going, eventually it starts to sound awesome and you get shivers down your spine wondering how you just did something. That sensation is what it's all about.
*Do you follow other or are you intrested in other styles of music beside metal? If so, what is the music you prefer to listen to?
The whole band listen to all sorts of different styles of music. Heavy music is mainly what I go for but there's a range of styles outside that I'm in to. It depends on the mood. The morning might see some trip hop, ambient, acid jazz type stuff. I might be in a UK Hip Hop or drum n bass, progressive house type of mood, or classic rock, folk, really anything that gets me going. My spotify looks a bit confused but it's all bits and pieces that I like. The mammoth share is metal and alike, stoner, sludge, post-rock, prog, etc.
*Is music a full time job for you now or do you have a job beside music? If so, what kind of job are you doing? If you would be really succesful with music, would you quit your other job?
So music is my passion but it doesn't pay the bills yet unfortunately. If we get to the stage where it does then I would happily pursue this as a full time career. We are about as busy as we can be whilst still holding down full time jobs. We gig on the weekends and evenings around work, and then take off holiday from work to tour and record. To fund our music habits and pay the rent we have quite different jobs between us. I am a visual effects artist for a video game company, so I spend my days listening to music while making heads explode and setting things on fire, making lightning and rain, blowing up bridges, that sort of thing. I make and play both music and video games, professionally and semi-professionally.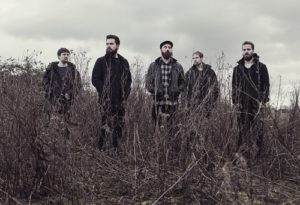 *If you could start a band with other musicians on other instruments, which artist would you pick for wich instrument and why? (Something Like an "All Stars Band".) Would you still go for a stoner rock / sludge band? Or would you do something completely different?
A lot of super-groups seem to form from members of the same scene, it's like capitalising on the combined talents of the related bands to create the cream of the scene. In this game you have to be the original, the best, or do something different. I probably wouldn't form a sludge band since I feel it would be too similar to what I already do. It would be too easy to just go for the same style. It would be a lot more challenging and rewarding to go for a fresh sound. I would be interested to hear vocal harmonies from Pete Holland of Elephant Tree/ Trippy Wicked, Alex Hurst of Boss Keloid/ The Hicks, and Matt Williams of Suns of Thunder/ Sigirya. Not doing stoner or sludge, something clean but also heavy. I picked those vocalists for their melodic ability, so maybe nailing something choral. Maybe country, blues, folk, or bluegrass type harmonies but done heavily as an acapella. Don't think it has been done but who knows? It might work?
*If you had been banned to an uninhabited island and you may pick 5 albums to listen to, wich albums would you choose and why?
Tool – 'Laturalus'. Growing up it was one of my favourite albums and I've not outgrown it. There is so much to enjoy. It's an absolute belter.
The Sword – 'Age Of Winters'. I've got a particular soft spot for this album and it sounds huge. It tells a story. I never grow tired of it and being stuck on an island you need albums which you can repeat.
Queens of the Stone Age – 'Songs For The Deaf'. A classic, I don't listen to this album nearly as much as I used to but every time I do it blows me away. Had to listen to it again just now to remind myself how good it is.
Pink Floyd – 'Wish You Were Here'. Felt like I needed something a bit more of a "classic". Many hazy but happy memories of this album, it's got chilled parts and more upbeat moments, but again importantly it's a great album. I couldn't pass up on the opportunity of snagging the title track should I be stranded on an island. That's my kind of humour.
Boards of Canada – 'The Campfire Headphase'. Just to have another flavour other than rock and metal, the campfire headphase is probably my favourite of the chilled ambient music that I spin. It's got serenity and euphoria. Would be great for nights and mornings by the campfire alone on the island.
*Every new album of a band or an artist is the best one, that's what they always say. So here is a chance to promote the album. Why should a music lover buy your album? What are the standout tracks for you on this new album and why?
Our freshest offering, "Omens", is the most cohesive and together that we have ever sounded. It's a complete album and offers a start to finish experience for the listener, or each track can be individually appreciated on its own. It's our most haunting and darkest release. There are layers to pick apart and there are things that you will often only find on multiple listens. It's fucking heavy in places, raw and brutal, but then there are lighter shades for contrast. I'm of the opinion that if everything is heavy then nothing is heavy. The album is generally quite progressive, the main component being sludge metal, but there are lots of other little nuances and flavours in this record. This album offers vocal harmonies between two members which we have never done before. Unlike our previous releases, I've really struggled to pick out my favourite track from the album since each one offers something different. If pushed, I would probably have to say "Black Bile". All round it's an album that slays and that deserves to be played loud.
– See "CD-Review" for a review (written in Dutch) for the new Desert Storm album 'Omens' (APF Records) –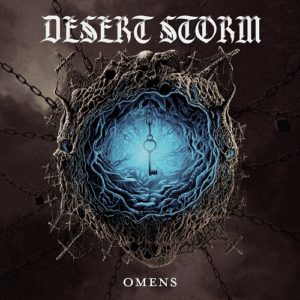 *I suppose you will promote this album through live concerts (when of course everyting is getting back to "normal" after the Covid 19 disaster). If so, would you prefer small clubs or big festivals? And is there a chance we can see Desert Storm in Belgium?
Yes that's the idea. We had shows in Belgium booked for May but had to cancel them due to the ongoing covid-19 situation. We're currently working to reschedule them for October. Da-tes/ cities to be announced soon.