*When did you really get involved into music in general and into metal specific? Who was responsable for your interest in (metal) music?
I've always been into music but I started to take it seriously when I was 18. My metal journey began years before though when I discovered Children Of Bodom when I was 12 years old. I'd have to say COB was responsible for my love of metal.
*Which artists or bands did influence you the most?
Wintersun, Ensiferum, Devin Townsend, COB, and Dimmu Borgir will always be the basis of my influences.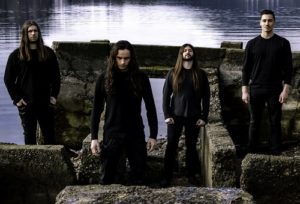 *Which instrument do you play and how and when did you learn to play? Did you had lessons in school or private lessons? If so, was that because your parents expected that from you? Or did you learn to play the instruments by yourself? Do yo still follow some lessons?
I began playing guitar around the age of 10 but I didn't take it seriously until the age of 16. I didn't take any lessons until I was in my 20's as I wanted to hone my techniques properly. I do wish I took these lessons when I was much younger though … I learned to play the piano and drums around the age of 17 as well. (Nowhere near the level as guitar) but I can consider myself decent at them as well. My parents also have a musical note in their blood but they never had harsh expectations for me in music. I am trying to increase my theory knowledge so I've been taking a few lessons here and there in that regard.
*Do you follow other or are you intrested in other styles of music beside metal? If so, what is the music you prefer to listen to?
I am very into the music styles of Wardruna and Heilung. Bringing that ancient sound in a modern way is quite mesmerizing to say the least.
*Is music a full time job for you now or do you have a job beside music? If so, what kind of job are you doing? If you would be really succesful with music, would you quit your other job?
Unfortunately it will be awhile (if ever) that music will be my full time job especially when living in one of the most overpriced areas in the world. I work in the yacht repair/service industry as my main source of income. However, if music took over as my main source of income, I would pursue that full time and quit my other job.
*If you could start a band with other musicians on other instruments, which artist would you pick for wich instrument and why? (Something Like an "All Stars Band".) Would you still go for a symphonic melodic death metal band? Or would you do something completely different?
I think I would do something a little different. Maybe a "party metal" feel. I'd include the guys from Alestorm and Aether Realm.
*If you had been banned to an uninhabited island and you may pick 5 albums to listen to, wich albums would you choose and why?
'Time I' – Wintersun
'From Afar' – Ensiferum
'Death Cult Armageddon' – Dimmu Borgir
'Runaljod' – Wardruna
'Runaljod Ragnarok' – Wardruna
I'd choose these albums for the diversity and epicness portrayed in their own unique ways. I'd never get bored.
*Every new album of a band or an artist is the best one, that's what they always say. So here is a chance to promote the album. Why should a music lover buy your album? What are the standout tracks for you on this new album and why?
Not to toot our own horns but I believe 'The Winter Way' ticks many boxes from epicness to dynamics. There are slower songs and darker songs which are new to the band. 'Dawn Of The Frozen Age' is one of those standout tracks due to its dynamics and multigenre tone.
– See "CD-Review" for a review (written in Dutch) for the new Atavistia album 'The Winter Way' (Independent Release) –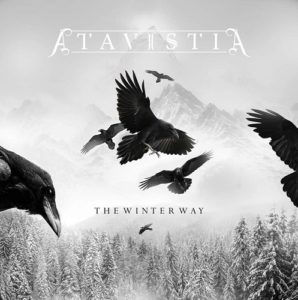 *Is there a change that you will promote this ep through live concerts (when of course everyting is getting back to "normal" after the Covid 19 disaster). If so, would you prefer small clubs or big festivals? And is there a chance we can see Atavistia in Belgium?
When we begin to play live again, we will most likely play this new album as much as we can. We are extremely eager to play these songs! Regarding venues, we need to have a good sound setup otherwise it's not worth it. Most small clubs achieve this but there are some which have no point in us playing in. We'd also love to play as many festivals as we can! Hopefully one day we will be in Belgium! Let's just let the world get back to normal first.
…