German speed metal legend Iron Angel returns this year with the release of their forthcoming fourth studio album "Emerald Eyes", which is set for release in October of 2020 by Mighty Music.
The follow-up to their 2018 comeback album "Hellbound", which gathered massive reviews (see below) sees the band maturing and refining their sound without compromising intensity and aggression, quite the contrary. The new release brings back a lot of the thrashiness, that has been somewhat absent from anything the band has done since their 1985 debut "Hellish Crossfire". On the other hand, the songwriting, the performances, and the overall package, everything has reached a new level in quality and with it's clear (though not sterile) production, the band sounds fresh, hungry, and energetic.
"We wanted to improve in every way possible", says drummer Maximilian Behr and continues: "On one hand we wanted to even further go back to the sound of "Hellish Crossfire", but on the other hand we also wanted to play to our own strengths, rather than the ones of others and I think we really managed to do that. With "Emerald Eyes" we married the past with the present at last and now we set our eyes onto the future."
Upon their return to activities in 2015, Iron Angel had toured like hell, having played in North-America, South-America and across Europe. Festivals such as Play It Loud, Nordic Noise, Metalbash, Headbangers Open Air, Metal Forces, Metallysee and Up the Hammers have tasted the band's live roar. And many more will taste it as well when Iron Angel resume their live activities in the beginning of 2021, with Bavarian Battle Open Air (DE) and Mangualde Hardmetalfest (PT) already confirmed.
"It is clear to many that "Hellish Crossfire" was a genre-defining record, but with "Hellbound" it is evident that Shroder's new-look Iron Angel are on the cusp of a revival" Powerplay Magazine 9/10
Metalized Magazine 8/10 – Deaf Forever Magazine 8/10 – Lords Of Metal 90/100 – Rock Hard DE 7/10 – Rock Tribune 7/10 – Brave Words 7/10 – Aardschock 70/100 – Metalunderground.at 4,5/5 – Battlehelm 4/5
"Emerald Eyes" will be released in digital, CD, and vinyl formats by Mighty Music on October 2nd, 2020.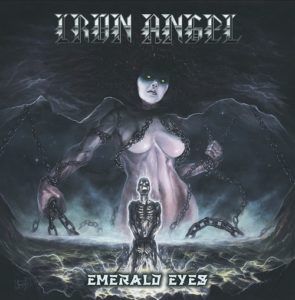 Tracklist: 01. Sacred Slaughter 02. Descend 03. Sands Of Time 04. Demons 05. What We're Living For 06. Emerald Eyes 07. Fiery Winds Of Death 08. Sacrificed 09. Bridges Are Burning 10. Heaven In Red 11. Dark Sorcery
Iron Angel line up: Dirk Schröder: vocals / Didy Mackel: bass / Maximilian Behr: drums / Robert Altenbach: guitar / Nino Helfrich: guitar