*When did you really get involved into music in general and into metal specific? Who was responsable for your interest in (metal) music?
Even as a kid, I was always singing something and dancing along with my father's vinyls of Joe Dassin. Then, I was constantly asking my parents to get me to the music school and study piano. But they had a few friends among musicians who ended up not so well because of alcohol and drugs, so they had some kind of prejudice and didn't want me to get involved in music seriously. All in all, when I was 14, I managed to convince them but they agreed only for guitar classes, cause piano would be more expensive and it required more place in our apartment. So, I graduated from music school as a classical guitarist. I also played electric guitar for some time but eventually transitioned to being a vocalist because I had some problems with my wrists. I think, I listened to a lot of different music, without any serious inclines toward any genre. And at school, my class was full of rap / hip-hop fans. However, there were a couple of my friends who were into really metal like Cannibal Corpse, so I got into the extreme side of metal straight away. Then, it was already my path of learning about new bands, meeting other metalheads, visiting shows, etc.
*Which artists or bands did influence you the most?
Our music taste is being built from different pieces year by year, so for me, it's like a mosaic. But if we take my childhood, there was The Beatles, Queen, Pink Floyd, Abba, Elton John, etc. Then, I remember that my friend gave me the selection of rock and metal ballads by Nuclear Blast, so I discovered bands like Nightwish and Amorphis. I remember being a fan of Lacrimosa and then, lots of avant-garde metal like Pin-Up Went Down and Akphaezya. On one of my first metal shows, I got into the moshpit while listening to Hatebreed for the first time in my life. I liked System Of A Down but could dance right away when I started hearing the songs of Cher or Madonna. I mean… it's super hard to tell, it's like a roller-coaster!
*Which instrument do you play and how and when did you learn to play? Did you had lessons in school or private lessons? If so, was that because your parents expected that from you? Or did you learn to play the instruments by yourself? Do yo still follow some lessons?
I already told you the story in the first answer. However, I'd like to add that I'm a self-taught vocalist, more or less. But over the past years, I found a great vocal coach who consults me from time to time and we polish my vocal technique, both clean vocals and extreme vocals. Because he's good, he's also costly, so I hope that I'll be able to work with him more regularly in the nearest future. I also play a little bit of piano but simply to accompany my vocals, warm up, and sometimes do song covers for our Patreon. I'd love to study piano better but there are other priorities now.
*Do you follow other or are you intrested in other styles of music beside metal? If so, what is the music you prefer to listen to?
Of course, I'm very open-minded and I listen to lots of music genres. I can say that I have passion for soundtracks, like OST for the 'Oblivion', 'Last Kingdom', 'The Fountain', 'Tron: Legacy' and other movies. I love pop artists like Lady Gaga, Lana del Rey, Katy Perry. Depending on my mood, I also like to listen to various mixes of dark ambient music, acoustic music by singers-songwriters, etc. And I love the nordic folk-pop scene a lot, so Aurora, Eivør, Björk are very close to my taste. But it's always changing, you know, so my answers can be different a year after. I go with the flow.
*Is music a full time job for you now or do you have a job beside music? If so, what kind of job are you doing? If you would be really succesful with music, would you quit your other job?
Right now, it's exactly the time when I'm thinking of quitting my job and stay with music only. Apart from IGNEA, I've been working as a freelance content writer for IT and blockchain industries for quite a lot of time. I also joined The Flaming Arts Booking Agency about a year ago as a part-time worker. And I've been managing our Patreon page for 1.5 years so far. All in all, it's a lot of work and a lot of directions. So, thanks to our fans all over the world, I'm now able to think of leaving only IGNEA, Patreon, and the work at the booking agency. So, in this case, I'll be able to be in the music industry full-time.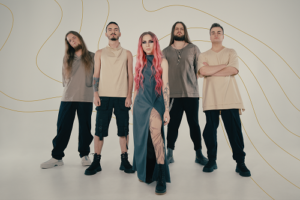 *If you could start a band with other musicians on other instruments, which artist would you pick for wich instrument and why? (Something Like an "All Stars Band".) Would you still go for a progressive death metal band with Middle-Eastern folk influences? Or would you do something completely different?
I'd like to play something like very experimental like atmosperic metal with post-black metal touches and prog vibe. And it would be cool to make the instruments flexible in this band, so that musicians would change their instruments from time to time. I'd love to play bass and sing, I'd invite Amalie from Myrkur to also sing and play the guitar and some folk instruments, Nergal from Behemoth to play another guitar and sing, and the drummer from either Kobra and the Lotus or from Oprhaned Land (I saw them both live when we performed together, they're great.) But it's like, what came to my mind but starting a band is a very serious thing so I think it would take me quite a long time to answer to this question properly.
*If you had been banned to an uninhabited island and you may pick 5 albums to listen to, wich albums would you choose and why?
Cellar Darling 'The Spell', Chelsea Wolfe 'Pain Is Beauty', Gojira 'Magma', Nightwish 'Dark Passion Play', and my own playlist of selected Radiohead songs. Hard to tell why, this is just the music that I never get tired of.
*Every new album of a band or an artist is the best one, that's what they always say. So here is a chance to promote the album. Why should a music lover buy your album? What are the standout tracks for you on this new album and why?
If we compare this album to our previos releases, I'd say the following. 'Sputnik' was our first release ever where we were only testing the grounds. It's actually kind of a concept album because it's all based around the topic of space. It's more in a progressive/industrial style. 'The Sign Of Faith' is the album that gathered various songs from different years and has a heavy middle-eastern vibe. 'The Realms Of Fire And Death' is the most well-thought release we're ever made, and we feel that we leveled up with it. It's the album we worked on most, in terms of time and effort. And, I'd say, it brings out the electronic and prog side of 'Sputnik', the IGNEA-style sound and elements from 'The Sign Of Faith' and tops it all with some sound experiments and, of course, the concept behind it. It's hard to judge the album only by several songs because it's a diverse record. But I'd recommend checking out 'Чорне Полум'я' (quite classic for our band), 'Jinnslammer' (intense, speedy song with a catchy chorus and lots of growls), and 'Disenchantment' (epic symphonic metal).
– See "CD-Review" for a review (written in Dutch) for the new IGNEA album 'The Realms Of Fire And Death' (Independent release) –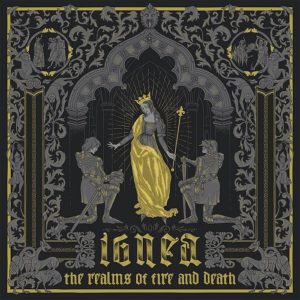 *We hope you will promote this album through live concerts (when of course everyting is getting back to "normal" after the Covid 19 disaster). If so, would you prefer small clubs or big festivals? And is there a chance we can see Ignea in Belgium?
Clubs and festivals are different experiences, so it's great to have both on the list. In fact, right now we already have two solo shows in Finland booked for December and got into a great lineup for an EU tour that's hopefully going to happen in November. Right now, the tour dates are in progress but you can always follow our schedule at our website www.ignea.band. We played in Belgium only once but it was a great crowd and we'd love to come back!