*When did you really get involved into music in general and into metal specific? Who was responsable for your interest in (metal) music?
Basically, I have been dealing with music since I can hear, the classics (sing along etc. pp) Only at secondary school did I seriously think about learning an instrument, at the time I was 16 years old and after I decided thats the shit, it took a whole year to learn, so when I was 17 I started playing the guitar. I got to know Metal through the black album by Metallica, which at that time pulled me deeply under its spell. I knew at some point I would do that too and will play this powerful music.
*Which artists or bands did influence you the most?
Thats simple – Dream Theater / Symphony X / Eric Johnson / Yngwie Malmsteen / Stratovarius and Led Zeppelin
*Which instrument do you play and how and when did you learn to play?
I play Guitar, Base and Ukulele. I learned the guitar from a teacher when I was 17
*Did you had lessons in school or private lessons?
I had a very good teacher who prepared me for everything, in between I occasionally took a few private lessons with Victor Smolski (Rage). Ten years ago I successfully completed my bachelor's degree in electric guitar.
*If so, was that because your parents expected that from you?
My parents were not interested in me at all, nor did you care whether I did something or not. The main thing was that the school grades were correct!
*Or did you learn to play the instruments by yourself?
I really started playing the guitar myself out of my own inner and deepest conviction
*Do yo still follow some lessons?
Of course, man. After all, a tree does not stop growing when it is already large.
*Do you follow other or are you intrested in other styles of music beside metal?
In principle, I don't follow anyone for the reason that the offer is so incredibly huge and if I need something, I simply get the information or simply pay for the know-how. I think that's fair, I want to be rewarded for my performance. Other Styles of Music which I prefer are Jazz / Fusion / Relaxation music and classics.
*If so, what is the music you prefer to listen to?
Fusion – preferably with saxophone solos.
*Is music a full time job for you now or do you have a job beside music?
I am happy and thankful that music has become my full-time job, i have no other Jobs.
*If so, what kind of job are you doing?
I´m a happy Guitar Teacher with about 50 students per week!
*If you would be really succesful with music, would you quit your other job?
Not quite, maybe I would cut it in half, never stop entirely.
*If you could start a band with other musicians on other instruments, which artist would you pick for wich instrument and why? (Something Like an "All Stars Band".) Would you still go for a melodic death metal band? Or would you do something completely different?
No, ist just nope, exactly the same as Battlesword. Dream combo would be Mike Stern Guitar / Dennis Chambers Drums / Jimmy Haslip Bass / Charlie Parker Saxophone
*If you had been banned to an uninhabited island and you may pick 5 albums to listen to, wich albums would you choose and why?
Dream Theater – 'Images And Word': my first record of this band and 'Pull Me Under' totally blown me away like the whole Album. Great sounding Instruments, awesome playing of all musicians and finally I'm in love with the cover artwork.
Symphony X – 'The Odyssey': The record goes straight to the full with the title Inferno and leaves no questions unanswered in playing straight Prog Metal, plus the incredible Rusel Allan, This LP is a masterpiece for me.
Metallica -' The Black Album': I've been infected with metal ever since. 'Sad But True' and everything around me disappears, stress, anger no matter what, after that everyone is good.
Mike Stern – 'Upside Downside': Beautiful songs, played incredibly by Mike Stern and the other musicians, especially the production of Hiram Bullock I really like this!
Allan Holdsworth – 'The Sixteen Men Of Tain': To this day I find positions that take me further musically and challenge me quite a bit, the album never gets boring, the song '0274' emphasizes
*Every new album of a band or an artist is the best one, that's what they always say. So here is a chance to promote the album. Why should a music lover buy your album?
It is a timeless album because I have coordinated all songs (except one) from the chords to the solos. The listener can immerse themselves in the music that we listened to and loved as young people, and that was done by our producer. A timeless, merciless sound, plus the always fitting lyrics of our singer, thematically correct to the music.
*What are the standout tracks for you on this new album and why?
'Sepents': he relieves you of being angry / 'Through Thy Shadows': because of the solos / 'Once': because of the melodies and the pounding rhythm / 'The Lion And The Eagle': therefore easy / 'At Night They Feast': Brutal and delicate at the same time
– See "CD-Review" for a review (written in Dutch) for the new Battlesword ep 'And Death Cometh Upon Us' (Black Sunset / MDD) –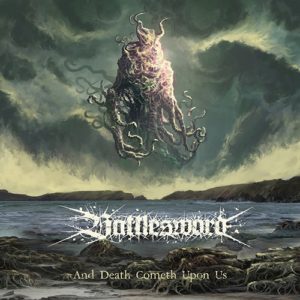 *I suppose you will promote this album through live concerts (when of course everyting is getting back to "normal" after the Covid 19 disaster). If so, would you prefer small clubs or big festivals? And is there a chance we can see Battlesword in Belgium?
As the first unexpected we as a band, that everyone will recover from this disaster, then we continue to look, preferably we play in medium-sized locations as well as festivals, I think that is the best intersection of fans to be reached and professional view of the Organizer, we give at least 110 percent live. We like to come to Belgium, so far nothing is planned maybe you have a tip for an location for us.