*When did you really get involved into music in general and into metal specific? Who was responsable for your interest in (metal) music?
I started playing guitar when I was 8 years old and at that time my biggest heroes were the members of the only death metal band from my home village. The singer was my neighbor and he gave me their first demos which were my first contact to proper death metal with growling vocals at very young age. So they are basically to blame why I got into metal and songwriting 🙂
*Which artists or bands did influence you the most?
I was very much into melodic black / death metal and specially Swedish bands like Dissection, Dawn, early At The Gates, early In Flames, Dark Funeral etc and those bands played a big role to my influences when I started writing music.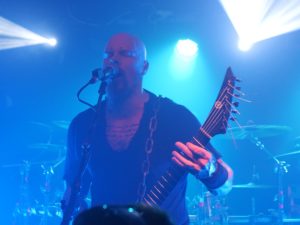 *Which instrument do you play and how and when did you learn to play? Did you had lessons in school or private lessons? If so, was that because your parents expected that from you? Or did you learn to play the instruments by yourself? Do yo still follow some lessons?
I started guitar when I was 8 and with drums when I was 15. Bass and piano I mostly play at the studio and rehearse very randomly at home. Guitar and the drums are my main instruments. Going into music was my own decision but my parents supported me all the way. I never took any proper lessons and just learned everything on my own.
*Do you follow other or are you intrested in other styles of music beside metal? If so, what is the music you prefer to listen to?
I dont listen much of music nowadays. I like softer stuff like Animatter, Ulver etc if I get into mood of listening to music. I do follow closely what is happening in the music scene but dont listen much the new music.
*Is music a full time job for you now or do you have a job beside music? If so, what kind of job are you doing? If you would be really succesful with music, would you quit your other job?
I have worked 25 years as a gardener and landscaper and I still do some projects when I have time from tours. It is a good balance with the music business. I guess I would still do few yard projects even if all money would come from music. I love writing music but music business can be pretty toxic so I would need the balance, being outdoors, building things with my hands.
*If you could start a band with other musicians on other instruments, which artist would you pick for wich instrument and why? (Something Like an "All Stars Band".) Would you still go for a black metal band? Or would you do something completely different?
I would love to play drums with Dimebag on guitar. We could figure out the vocalist and bass player later but just being able to jam with him would be best thing in this world. To give the beat to that divine groove of his.
*If you had been banned to an uninhabited island and you may pick 5 albums to listen to, wich albums would you choose and why?
1.Antimatter – 'Planetary Confinement'. Sad and lonely music for such an money place
2.At The Gates – 'Slaughter Of The Soul'. Even in deserted Island you need to get your pulse up to find ways to survive and all classic should work well as a "alarm clock" in the morning
3. Guitar, Drums and piano so I could write rest of the soundtrack for my isolation
*Every new album of a band or an artist is the best one, that's what they always say. So here is a chance to promote the album. Why should a music lover buy your album? What are the standout tracks for you on this new album and why?
It makes sense why since naturally the newest work is the most fresh and there is always a process that focuses that the new album would become better than the previous one. I would say to every music lover to go to Spotify and YouTube and check the album, give it few spins and if you like it then buy it or come and see our show. I am not a selling man, just an artist. But I am confident enough about my art that I know every listener will appreciate the quality even if the music does not fit to their taste.
– New album, 'Wolves Of Karelia', out on Napalm Records. –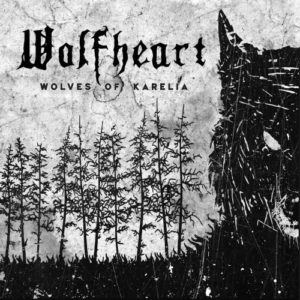 *I suppose you will promote this album through live concerts (when of course everyting is getting back to "normal" after the Covid 19 disaster). If so, would you prefer small clubs or big festivals? And is there a chance we can see WOLFHEART again in Belgium?
We have headline tour planned for September / October to Europe and hopefully the virus situation gets easier by then and we can make it happen but Belgium is on that tour so lets keep fingers crossed!