*When did you really get involved into music? Who was responsable for your interest in music?
I was singing around the house since I can remember myself (and before that, according to my parents). When I was 8, I got into a music school to study classical piano. Around that same age my brother, a guitar player and a metalhead, gave me my first 2 albums: High Voltage by AC/DC and Beneath the Remains by Sepultura, both bootleg cassette tapes – pretty much the only thing you could find in Russia in the nineties. So, the beginning of my journey into music was basically guided by Shostakovich, Bach, Wagner and Musorgsky on one hand and Cavalera and Young brothers on the other.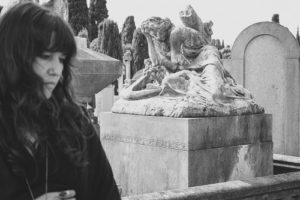 *Which artists or bands did influence you the most?
I get inspired by all kinds of things, not only music. Something just catches my eye or ear (a written work, a painting, a sound, a bird) and the idea of a song is born, often in its lyrical form first. For Covered Mirrors among those were slavic folktales, ancient mythology, burial rites, acmeist poetry. In terms of music, the idea of writing and recording this kind of ,stripped-down' album is definitely inspired by the intimate heartfelt work of Scott Kelly, Nick Drake, Karen Dalton, Steve Von Till, Dax Riggs, Dorthia Cottrell, Wino, Nate Hall, to name a few.
*Which instrument do you play and how and when did you learn to play? Did you had lessons in school or private lessons? If so, was that because your parents expected that from you? Or did you learn to play the instruments by yourself? Do yo still follow some lessons?
I asked my parents for a piano when I was 7-8, a family friend gave me a couple of lessons and suggested I enroll in a music school. I ended up hating and even resenting it because of the teaching methods: I had a hard time reading sheets and played by ear instead, which wasn't appreciated by my teachers, as it was 'against the rules'. I finished the school because I hate quitting and I felt I owed it to my parents (although they never insisted), but stopped playing piano for many years until just recently. I also moved a lot and obviously couldn't take my piano with me, so I took a few guitar lessons and taught myself how to play basic fingerstyle through tutorials. I also tried learning bass and drums, but wasn't good at either. Currently, I'm not taking any lessons, although I probably should, haha.
*Do you follow other or are you intrested in other styles of music, If so, what is the music you prefer to listen to?
I listen to tons of different music, from classical to noise, all genres of metal, rythm&blues, folk, post-rock, it depends on the mood I'm in and what am I doing at the moment. Metal (sludge, death, heavy, post) is pretty much a constant on my playlist, along with many different songwriters from bluegrass and country to blues and neofolk and mostly instrumental artists such as Earth or Mogwai. Anything emotionally charged has a place in my heart. And Sabbath, of course.
*Is music a full time job for you now or do you have a job beside music? If so, what kind of job are you doing? If you would be really succesful with music, would you quit your other job?
Music is not a job for me, it's an outlet for my emotions. I would love to be able to dedicate more time to it, although the 'commercial' side of being an artist makes me uneasy. I have an MBA and work as a freelance consultant and project manager and also serve as program director of an animal welfare charity.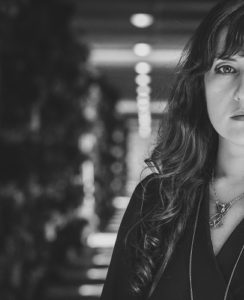 *If you could start a band with other musicians on other instruments, which artist would you pick for wich instrument and why? (Something like an "All Stars Band".) Would you still go for a dark folk act? Or would you do something completely different?
This is something I never thought about, making music is very personal and intimate for me and as of now I don't see myself being part of a band. I'd rather play my music alone and witness other bands play. I love going to live shows and miss it very much now that the world is on lockdown. At some point I'd like to make an a capella record.
*If you had been banned to an uninhabited island and you may pick 5 albums to listen to, wich albums would you choose and why?
I hate this question haha, sorry, seven is my number, so this is what you're getting:
'A Sun that Never Sets' by Neurosis, some of my favourite songs ever are on that album, listening to it just makes me feel good.
'Seasons In The Abyss' by Slayer, I don't think there's a need to explain.
'Heaven And Hell' by Black Sabbath, I love Ozzy, but Dio era Sabbath is the essence of metal and that album has no single track you want to skip.
'Angels Of Darkness, Demons Of Light' by Earth, the best music for writing or contemplating.
'Dorthia Cottrell' by Dorthia Cottrell, her solo work is pure magic made of just her voice and guitar, I will never get tired of this record.
'Paegan Terrorism Tactics' by Acid Bath, I'd take both of their albums, but you're making me chose.
'Zoloft Smile' by -(16)-, sadly, I discovered this band way too late in life, my partner introduced them to me, as he did with many other amazing bands and artists, which I haven't heard of growing in Russia. Anyone who has ever witnessed them play live will understand why.
*Every new album of a band or an artist is the best one (we do know it's your first album), that's what they always say. So here is a chance to promote the album. Why should a music lover buy your album? What are the standout tracks for you on this new album and why?
The leitmotif of 'Covered Mirrors' is grief in its different facets and forms, but ultimately the record reaches the point of hope and light. Bereavement is something that most of us went through at some point in life. For me writing and recording this album has been a cathartic process helping me to put some of my inner deamons to rest. I'd like to hope these eight songs can do something of the kind to those who listen to it, too.
– See "CD-Review" for a review (written in Dutch) for the new Kariti album 'Covered Mirrors' (Aural Music) –
*Is there a chance that you will promote these songs through live concerts? Are there contacts with other musicians to promote the album live yet? And if so, would you prefer small clubs or big festivals? And is there a chance we can see KARITI in Belgium?
Yeah, I can't wait to start playing live, even if the idea of putting myself completely out there scares me a little. I used to be a part of a collective running a small DIY venue, so small intimate shows are my favourite setting, but basically I'd play for whoever comes to listen to my music, no matter the size. Many friends who toured Belgium told me great things about playing in your country, so I'd be honored to, once this madness we are currently living in is over and live music is back.
Thank you for your interest in my music and for these questions, I enjoyed writing the answers, I hope you enjoy reading them.