*When did you really get involved into music in general and into metal specific? Who was responsable for your interest in (metal) music?
The story of music started for me at the age of 12. In the beginning, I didn't praise a musical instrument, I just enjoyed what I was listening to. Then, after much thought, I chose to start piano lessons. My touch with metal music came in high school after asking some of my friends to burn me a cd, to see what exactly was that …
*Which artists or bands did influence you the most?
There were many artists who influenced me and different ones over the years. Some of them still influence me now, such as John Williams, Jerry Goldsmith, Hans Zimmer, Gustav Mahler, Michael Jackson, Basil Poledouris…. My first influences were bands like Nightwish, Within Temptation, Kamelot, Stratovarius, Sonata Arctica.
*Which instrument do you play and how and when did you learn to play? Did you had lessons in school or private lessons? If so, was that because your parents expected that from you? Or did you learn to play the instruments by yourself? Do yo still follow some lessons?
As I mentioned before, I started playing piano when I was 12. I attended school until I was 19 and then I started private lessons. Apart from piano, I was very interested in music theory and graduated with a degree in Theory, Harmony, Counterpoint, Fugue and Orchestration. To be honest I don't come from a musical family, I was alone in it from scratch. My parents paid for my studies but I don't think they fully understood what I was doing, you know all this crazy stuff with hours of practising etc hahaha!!!. The thing that made me having a good time, was the only thing they needed to know and understand…not so easy of course… As for the studies, yes, I still learn things. To be honest I never stopped and I will keep going like this until my time to meet the Creator!
*Do you follow other or are you intrested in other styles of music beside metal? If so, what is the music you prefer to listen to?
I'm open to do anything in music. I like things from pop, latin, reggae, disco, jazz, etc. In all things I mentioned and even more, I find things I like and that influence me even I compose. The only thing I don't like and never understood is this new beat music played in clubs. I don't think that it's music, it's just a noise with no melodies, no harmony. Of course there are exceptions to all that, but I think there are very indifferent … maybe I'm wrong, who knows …
*Is music a full time job for you now or do you have a job beside music? If so, what kind of job are you doing? If you would be really succesful with music, would you quit your other job?
Since last year, I focused myself exclusively to music. I used to have a daily job and combine it, but I don't do it anymore. I m working as a musician on cruise ships and as a sound engineer, if I m not busy with Fallen Arise, so everything is coming perfect with all my business.
*If you could start a band with other musicians on other instruments, which artist would you pick for wich instrument and why? (Something Like an "All Stars Band".) Would you still go for a symphonic metal band? Or would you do something completely different?
Hmmm … let me think … Okay here is the line up : Steven Tyler on vocals ,George Lynch on guitars, Phil Kennemore on bass and Jonathan Moffett on Drums. As about the style, when you play with those guys you don't think the style … you just play!!
*If you had been banned to an uninhabited island and you may pick 5 albums to listen to, wich albums would you choose and why?
For sure Dream Theater's 'Images And Words', Dracula OST, Conan the Barbarian OST, Michael Jackson's 'Bad' and of course, 'Pyramid' by The Alan Parsons Project.
*Every new album of a band or an artist is the best one, that's what they always say. So here is a chance to promote the album. Why should a music lover buy your album? What are the standout tracks for you on this new album and why?
We tried to create an album regarding our influences, our mood our feedback and the fans of course. 'Enigma' has all these elements but we tried to give attention to the fans. We wrote an album based in melodic / symphonic metal as the previous ones but at the same time, an album accessible to all the people. This album can be listened by everyone, you can find modern metal sounds, symphonic aesthetic, beautiful melodies and many pop elements. So everyone can buy 'Enigma' and enjoy it!
– See "CD-Review" for a review (written in Dutch) for the new Fallen Arise album 'Enigma' (Rock Of Angels Records) –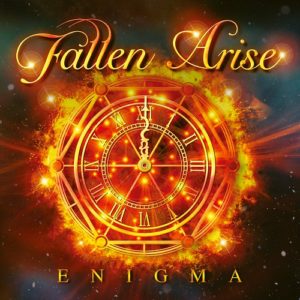 *I suppose you will promote this album through live concerts. If so, would you prefer small clubs or big festivals? And is there a chance we can see FALLEN ARISE in Belgium?
Yes we plan to do some big Summer festivals and a big tour right after it. For us it doesn't matter if we play in a big arena or in a small club. If there are people that they like what we do, they will go there and rock them and yes, Belgium is on our plans to play the new songs and the old ones as well for you!