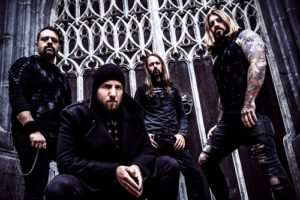 *When did you really get involved into music in general and into metal specific? Who was responsable for your interest in (metal) music?
In my case it's been like, that my parents where listening to all those great Hardrock Bands like Scorpions, Deep Purple, Bon Jovi, etc. They took me then also to several concerts and finally I wanted to play this kind of music… the development brought me than to Bands like Iron Maiden and Metallica, especially cause most of my friends were listening to such kind of music 🙂
*Which artists or bands did influence you the most?
Quite a few. Like I said, I have startet with classic Rock bands until I have been many years in Bands like Maiden, Metallica but also in Artists like Steve Vai, Joe Satriani and those Guitar Heroes. In the meantime I went a bit away from Metal and started to listen more and more to bands like Muse or some other Alternative/Indie Rock/Pop bands.
*Which instrument do you play and how and when did you learn to play? Did you had lessons in school or private lessons? If so, was that because your partners expected that from you? Or did you learn to play the instruments by yourself? Do yo still follow some lessons?
Basically I play Guitar, but my first instruments had been Accordion , Piano and Keyboard. In the meantime and got some basics in playing drums, startet to teach myself the Mandolin and for last Christmas I bought myself a Violin – let's see if I am one day able to play it ahahaha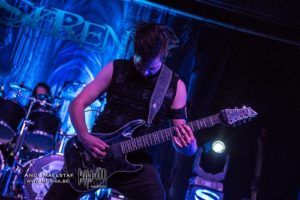 *Do you follow other or are you intrested in other styles of music beside metal? If so, what is the kind of music you prefer to listen to?
Yap. Like I said I am a big fan of bands like Muse and so on. But in general I am super open minded in music – really able to listen to any kind of music… maybe just not so much typical German folk music ahahaha
*Is music a full time job for you now or do you have a job beside music? If so, what kind of job are you doing? If you would be really succesful with music, would you quit your other job?
In the meantime yes – founded music schools when I was starting this serious musician life ten years ago. But before that I finished my studies in economics and became Master of economic arts 🙂 always good to have a kind of Plan B
*If you could start a complete new band with other musicians on other instruments, which artist would you pick for wich instrument and why? Would you still go for a symphonic power metal band?
Hard to say. Guess it won't be Metal. But cannot really imagine at the moment as I am so into my two Bands Serenity and Beyond the Black, that there's not that much space to think about new bands 🙂
*If you had been banned to an uninhabited island and you may pick 5 albums to listen to, wich albums would you choose and why?
Best of Queen, Best of Muse, Best of Classic Composers, Best of Disney Soundtracks and Best of Metallica – perfect mix out of everything I was listening to my whole life, super varied and will never get boring 🙂
*Every new album of a band or an artist is the best one. So here is a chance to promote you album. Why should a music lover buy your album? What are the standout tracks for you on this new album and why?
It's definitely the next huge step in our composing history. Especially thanks to our producer Sascha Paeth we have been able to bring our music to the next level. So if you haven't listen to Serenity yet, 'The Last Knight' is THE record you should check us, to listen to the best Serenity music you maybe will find in our history of records 🙂
– New album, 'The Last Knight', out on Napalm Records. –
*SERENITY will be playing Belgium in april in a club. Do you prefer (small) club shows or do you prefer (big) festivals? SERENITY did play already some times in Belgium. Do you have good memories of the shows In Belgium? What is your favorite festival this far? What would be the festival of your dreams to play on?
Belgium is very well known to us and one of the countries we are always that looking forward to play shows there. Of course, we like to play the biggest shows at possible but Club Shows are having their own special feeling. You are close to the audience, you can transfer directly all emotions and energy to your fans… that's sth really great and can turn out like you are playing a stadium. Best festival so far has been Wacken and Prog Power USA I would say – and dreams: ahahaha don't wanna start with that, as there a quite a lot of Countries and Festivals we would like to play in the future.
Live foto's: 20180907 @ Le Cercle: Andy Maelstaf.