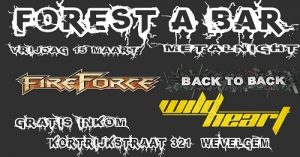 Metalnight – 15/03/2019 – Forest'a Bar – Winterbar, Wevelgem
Vrijdag 15 maart, een tweede gratis "metalnight" in Forest'a Bar – Winterbar te Wevelgem. Nadat Iron Mask en Guilty As Charged op 8 februari laatstleden er op de planken stonden, was het nu de beurt aan FireForce, WildHeart en Back To Back.
FireForce mocht openen en staat, zoals jullie waarschijnlijk allemaal weten voor een gedreven en energieke set power metal of, zoals intussen algemeen wordt aangenomen combat metal. WildHeart kiest dan eerder voor een mix van hard rock, glam metal en sleaze, terwijl Back To Back een aantal hard rock en heavy metal covers brengt om er een echt feestje van te maken.
Fotografe Bianca Lootens was er bij en zag dat het goed was. Volgende foto-reportage (foto's zeggen soms meer dan woorden) is in ieder geval van haar hand.
Foto's: Bianca Lootens.