*When did you really get involved into music in general and into metal specific? Who was responsable for your interest in (metal) music?
I've always had an inclination towards music, specifically darker stuff. I want to say seventh or eighth grade is when I got into heavier music.
*Which artists or bands did influence you the most?
When I discovered Alice In Chains is when I really think I found of what style of music I was into. Dissonant guitar paired with gritty, haunting vocals with dark and personal lyricism. Once I discovered the late 80s / early 90s grunge scene stuff I really found what resonated with me.
*Which instrument do you play and how and when did you learn to play? Did you had lessons in school or private lessons? If so, was that because your parents expected that from you? Or did you learn to play the instruments by yourself? Do yo still follow some lessons?
I picked I guitar on my own when I was eleven and decided to make the switch to bass three years ago when I wanted I start a band. I had musicians in family but honestly didn't really have a ton of support. No one was outwardly telling me they were against me pursing music but it was a very passive disapproval, hushed insults and back handed compliments and stuff like that. Never had formal lessons but always joined as many choral and musical performance groups as possible in highschool, it's where I found friendships.I am self taught in everything and care very much about keeping up on my vocal health and practice.
*Do you listen to or are you intrested in other styles of music beside rock / metal? If so, what is the kind of music you prefer to listen to?
I really enjoy older country and bluegrass music, I love dark folk Americana and I also really dig dark wave / 80s synth.
*Is music a full time job for you now or do you have a job beside music? If so, what kind of job are you doing? If you would be really succesful with music, would you quit your other job?
I wish it were, right now I work on my art business freelancing graphic artwork for bands and I bartend. If music really took off I'd follow wherever it goes, probably leave bartending but would still work on building my artistic repertoire.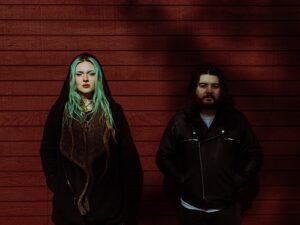 *If you could start a complete new band (something like an all star band) with other musicians on other instruments, which artists would you pick for wich instrument and why? Would you still go for a stoner / doom band?
I don't think I'd aim for a particular sound but would love to have Jerry Cantrell (AiC) and Larey LaLonde (Primus) on guitar, because I think Jerry has a very structured style of playing with dissonance whereas Larry has to dance around bass as the focal instrument on Primus and it makes for some very interesting and chaotic dissonance. Matt Cameron (Soundgarden) on drums because his knack for interesting fills, and Daniel House (Skin Yard) on bass because his licks were always tasty as f*fk, if I decided not to play an instrument and do vocals.
*If you had been banned to an uninhabited island and you may pick 5 albums to listen to, wich albums would you choose and why?
I hate this question but if I HAD to pick 5 off the top of my head, it's be AiC's 'Music Bank' collection because I'm a cheater and couldn't live with just one of their albums, Queens Of The Stone Age's 'Lullabies to Paralyze' because they were a band I slept on real hard but once I heard them they changed my life, Soundgarden's 'Batmotorfinger' because every song is a banger, Skinyard's '1000 Smiling Knuckles' because they're one of my favorite bands from the 90s that doesn't get enough recognition, and Primus's 'Frizzle Fry'.
*Every new album of a band or an artist is the best one, so they say. So here is a chance to promote your album. – We do know it's the first debut ep. – Why should a music lover buy your album? What are the standout tracks for you on this new album and why?
I think we tried to cover a lot of ground with as little complication as possibly. I really enjoy keeping things raw and authentic, from the instrumentals, to the lyricism and the production . These songs are very personal to me and I think sometimes the intent and emotion a songwriter has can transcend all else. I'm really proud of the two singles because I think they are very different but capture the overall emotions I felt while writing both of them.
– See "CD-Review" for a review (written in Dutch) for the new Coma Hole album 'Coma Hole' (Independent Release) –
*Is there a chance that you will promote these songs through live concerts? If so, would you prefer small clubs or big festivals? And is there a chance we can see COMA HOLE in Belgium?
Currently we've been playing them the past three years as a band and we plan on touring with this album at some point. If we can make it across seas we would absolutely love to play Belgium. I don't see it as an impossibility.