*When did you really get involved into music in general and into metal specific? Who was responsable for your interest in (metal) music?
I started to listen to metal the day heavy metal was invented. Before that time I had to listen to heavy rock and later on power rock since heavy metal wasn't invented yet…
*Which artists or bands did influence you the most?
All famous bands from the NWOBHM, especially Priest, Maiden and Motörhead
*Which instrument do you play and how and when did you learn to play? Did you had lessons in school or private lessons?
According to the credits on all Iron Savior albums since 1996 I play guitar. I started to play at age 10. I never took lessons.
*Was that because your parents expected that from you? Or did you learn to play the instruments by yourself?
Yes. Learning by doing.
*Do yo still follow some lessons?
No.
*Do you follow other or are you intrested in other styles of music beside metal? If so, what is the music you prefer to listen to?
In fact I do listen to metal and rock most of the time… if I listen to music as a consumer… but this is rather seldom. After working 8 hours on music day by day I usually do not continue listening to music in the evenings… I read a book, watch TV or spend time with my family and friends.
*Is music a full time job for you now or do you have a job beside music? If so, what kind of job are you doing? If you would be really succesful with music, would you quit your other job?
Music is an important source of income for me. I do have other income which gives me the freedom to do whatever I want with IRON SAVIOR. This is something I really appreciate A LOT. Therefore I would NEVER base my whole existance on income from music only. Regardless how succesful I would be, I know quite well that fame and income can vanish as fast as they arise.
*If you could start a band with other musicians on other instruments, which artist would you pick for wich instrument and why? (Something Like an "All Stars Band".) Would you still go for a speed metal / power metal metal band? Or would you do something completely different?
For Bassguitar I would pick Jan-Sören Eckert from Iron Savior. For Guitars I would pick Joachim "Piesel" Küsntner from Iron Savior. For drums Patrick Klose from Iron Savior would be perfect. I would do Judas Priest influenced powermetal blended with classic metal elements. Im not so sure about vocals.. there is this other dude from the Iron Savior guys… the one with the bald hair… he thinks he is a good singer…I may at least give him a chance ;-).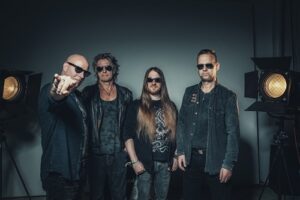 *If you had been banned to an uninhabited island and you may pick 5 albums to listen to, wich albums would you choose and why?
'Skycrest', 'Landing', 'Condition Red', 'Iron Savior' and 'British Steel'. In fact Iron Savior is 100% my personal definition of how metal has to be. If it would be different, I would be doing something very wrong with Iron Savior. That's why I take the 4 strongest ones with me. But for a change 'British Steel' is still my all time favorite Priest album ;-).
*Every new album (or ep) of a band or an artist is the best one, that's what they always say. So here is a chance to promote the album. Why should a music lover buy your album? What are the standout tracks for you on this new album and why?
Early this year our bassist Jan was faced with a cancer diagnose which turned our world and plans upside down and stirred up a lot of emotion. He stood the fight and by now after several chemo treaments he has been released as 100% cured. All this had a major impact on the album, especially the songwriting and the lyrics. There is a lot of emotion in every song, which may not unfold on the first go, but it is there. The songwriting is outstanding and the way the specific songs blend togeather is just perfect. The production sound is extremly cool and my voice has been in top shape. All this makes 'Skycrest' one of the best albums EVER… if not the best… time will tell.
– See "CD-Review" for a review (written in Dutch) for the new Iron Savior album 'Skycrest' (AFM Records) –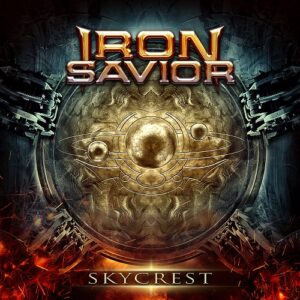 *We suppose you will promote this album through live concerts (when of course everyting is getting back to "normal" after the Covid 19 disaster). If so, would you prefer small clubs or big festivals? And is there a chance we can see Iron Savior in Belgium?
We have no preference and love to perform on festival as much as we like club shows. Unfortunately it is very hard to get shows in Belgium, but let's wait an see how Covid is turning out to be in 2021. We will return to stage on January 9th2021 with an online show (Ballrom Birthday Bash) from our hometown Hamburg which will be streamed worldwide (check www.iron-savior.com for detailed info). So if we can't make it to Belgium, this would be a chance to get a good dose of Iron Savior ;-).
All the best, Piet.