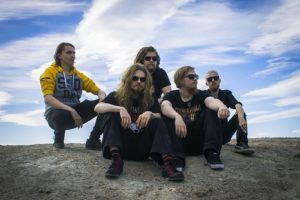 *When did you really get involved into music in general and into metal specific? Who was responsible for your interest in (metal) music?
-Tuomas: I started listening to metal when I was like 10 years old. Started off strong, Iron Maiden. Still to this day one of the best bands known to man. I guess my brother listening to Nu Metal way too loud in his room really made me dig the "harsher" side of metal at an early age. Otherwise, I've been playing classical music ever since my parents made me play the piano and I joined the school choir.
-Eirik: I've been into music since I was a kid. I remember going behind a drum kit at my school and just banging away when I could during the first grade. For a long time I was just listening though, and not so much playing unless I had a chance here or there. I got into metal around 2004, when Nightwish – Once was released. Saw the music video for Nemo on TV of all places, and got instantly hooked. At the same time my friends got me into Metallica, and from there it's been a wild ride.
-Teemu: I remember sitting in a school bus when I was a confused 13-year-old little boy and asked my best friend to add music to my MP3-player. When I got my player back and started to listen to the music he had added there, I was a changed man. First bands that I listened to were Amon Amarth, Norther, Kalmah and later Slayer, Metallica and Finnish bands Mokoma and Stam1na.
*Which artists or bands did influence you the most?
-Tuomas: As a bassist, Steve Harris mainly. I really love his lightning fast playing style, while also staying melodic. As a vocalist, I fell in love with growls because of Omnium Gatherum, and their absolutely crushing gutturals. With clean vocals, while not my register, I love Devin Townsend's emotion and theatrics.
-Eirik: In Flames, Dark Tranquillity, Amon Amarth. Anders Friden (In Flames) made me want to be a vocalist, while Mikael Stanne (Dark Tranquillity) and Johan Hegg (Amon Amarth) are my main influences as a vocalist. Honorable mention goes to Nightwish, who made me fall in love with melodic/symphonic music, which led me to Melodic Death Metal.
-Teemu: It is difficult for me to name any specific "influencers" for my drumming because there are just soooo many bands and drummers who I look up to but if I had to name one man, that would be Mario Duplantier from Gojira.
*Which instrument do you play and how and when did you learn to play? Did you had lessons in school or private lessons? If so, was that because your parents expected that from you? Or did you learn to play the instruments by yourself? Do you still follow some lessons?
-Tuomas: So I play the bass, which I started learning around 2012. After joining the band, my love for the instrument grew so much more. I had private lessons in the beginning, but with these guys I've learned so much more than lessons could ever do. My parents were just glad that I had interest in music, so it really didn't matter what instrument I played. Currently maybe some classes could be of use, because I believe you should always strive to improve yourself.
-Eirik: I'm the vocalist, mostly self-taught. I tried singing when I was younger, but I got into it seriously when I was around 18. I was in college, and the music teacher encouraged me to start singing again. Ended up joining the school choir, and had some private lessons from her for about 6 months as well. That gave me the baseline for vocals in general, harsh vocals are completely self-taught. Haven't gone to singing lessons since, although I should. Since the start I wanted to do harsh vocals, so it was all because I wanted to do it properly.
*Do you follow others or are you interested in other styles of music beside metal? If so, what is the music you prefer to listen to?
-Tuomas: I absolutely love ambient music. You know, that stuff they play at the spa with the stupid pan flutes? Brilliant. But I also love classical piano, folk music and pop punk bands like Paramore.
-Eirik: I listen to pretty much everything I find enjoyable. While I mainly listen to metal, it's not end-all-be-all for me, and I might swing from DnB to metal to video game soundtracks within one day. Hell, I use Poets of the Fall for my vocal warm ups! In general, I believe there is good music in any genre, you just have to find it. My preferences tend to be in something with a great beat and rhythm, or something with a great melody.
-Teemu: My motto towards music is "there's shit in every genre". Even though I mostly listen to metal music from power metal to porncore, synthwave is my go-to music when for example working and studying. So-called "radio songs" are a thing that I try to stay away from but I won't complain if someone wants to listen to it in my presence.
*Is music a full time job for you now or do you have a job beside music? If so, what kind of job are you doing? If you would be really successful with music, would you quit your other job?
-Tuomas: I'd be conflicted having music as a full time job, because I still love it as a hobby and I don't want to ruin that love. But currently I'm a software engineer, and I'm happy to have that as my main source of income, so even with success, I wouldn't quit my job.
-Eirik: If I could, I would do music full time. Currently I work in marketing for an IT consultant company. It's decent fun, but nothing beats being on a stage and seeing people love the music you play.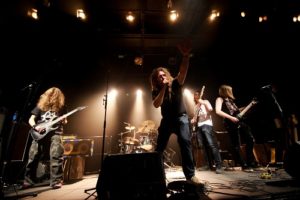 *If you could start a band with other musicians on other instruments, which artist would you pick for which instrument and why? (Something Like an "All Stars Band".) Would you still go for a melodic death metal band? Or would you do something completely different?
-Tuomas: I'd be scared shitless if I played with my idols. So because of that, I'd just pick my buddies back from high school. Me singing, Jimmy on bass, Samu on guitar, Kim on the drums and Joni would be our manager. Much love to the guys. We'd also make a new genre: Alternative Progressive Funkcore.
-Eirik: Oh boy. Lets see… Chris Adler (ex-Lamb of God) or Jukka Nevalainen (ex-Nightwish) on drums. Both of them are great drummers I admire, and had I continued to play drums further, they would be my inspirations. Rob Arnold (ex-Chimaira) on guitar. I always loved the riffs in Chimaira, so that's a no-brainer. Eugene Abdukhanov (Jinjer) on bass. I'd imagine he will go down as one of the greats, his playing is just something else. If we added keyboards, Tuomas Holopainen (Nightwish). I'd probably go for a groove metal line-up, it's something I'd like to try, and I can't sing cleans 😀
-Teemu: To be honest, I can't imagine myself playing in another band than in Limos anymore (no homo). –Tuomas: (full homo.)
*If you had been banned to an uninhabited island and you may pick 5 albums to listen to, which albums would you choose and why?
-Tuomas: Devin Townsend Project – 'Ki': My absolute favorite album from my absolute favorite artist.
Iron Maiden – 'A Matter Of Life And Death': Basically the first album that I fell in love with as a kid.
Paramore – 'Paramore': The most emotionally important album in my life.
Kauan – 'Kaiho': The most beautiful album ever recorded.
Strapping Young Lad – 'Alien': The most brutal album ever recorded.
-Eirik: There's just too much good music, I can't pick only five! Not fair! If I have to…
Chthonic – 'Bu-Tik'. Great album cover to cover, can't name a single bad song. Poets Of The Fall – 'Twilight Theater', for some nostalgia, and when I need something softer. Whitechapel – 'The Valley', is currently in my heavy rotation, so that would come along too. Last two would be live albums. Nightwish – 'Showtime, Storytime' and Dark Tranquillity – 'Where Death Is Most Alive'. Both of these bands are even better live than on albums.
-Teemu: This is like asking which one of the kids you love most… but well here goes.
Ice Nine Kills – 'The Silver Scream': The clean vocals and catchy choruses gets me everytime.
Mokoma – 'Luihin ja ytimiin': The very first metal album which I listened from start to finish and to this day it still has a special place in my heart.
Slayer – 'Reign In Blood': Dave Lombardo. Enough said.
Pegboard Nerds – 'Nerds By Nature' EP: To bring some diversity.
We Butter The Bread With Butter – 'Wieder geil!': An album where two of my biggest passions collide: Metal and Memes.
*Every new album of a band or an artist is the best one, that's what they always say. So here is a chance to promote the album. Why should a music lover buy your album? What are the standout tracks for you on this new album and why?
-Tuomas: We make sick as fuck Melodeath that sounds unique. Plus, we have songs in our native language Finnish, which always sounds cool. The most standout tracks are 'Child Of The White Eye' and 'Surullisten Järvien Maa', because on those songs we experimented and grew most as a band.
-Eirik: If you heard our previous EP, and it tickled your fancy, you will love 'Tales Of The White Eye'. All in all we have developed so much as musicians, it's hard to describe. Everything clicks better together, we are much better in sync as a band, and the individual instruments are tighter. Even if you are not a fan of harsh vocals, the playing is so good you can forgive the growls, and maybe even turn into a fan of them!
My standout track is the closer, 'Surullisten Järvien Maa'. I managed to capture the Finnish melancholy, mindset, and mood with the lyrics, and Eppu's riffs take to another level. He nailed the mood I was going for, and after recording it quickly became my favourite track. It's in Finnish, so the lyrics speak especially to us, but what I am conveying comes through with the music, so non-speakers can feel the emotions of the lyrics too.
– See "CD-Review" for a review (written in Dutch) for the new Limos album 'Tales Of the White Eye' (Inverse Records) –
*Is there a change that you will promote this ep through live concerts (when of course everything is getting back to "normal" after the Covid 19 disaster). If so, would you prefer small clubs or big festivals? And is there a chance we can see Limos in Belgium?
-Tuomas: Belgium, give us the chance and you will not be dissapointed.
-Eirik: Of course we'd come to Belgium! It's one of the places I haven't visited in my life, so I'd get to see a new country, and play our music there. Win win!
We had planned to promote it this spring in Finland, until Covid happened. I'd love to play on a big stage, but small clubs have a great atmosphere too, so why not both? Maybe a slight preference to big stages.