After the tour is before the tour! Even after months of the overwhelming release and heavy success of Powerwolf's TOP #1 album The Sacrament Of Sin, these wolves are still going strong!
The recent "Wofsnächte Tour" was a truly breathtaking success: 18 out of 20 shows were completely sold out!
"Looking back on the last months, realizing that we are blessed with the best fans – 18 out of 20 shows of the "Wofsnächte Tour 2018" were completely SOLD OUT! Thank you!", the wolves commented happily.
No rest for the wicked, as Powerwolf will hit the road again in January 2019 for their The Sacrament Of Sin Tour 2019! Selected cities in France, Spain and the UK are among the party as well as an exclusive additional show in Germany on January 25th in Dusseldorf – Mitsubishi Electric Hall.
Be there!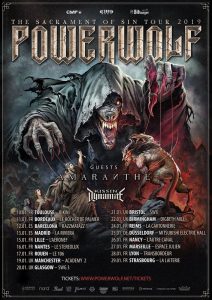 *10.01.19 FR – Toulouse / Bikini *11.01.19 FR – Bordeaux / Le Rocher De Palmer *12.01.19 ES – Barcelona / Razzmatazz 1 *13.01.19 ES – Madrid / La Riviera *15.01.19 FR – Lille / L'Aeronef *16.01.19 FR – Nantes / Le Stereolux *17.01.19 FR – Rouen / Le 106 *19.01.19 UK – Manchester / Academy 2 *20.01.19 UK – Glasgow / Swg 3 *21.01.19 UK – Bristol / Swx *22.01.19 UK – Birmingham / Digbeth Mill *24.01.19 FR – Reims / La Cartonnerie *25.01.19 DE – Düsseldorf / Mitsubishi Electric Hall *26.01.19 FR – Nancy / L'Autre Canal *27.01.19 FR – Marseille / Espace Julien *28.01.19 FR – Lyon / Transbordeur * 29.01.19 FR – Strasbourg / La Laiterie
________________________________________________________________________________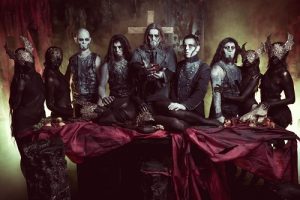 Net als op de zo succesvolle "Wolfsnächte Tour 2018" mogen ook nu weer het Duitse Kissin' Dynamite en het Zweedse Amaranthe mee in het kielzog van Powerwolf. Wat ons van MUSIKA betreft: een winnende combinatie!
Powerwolf staat reeds een aantal jaren garant voor immens aanstekelijke live concerten die telkens opnieuw een pak nieuwe zieltjes weet te winnen voor de aanstekelijke toegankelijke power metal die het vijftal aflevert.
Ook het Zweedse Amaranthe staat steeds garant voor uitstekende live concerten waar hun uiterst aanstekelijke mix van power metal, melodic death metal, metalcore en electronica volledig tot zijn recht komt.
En ook Kissin' Dynamite kent er wat als het aankomt om aanstekelijke en ctachy songs af te leveren. Dit Duitse vijftal drukt zich muzikaal uit aan de hand van een mix classic hard rock en traditional heavy metal die ze uiterst melodieus en energiek brengen tijdens live concerten.
Drie bands dus die voor een feestje kunnen zorgen. Wie de 'Wolfsnächte Tour 2018" op een of andere manier miste, krijgt nu dus nog een herkansing!