*When did you really get involved into music in general and into metal specific? Who was responsable for your interest in (metal) music?
I got involved into the music when I was three years old, I wanted to play the piano, but parents wanted to go easy on me so we have started with a flute. Later when I was six years old I have started playing the piano and five years later I have also tried to sing! When I was eleven I found out that there is more than just pop music and classical music and it was metal and rock. First bands I was listening to were Evanescence and Nightwish and I got really inspired by them, because I loved classical / orchestral music and that connection with dark metal riffs and drums was just amazing. I can say that the responsible one for the interest in metal was me, my parents don't listen to that music genre and I heard it in the radio, first 'Nemo' from Nightwish and later 'My Immortal' from Evanescence. Later I found those bands on Youtube and thats how my metal music interest evolved!
*Which artists or bands did influence you the most?
I was inspired by Nightwish and Evanescence when I decided to start composing this genre because those band introduced me to this genre. But musically I am influenced the most by Two Steps From Hell, Audiomachine and Hans Zimmer.
*Which instrument do you play and how and when did you learn to play? Did you had lessons in school or private lessons? If so, was that because your parents expected that from you? Or did you learn to play the instruments by yourself? Do yo still follow some lessons?
I play the piano since I was six years old like I have already mentioned before. My parents just tried if I have some talent and music teacher told my parents I do have a talent so I have learned the piano really fast. I was sometimes kinda bored with easy etudes etc. but you know, sometimes those boring lessons are neccessary to improve your technique. It was public musical school, I never had any private lessons. My parents, especially my mother expected from me a lot after she found out I was really talented. She was expecting I would be the best and I was, even without trying, but also she was expecting more and more and it started to be really annoying sometimes. When I wanted to go study some music high school my mother told me to not go here because "musicians are poor", so that was the time I finished the "elementary" music education and I was focusing more on my composing and more on vocal improvement since. I do not follow any private lessons, I would love to have some vocal coach because I am self educated singer, but when you have some music education even on piano and you follow some vocal coaches on youtube you know what to do! Nowadays it is easy to improve if you want to, everything is online!
*Do you like other or are you intrested in other styles of music beside metal? If so, what is the music you prefer to listen to?
Of course I like more genres than just metal. Music is a wonderful and there is such a wonderful scale of music genres etc. My most favourite music genre and also no.1 is epic orchestral music and soundtracks. I love that. No 2 is metal of course, especially symphonic / gothic metal and death metal and I also like some good pop artists or really dark EDM music.
*Is music a full time job for you now or do you have a job beside music? If so, what kind of job are you doing? If you would be really succesful with music, would you quit your other job?
For now I am not a fulltime musician, I am freelancer, I work in finances as a financial advisor and I hope that music will be my full time job because I would love to focus only on music and quit this boring job of course!
*If you could start a band with other musicians on other instruments, which artist would you pick for wich instrument and why? (Something like an "All Stars Band".) Would you still go for a symphonic metal band? Or would you do something completely different?
I think I would have still symphonic metal band because I am super into orchestras and it is sometimes hard for me to compose without any orchestra! But I would love to have Marco Hietala as a bass guitarist of course and he is also good composer so it would be very good for the songs as well, maybe I would love to have a drummer Ariën van Weesenbeek from Epica, they have got really good drums it has a drive and I like it so much. For guitars I would pick guitarists from Devilment Colin Parks and Nik Sampson and I would work on orchestras with Hans Zimmer or Thomas Bergersen!
*If you had been banned to an uninhabited island and you may pick 5 albums to listen to, wich albums would you choose and why?
Wow .. Thats really interesting question. I would say 'Imaginaerum' Nightwish, 'Fallen' Evanescence, 'Vanquish' Two Steps From Hell, 'Tree Of Life' Audiomachine and selfishly my own album 'War Of The Worlds'. Why? Because I love those artists and for me those are really good albums I love the most and I would love to have my work with me because I would like to remember myself my achievements!
*Every new album of a band or an artist is the best one, that's what they always say. So here is a chance to promote the album. Why should a music lover buy your album? What are the standout tracks for you on this new album and why?
Our album is little bit different from typical symphonic metal because I got inspired in epic movie and soundtrack music so it can be very interesting for the listener. Also our music is carrying whole the story, so each song is like a new chapter of the story I have created and it is also the whole meaning of the band, who we are etc. It is about the ancient world far away full of magic, darkness, light, demons, hope and everything you can imagine. It also carries all the emotions and struggles we go through everyday in ordinary life even if it is about the fantasy world. Characters struggles with decisions, their life, their being, love and dark, so if you need just something simple you can have that as well. Our standout tracks are 'War Of The Worlds' because thats the main and opening song for whole the album and it is introducing the listeners our style of music as well. Another one is 'Infinity Flames' that's about the contrast between clean female vocals and male growlings and also it carries interesting contrast in the way that growling parts are singing about good side of the story and the clean vocals are the evil parts of the story. And the third I would love to mention 'Nothing Left But Pain' it is a simple but very melodic and catchy song I would say, personally my most favourite song and it is about hope, getting back on your knees from the very bottom of the darkness. So very inspirational song.
– See "CD-Review" for a review (written in Dutch) for the new AFTER EVOLUTION album 'War Of the Worlds' (WormHoleDeath Records) –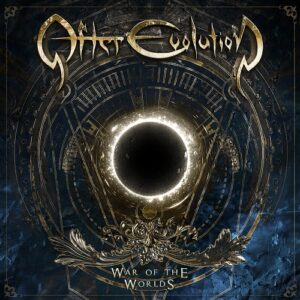 *Is there a chance that you will promote these songs through live concerts? If so, would you prefer small clubs or big festivals? And is there a chance we can see AFTER EVOLUTION in Belgium?
Of course! We are planning to be on a live concerts! So you will see us live I hope very soon! We would prefer festivals because we are festival lovers, I love the atmosphere on festivals and you can meet another amazing artists as well so that's why! And I hope we will visit Belgium of course, it depends what we will be able to book, but if you have some suggestions for us about any concerts or festivals let us know! We would love to check it out and try to book us there.