*When did you really get involved into music in general and into metal specific? Who was responsable for your interest in (metal) music?
I was around 12 when I started listeing to metal Iron Maiden, Sabbath, Metalllica, etc. the classic's of metal it started my long life love affair with the genere of music.
*Which artists or bands did influence you the most?
Like I mentioned on the previous quesiton classic bands like Sabbath, Maiden, Dio where and still are my passion I remember very early on I became a massive Mercyful Fate fan, the whole image and theme attracted me compeletly those album covers 'Melissa' and 'Don't Break The Oath' where enthralling, I became spellbound forever ha ha.
*Which instrument do you play and how and when did you learn to play? Did you had lessons in school or private lessons? If so, was that because your parents expected that from you? Or did you learn to play the instruments by yourself? Do yo still follow some lessons?
Guitar it is, I remember learning metal songs through my record collection, all self taught. I took some lessons from local guitar players in Gibraltar but the majority of the time it was figuring it out by myself. There was no internet at the time so it was a challenge had to make it up as I went, and yes I always keeping trying to better myself as a musician lately hooked on classical guitar.
*Do you listen to or are you intrested in other styles of music beside rock / metal? If so, what is the kind of music you prefer to listen to?
Oh yes of course never narrow your understanding and joy of music I would say its classical and flamenco for me though I love Pink Floyd and progressive and atmospheric stuff, really any thing thats good will interest me.
*Is music a full time job for you now or do you have a job beside music? If so, what kind of job are you doing? If you would be really succesful with music, would you quit your other job?
Well I need to work, luckly I have been a sound engineer for the past ten years and also work as crew for events /gigs, tv and shows etc. It's all connected in some way. I would leave everything in a heart beat to just play guitar though I have expierence it with my last band as we where a proffessional outfit releasing five albums and touring the world, didn't work in anything apart from the band through that period of my life.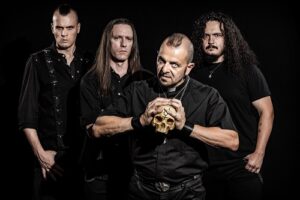 *If you could start a complete new band (something like an all star band) with other musicians on other instruments, which artists would you pick for wich instrument and why? Would you still go for a traditional heavy metal metal band? And would you still go for horror stories as lyrics?
I think I would still have the same theme lyrically and musically why not, with whom its a difficult question ha ha I would be happy getting the Mercyful Fate classic line up or just playing in Dio's 'Holy Diver' line up wow, it could be because I love that era of music. They were proper musicians who recorded on reel to reel tape no cut and paste generation ha ha .
*If you had been banned to an uninhabited island and you may pick 5 albums to listen to, wich albums would you choose and why?
UUFFF difficult question. Mercyful Fate – 'Don't Break The Oath', Megadeth – 'Peace Sells', Black Sabbath – 'Heaven And Hell', Rainbow – 'Rising' and for something relaxing Pink Floyd – 'Dark Side Of The Moon'.
*Every new album of a band or an artist is the best one, so they say. So here is a chance to promote your album. Why should a music lover buy your album? What are the standout tracks for you on this new album and why?
Yes, you're right, artists always believe the new album is thier best and I think its our best work to date, it took me blood, tears and sweat to compelete it. The whole album is amazing, this album is like a book and every song its a different chapter, so I wouldn't say any given track is better than others it just gives you something different give it a try and it will grow into you take the voyage my friends.
– See "CD-Review" for a review (written in Dutch) for the new The Heretic Order album 'III' (Massacre Records) –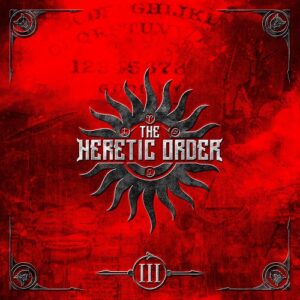 *Is there a chance that you will promote these songs through live concerts? If so, would you prefer small clubs or big festivals? And is there a chance we can see THE HERETIC ORDER in Belgium?
I would love to any promoters hit us, festivals even better so you can reach more people. Lets see how the album is recevied.