*When did you really get involved into music in general and into metal specific? Who was responsible for your interest in (metal) music?
I started listening to heavy metal, when I was about five or six years old. Back in those days hard rock and heavy metal were children's music – at least in Finland. My early favorites were KISS, W.A.S.P., Accept, Hanoi Rocks, Twisted Sister, Iron Maiden, Scorpions, Rainbow, Deep Purple and so on. I still listen to all of them. The bigger guys next door introduced me to some of them, and a few I discovered through a music magazine Suosikki at a very early age. I got my first acoustic guitar for my fifth birthday, but didn't learn to play until I was about 13–14 years old. I was a late bloomer. I started my first band Chaosweaver in 2004, and we recorded a couple of pretty good albums. KUOLEMANLAAKSO is my second band ever.
*Which artists or bands did influence you the most?
Tony Iommi and Black Sabbath have always been a huge influence to me. The Sabbath classics were among the very first songs I learned to play on guitar. 'Eparistera Daimones' by Triptykon was my number one catalyst to start writing songs for KUOLEMANLAAKSO back in 2010. I love Tom Gabriel Fischer's dirty and rough style of playing. He's superb at creating crushing and pitch-black atmospheres. I've always loved My Dying Bride, too. Speaking of which, I hope Martin Powell would make a comeback to making metal music. He's been a part of some of the best albums in metal, including 'Turn Loose The Swans' by My Dying Bride and Midian by Cradle Of Filth. All in all, I don't consciously mimic anyone, nor do I learn to play other bands' songs. I just write music and see where it takes me.
*Which instrument do you play and how and when did you learn to play? Did you had lessons in school or private lessons? If so, was that because your parents expected that from you? Or did you learn to play the instruments by yourself? Do you still follow some lessons?
I took piano private lessons for about three years as a kid. My parents pretty much forced me to, but I regret quitting them. I also took some guitar lessons from a guy next door, when I was 15–16 years old. Other than that I'm self-taught. I only pick up an instrument to write new songs. I don't like rehearsing. I do that only when I must – meaning before a recording session or live shows. I'm more of a creative mind than a live performer.
*Do you follow other or are you interested in other styles of music beside metal? If so, what is the kind of music you prefer to listen to?
Yeah, I listen to a wide range of music: soundtracks, late 80s and early 90s gansta rap, melancholic pop, 60s and 70s classics, 80s pop, vintage prog… You name it. Good music is good music. I'm the biggest Twin Peaks soundtrack fan in the world, and I love Lana Del Rey, Kari Rueslåtten, Genesis, Dingo, The Black Crowes and Nirvana to name a few. The Doors is the best band in the world in my books. I also write non-metal music. My dream pop band Her Shadow's debut album comes out late this year via Svart Records.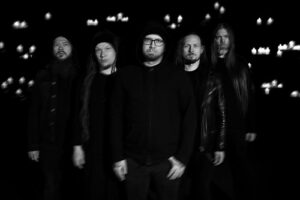 *Is music a full time job for you now or do you have a job beside music? If so, what kind of job are you doing? If you would be really successful with music, would you quit your other job?
I do all kinds of stuff. Sometimes I write books. Sometimes I do photography. Sometimes I do freelance journalism. Right now I'm working as a communications specialist for a large employer. Be as it may, I'd love to make music full time. There have been times when making music was my main source of income, thanks to government-funded music grants.
*If you could start a complete new band (something like an all star band) with other musicians on other instruments, which artists would you pick for which instrument and why? Would you still go for a doom / death metal band?
I'd love to make all sorts of music, but unfortunately I don't have the time. I don't see a point in having more than one doom death band, so I'd do something completely different. Say, 80s style hair metal. I'd pick my buddy Pepe Sedergren from Reckless Love on lead guitar, Sami Yaffa from Hanoi Rocks and Michael Monroe on bass, Martin Powell (ex-MDB, ex-CoF, ex-Anathema) on synths and Sebastian Bach on vocals. Don't know, what I'd be doing in a company like that, though, haha…
*If you had been banned to an uninhabited island and you may pick 5 albums to listen to, which albums would you choose and why?
'Nevermind' by Nirvana, 'Against The Grain' by Bad Religion, the Twin Peaks season 1 soundtrack, 'Born To Die' by Lana Del Rey and 'Judas Christ' by Tiamat. They're all masterpieces that I never get tired of.
*What happened in between 'Tulijoutsen" (2014) en the new album, 'Kuusumu'? Why did the break took so long?
Well, a lot. I wrote the official biography of Amorphis (2015) and a book called Folk Metal Big 5, which tells the stories of Finntroll, Ensiferum, Korpiklaani, Turisas and Moonsorrow. Then I released my first solo album, 'The Gothic Tapes' (2016), had my second child, recorded an album with Her Shadow, did a bunch of guest appearances for a few bands and had my calendar full of so called day job duties. So, it was my fault that it took so long. I'm glad that my band mates had patience to wait. We did do some shows here and there.
*Every new album of a band or an artist is the best one, so they say. So here is a chance to promote you album. Why should a music lover buy your album? What are the standout tracks for you on this new album and why?
Yeah, it's such a cliché to say this, but I really feel like we made something special this time. I think this album beats the previous ones in all fronts. It's oozing with killer melodies and harmonies, absolutely crushing drum sounds, most versatile drums and vocals thus far, and pretty much the best songs I've ever written. I truly don't know where to go from here, haha… It's a good sign that I find it extremely difficult to pick tracks that stand out, as I think they're all equally strong. I'm sure 'Surun sinfonia' will divide opinions, but that's an important song for me. 'Katkeruuden malja' is also something that we haven't done before. I also love the black metal influences on 'Pedon vaisto'.
– See "CD-Review" for a review (written in Dutch) for the new KUOLEMANLAAKSO album 'Kuusumu' (Svart Records) –
*Is there a chance that you will promote these songs through live concerts? If so, would you prefer small clubs or big festivals? And is there a chance we can see KUOLEMANLAAKSO in Belgium?
We were supposed to do a full European tour, but it just got cancelled / postponed due to you-know-what. There actually was a date in Hasselt, Belgium, booked for early April, and I'm so fucking bummed out that we can't make it there. We're in the middle of figuring out if we can do the tour next year. We will do club shows in Finland after "Kuusumu" comes out, and we have some festival dates booked, too. I'd personally love to do more festivals, as it's fun to hang out there, see bands and meet friends. But I'm fine by doing whatever shows our agent books us.
Thanks for the support!