Heavy Psych Sounds Records, home of the best and high- class names the global stoner, fuzz, psych and doom rock scene has to offer, has announced the release of an exciting series of live shows.
"Live in the Mojave Desert" is a livestream concert film series recorded in the deep sands and huge boulders of the breathtaking, beautiful Californian wilderness, with performances from Earthless, Nebula, Spirit Mother, Mountain Tamer and Stoner (the new band featuring Brant Bjork and Nick Oliveri). Each film is presented in a world-premiere during a 1080p HD livestream event straight out of the Mojave desert, and will now become a LIVE ALBUM! A must- have experience for any stoner rocker and fuzz lover, to enjoy the riffs of the desert, good times and psychedelic positive vibes especially in these darkest days of live music.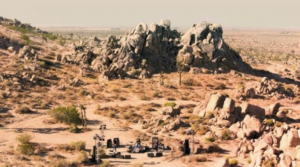 "Live in the Mojave Desert" was inspired by Pink Floyd's Live at Pompeii, and features a various line-up of new and iconic artists – with the Mad Alchemy Liquid Light Show to light up a huge double pyramid of boulders. Heavy Psych Sounds Records will be the European partner of the California Desert Wizard Association for the "Live in the Mojave Desert" albums, with a pre- sale started on January 23rd at https://www.heavypsychsounds.com/ and to be released as digipak and ULTRA LTD vinyl editions at the following dates:
April 2nd, 2021: Volume 1 – Earthless / April 9th, 2021: Volume 2 – Nebula and Volume 5 – Mountain Tamer / April 16th, 2021: Volume 3 – Spirit Mother and Volume 4 – Stoner
To shorten your wait for the physical releases of "Live in the Mojave Desert", you can stream the recent and upcoming live events at the following dates: Earthless (Saturday 23rd January, 2021), Nebula (Saturday 6th February, 2021), Spirit Mother (Saturday 20th February, 2021), Mountain Tamer (Saturday 6th March, 2021) and Stoner (Brant Bjork + Nick Oliveri – Saturday 20th March, 2021).
Grab your digital ticket at https://www.tixr.com/groups/cdwa/events/live-in-the-mojave-desert-vol-1-5-20473