Fast rising Nordic folk outfit Byrdi have released 'Solsnu' as the first single taken from their forthcoming album "Byrjing" ("Beginning"), which is slated for release on March 5, 2021. The Norwegians also reveal cover art, tracklist, and further details of their third full-length.
The single 'Solsnu' ("Turning Sun") is now available for immediate publication via the following link: https://youtu.be/3p3XNFzTC7Y
Pre-sale at https://spkr.lnk.to/byrdi-byrjing
Byrdi comment: "This upgraded mix of 'Solsnu' corresponds much more with the general sound of our forthcoming third album", write the Norwegians. "What could be more fitting than to release this new version almost exactly two years after the song came out initially in the darkest time of the year before the light returns up here in the north. Music and lyrics of 'Solsnu' remain the same, but we sincerely hope that you will notice the change of atmosphere and extra power generated by the new production."
Tracklist: 1. Solsnu 2. Geirodd 3. Eg 4. Stein på stein 5. Huldre 6. Heim 7. Byrdi 8. Byrjing
With their third full-length "Byrjing" ("Beginning"), Byrdi are taking the important step from a highly respected underground act to an established force within the realm of Nordic folk. The Norwegians have recorded this album with the participation of various guest musicians including percussionist Kjell Braaten, who has performed live with WARDRUNA among other bands, and Mathias Gyllengahm (UTMARKEN, NORRSINNT) on nyckelharpa (keyed fiddle). "Byrjing" shows Byrdi in an almost intimate way and while their music may easily be labelled as "Nordic folk", the Norwegians foremost sound like themselves.
Byrdi were founded in the ancient town of Hov in Eastern Norway by Nash Rothanburg and Jørn Øyhus in the year 2012. Their debut album "Eventyr" was released in 2014 and has been described as a "wild and strange ritual". Two years later, the Norwegians had been joined by singer and songwriter Andreas Paulsen and started to work on their sophomore full-length. For the recording of "Ansur:Urkraft" (2017), the band used various locations in the mountains and woods of Eastern Norway.
"Ansur:Urkraft" created a buzz in the Nordic folk scene and earned the band (among others shows) two invitations to perform at the prestigious Midgardsblot Festival in Borre, Norway among the grave mounds of chieftains from the Viking age and even earlier periods. The fast rise of Byrdi is underlined by more than a million streams of their single "Solsnu", which was aptly first released on the day of winter solstice in 2018.
Having been joined by harpist Gulia Wyrd-Svartskog, Byrdi are now ready to spread their music and words to an even greater audience with "Byrjing".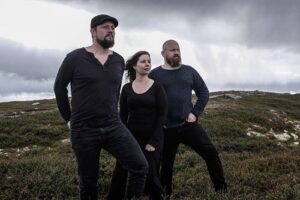 Byrdi line-up: Nash Rothanburg – vocals, jaw harp, never-lur / Andreas Paulsen – vocals, guitar / Giulia Wyrd-Svartskog – harp
Guest musicians: Kjell Braaten – percussions, drums / Mathias Gyllengahm – keyed fiddle / Trygve Ramnefell – flutes, vocals / Mattis Løvbrøtte Elvestuen – mellotron / Bergegerda Mannskor – choir
Mix & Mastering by Mattis Løvbrøtte Elvestuen
Cover Artwork by Christian Voss
Layout by Dan Capp
Available format: Digipak CD