*When did you really get involved into music in general and into rock / metal specific? Who was responsable for your interest in (metal) music?
-Sven: According to my parents it was Drafy Deutscher. That guy must have been the reason for me to want a guitar and a piano and then sing for hours in our little flat. I partially remember but due to the importance of this story (which I have to listen to each and every year when I was playing a dumb Christmas song) I thought it's worth to mention that.
*Which artists or bands did influence you the most?
-Jo: King Crimson, Tool, Radiohead, Miles Davis, Blur, Opeth, Rush, Led Zeppelin. Deep Purple, when I was very young.
-Sven: For me it was Alice Cooper and David Bowie when I was very young. I'm an MTV kid so… Duran Duran, Talk Talk, Dire Straights and you name it went on the screen. Then grunge came around the corner and that gripped me for a while. I remember Alice In Chains was a kind of doorstep to something like Pantera and RATM to Tool. That happened for me in a decade. Also I loved Peter Gabriel (really man thank you for all your music, I would kiss this guy even in corona times. But I think he wouldn't let me even in non corona times.) Wether it's Genesis or solo, that was a parallel streamline together with King Crimson. Three of a perfect pair was somehow an easy access which ended up in weird jazzy sound eruptions … it caught my attention and changed the way I think about music and his patterns in general.
*Which instrument do you play and how and when did you learn to play? Did you have lessons in school or private lessons? If so, was that because your parents expected that from you? Or did you learn to play the instruments by yourself? Do yo still follow some lessons?
-Jo: I'm autodidact and started at the age of 15 with Bass, at last I joined with Stefan Engelmann, a professional Bass teacher and learned so many new Things, mainly in music theory.
-Sven: I started playing piano when I was about 7 and took private lessons for a really long time. But when I turned 14-15 I guess I just wanted to play guitar. I never had any lessons so I think that's probably the reason why I'm singing in this band. But classical piano training helps in many ways like concepting and shaping music or just to find the right key for a vocal part.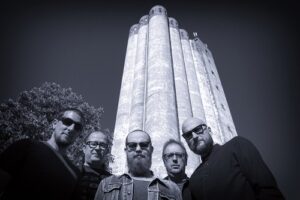 *Do you follow other or are you intrested in other styles of music besides metal? If so, what is the music you prefer to listen to?
-Sven: I also listen to Hardcore, Jazz, Electronic, HipHop, Britpop. Jeff Buckley, Radiohead … Massive Attack and Supertramp, Steely Dan.
-Andreas: For me privately, I enjoy loads of different music. Metal was a huge thing for me in my youth, which I eventually never really picked up again. But you can't just cut off your roots. I listen to Hip-Hop, Rap, Electronica, IDM, Soul, Jazz, Funk etc. Mainly stuff where i can feel the spirit of the performing Individual(s) right there in the music.
*Is music a full time job for you now or do you have a job besides music? If so, what kind of job are you doing? If you would be really succesful with music, would you quit your other job?
-Sven: Definitely not while corona is still on the loose. the whole Art Business is suffering so much. We just pray that those people can continue to do the things they love after all. It's a totally different thing if you are depending on this business or you just do it. So most of us work as an engineer for IT, Material engineering, electronics etc. gerne mal noch deine Weise reinhauen. Kann man consultant sagen? Toufik… Sales management? Ich denke wir müssen auch nicht ins Detail gehen.
-Jo: I'm working as a consultant in the training area as my main job. If I could earn my living by making music, I would surely quit my job. Quitting my job would be an option if there's a potential to still have some sort of secure income. If that works out, then yes let's do that. Otherwise we love the things we are doing and doing that with our regular jobs in parallel.
-Andreas: I'm still studying for my Bachelor's degree in electrical engineering and work at an Institute besides that. I would never quit my job to make music, because that makes making Music your new Job and something you're then forced to do to make your living. I would never want to be in a position where something that takes my mind off of things becomes something I have to do all the time and thus looses it's function as a relief to me. Also I always liked the jobs I had a lot.
*If you could start a band with other musicians on other instruments, which artist would you pick for wich instrument and why? (Something Like an "All Stars Band".) Would you still go for a progressive rock band? Or would you do something completely different?
-Jo: Jaco Pastorius – Bass
-Andreas: Let me throw in I would love to make some tunes with Iggy Pop for Vocals, John Frusciante for Guitar, DJ Shadow for Turntables, Tony Hajjar or Geoff Barrow on Drums and Thundercat on Bass. I would just be interested in listening to these people put something funky-punky, mentally twisting weird sh*t together and just playing along doing soundscapes.
*If you had been banned to an uninhabited island and you may pick 5 albums to listen to, wich albums would you choose and why?
-Jo: Miles Davis – 'Bitches Brew', Led Zeppelin – 'Physical Grafitty', Radiohead – 'OK Computer', Genesis – 'The Lamb Lies Down On Broadway', Tool – '10000 Days'.
-Andreas: 'Boards Of Canada' – Geogaddi and Music has the Right to children because it's my HappySad-Place and i can't get enough of BoC, Radiohead – 'Hail To The Thief' because this album started my awareness for music, Connan Mockasin – 'Jazzbusters' because it makes me sway and calm down, 'At the Drive-In' – Relationship of Command for those times where you need to smack someone in the face but can't.
-Sven: Uff… we have being asked about that a lot of times in our childhood. Well due to the scenario and facing isolation i would consider Radiohead Kid-A. For fishing I could imagine to listen to Boards of Canada – The Campfire Headphase, also good to sit right next to a fire under star sprinkled sky. Jeff Buckley – Grace to take a walk on the beach. MR. Bungle – California to suite my 5minutes where I need to freak out. And finally Stomp442 by Anthrax … with this album you can cut the palms with the flat of your hand.
*Every new album (or ep) of a band or an artist is the best one (we do know it is the first fullalbum), that's what they always say. So here is a chance to promote the album. Why should a music lover buy your album? What are the standout tracks for you on this new album and why?
-Andreas: We do not want promote something as "the best" or try and put our own works into a relation with the simple system of "worst to best". Being in a band for me is an ever evolving concept around a fixed group of people. The last thing we want to do is produce the same sounds and carry the same feelings all over again for every coming album. This Album turned out to be a collection of Songs we have been working on really hard and with our minds nailed to it. Every single one of the Tracks is written in the circle of our combined mindsets and we have put in a lot of heart and thought. Music Lover's should buy this, because our Producer Mike has made this album a really nice sounding, well defined and dynamic piece of music. Standout Tracks for me are: Partisanship because it kind of smacks you in the face, Extrapolation because I like the changing vibes and Blowback because it's so cheeky.
– See "CD-Review" for a review (written in Dutch) for the new Khaima album 'Owing To The Infuence' (Barhill Records) –
*We suppose you will promote this album through live concerts (when of course everyting is getting back to "normal" after the Covid 19 disaster). If so, would you prefer small clubs or big festivals? And is there a chance we can see Khaima in Belgium?
-Jo: We prefer small clubs because of the better atmosphere and the closer contact to the listeners. I'd say it's very possible for us to visit Belgium. It is not so far from Saarbrücken. We would love to visit your beautiful cities Brüssel, Brügge, Antwerpen, Gent, Lüttich, Charleroi and offer concerts.