Ever since the release of their 2018 debut ep Space Wanders & Bleeding Hearts, Aliceissleeping belongs to one of the most unique acts in London's music scene today.
Fronted by vocalist and five-stringed bassist Alice ( formerly MAB ), the band takes inspiration from the vast palette of heavy rock, drawing on everything from '70s prog rock to 90s, while fans of Smashing Pumpkins, Rush and even early Queen will find a nostalgic — if hallucinatory — home in Aliceissleeping. Alice's vocals swagger schizophrenically between ferocious screams and banshee operatics, accompanied by shredding riffs and thunderous drum beats!
Now, the psychedelic grunge rock trio is ready to release their debut full-length, titled Completely Fine, on February 5th 2021 through Mandrone Records. Get a first appetizer and watch the more than promising album teaser by Aliceissleeping at https://www.youtube.com/watch?v=rg2lv5AQi8U&ab_channel=aliceissleeping
Says the band: "The first album is important for every band and this is very much so for us, of course.. and it will be out on vinyl! This multiplies the excitement!
And If we know our fans (and we know them!) we're sure that they will find what they really want in it: Alice's huge vocals, Dan's guitars textures and Jon sophisticated Drumming.
Each song has its own flavour and they complement each other and make our sound pretty unique.
The recording was a long, fun and intense process which started one year ago and completed just before the first lockdown. Working on this album was one of the few positive things that happened to us during this troubled 2020. We can't wait for it to see the light!"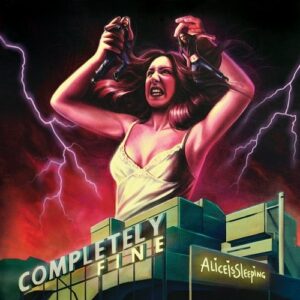 Completey Fine Tracklist: 01. Outsiders 02. Felix 03. Over And Over Again 04. Twilight 05. Scary Mary 06. Alien 07. Not Cool 08. Negotiating Sex 09. Lost Girls
The album was produced by Aliceissleeping and engineered by Will Maya (The Answer) between England and Spain. The artwork, inspired by b-movie posters, was created by Federico Salis.
Completely Fine will be released as Vinyl, CD and in Digital formats on February 5th 2021 via Mandrone Records, the pre-sale has just started.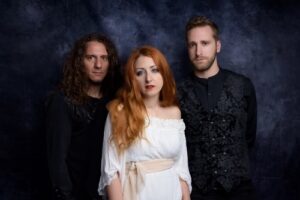 Aliceissleeping is: Alice Dionis – vocals & bass / Dan Murroni – guitar / Jon Hare-Winton – drums