*When did you really get involved into music in general and into metal specific? Who was responsable for your interest in (metal) music?
I started listening to Guns N' Roses when I was 8 years old. My older brother gave me a tape of 'Use Your Illussion I'. From there I made my way into Deutsch Punk followed by harder stuff like Pantera, Cannibal Corpse and Benediction. From there I went back in time and listened to the classic stuff like Black Sabbath, Blue Öyster Cult and Thin Lizzy. Bands like Mercyful Fate opened the portal to the darker side for me.
*Which artists or bands did influence you the most?
Most of us come from a HC and Punk backround. We take influences from Heavy Metal, including Doom, Black and Stoner but also from Post-Rock and Emo. If I speak for myself I'm influenced by bands such as Mercyful Fate, Blue Öyster Cult, AC/DC and Thin Lizzy. So really old-school.
*Which instrument do you play and how and when did you learn to play? Did you had lessons in school or private lessons? If so, was that because your parents expected that from you? Or did you learn to play the instruments by yourself? Do yo still follow some lessons?
I play acoustic and electric guitar. I started when i was about 12 years old. I first played only for myself but then I took lessons from a friend of my older brother. This teacher turned out to be very good and he taught me a lot. Then I went to a music school bur after some month I broke up. At this point I thaught that it's boring to learn how to read notes and all this stuff. I founded my first band when I was 14 and started writing songs from that on. Sometimes I follow lessons on YouTube. But I practice the most when I'm preparing for a tour.
*Do you follow other or are you intrested in other styles of music beside metal? If so, what is the music you prefer to listen to?
Of course! I listen to Ambient, Country and Folk too. There is so much great music out there that has to be discovered. It would be stupid to focus only on one genre. But I've to admit that most of the music I enjoy is guitar music. I work for an indie record label too. So within my work for Glitterhouse Records I have to listen to lots of different styles. And I really enjoy it. A non metal album I highly recoment is 'Modern Country' by William Tyler. So good!!!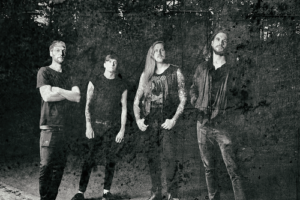 *Is music a full time job for you now or do you have a job beside music? If so, what kind of job are you doing? If you would be really succesful with music, would you quit your other job?
As said before I also work for a record label. But also as a songwriter and sometimes as a session musician. I think it's good to stay busy and not to rely on one thing too much. All four of us have music related jobs.
*If you could start a band with other musicians on other instruments, which artist would you pick for wich instrument and why? (Something Like an "All Stars Band".) Would you still go for a post metal band? Or would you do something completely different?
That's an awesome question. I think I would love to have a Hard Rock band?! Let's dream up about my favorite line up. I would choose Eric Bloom from BÖC on one guitar, Slash on the other. On Bass I would go for Steve Harris. On Drums I would pick Vinnie Paul and on the vocals I choose King Diamond. But it's so hard to choose; there are so many great names that come to my mind…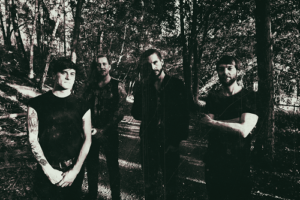 *If you had been banned to an uninhabited island and you may pick 5 albums to listen to, wich albums would you choose and why?
Wow, that's a tough question! I would choose William Tyler's 'Modern Country' because the album's filled with beautiful Ambient Country. It's one of my all time fav instrumental albums! The perfect soundtrack for an uninhabitaed island. I would also go for YOB's 'Clearing The Path To Ascend'. Imagine watching the sea and the sundown while listening to 'Marrow'?! Third one would be Mercyful Fate's 'Melissa' to have a thrill in the night. 'Agent's Of Fortune' by Blue Öyster Cult; simply because it's a stunning album and last but not least 'Agent Orange' by Sodom.
*Every new album (or ep) of a band or an artist is the best one, that's what they always say. So here is a chance to promote the album. Why should a music lover buy your album? What are the standout tracks for you on this new album and why?
A man's praise in his own mouth stinks. But if you're into heavy instrumental music you might give it a spin. In my mind 'Eremit' is more determined than our debut. A bit slower and heavier. We tried to limit the scope. Try to dig deeper into our own style. For me the album works as a whole. So I do not have a standout track.
– See "CD-Review" for a review (written in Dutch) for the new Neànder album 'Eremit' (Through Love Records) –
*I suppose you will promote this album through live concerts (when of course everyting is getting back to "normal" after the Covid 19 disaster). If so, would you prefer small clubs or big festivals? And is there a chance we can see Neànder in Belgium?
We've a tour scheduled for Feb/Mar 2021. Let's see if this will happen. I like to play smaller clubs as well as festivals. As I said before I formed my first band when I was 14, now I'm 37, so that's 23 years of playing in bands. If you can you have to do it all and keep it diverse for yourself. We would love to come over to Belgium. If you're into booking please feel free to contact us.