We are glad to announce that melodic death metallers Carnage Alpha signed a deal with Wormholedeath for the release of their debut album "From There to Oblivion".
Hailing from Sweden, this duo describe themselves and their music style as melodic, agressive and atmospheric, all elements that can be found in their upcoming album.
The band stated : " Carnage Alpha are very proud to sign with WormholeDeath that will release the debut album "From There to Oblivion". "From there to oblivion" is a mixture of ideas and styles that Mathias and Fredrik likes to mix. Everything from melodic death metal to black metal with influences from industrial and electronic music. Nothing is off limits and we do what we want: experimenting and making music we love."
"From There to Oblivion" will be out on 27 11 2020 on all platforms worldwide.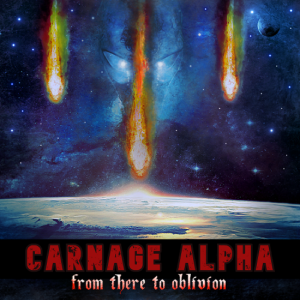 Tracklist: 1. Windows 2. No times for goodbyes 3. Failures prize 4. EOA 5. From the otherside 6. Breath the darkness 7. Created to destroy 8. Commands 9. Redefining the past 10. Adjusting the settings
Biography: Carnage Alpha is a metal act from Sweden and behind it stands two guys from the bands "Reek", "Fimbultyr", "Cynical Existence" amongst other bands. The music is a mix of melodic death metal with hints of other genres as well. 3 words can be used to describe the band: Melodic, Agressive and Atmospheric. If we have to compare Carnage Alpha style to that of other bands then we can mention Dark Tranquillity and In Flames (earlier stuff) but with the add of synthesizers. The debut is called "From There to Oblivion" and it consists of 10 blasting tracks!
Carnage Alpha are Fredrik Croona and Mathias Back. Fredrik plays synthesizers and drums, while Mathias plays guitar and bass; both do vocals and write lyrics.