* When did you really get involved into music in general and into Southern rock specific? Who was responsible for your interest in (Southern rock) music?
-TJ Lyle (lead vocals): I got into music when I was a young child singing with my family at home. It was easy getting into southern rock. Something about it caught my attention and I've loved it ever since. That's all we knew growing up and that's what we do now. It's just our second nature.
* Which artists or bands did influence you the most?
-Riley Couzzourt (lead guitar): Slash, Zakk Wylde and Gary Moore are my top guitar player influences. There are way too many to jot down, but those are my top three. I guess KISS and Guns n Roses really got me into music and the guitar in general. I was astonished listening to the riffs and leads written by Slash, Izzy Stradlin and Ace Frehley. Zakk and Gary came with later findings in music.
* Which instrument do you play and how and when did you learn to play? Did you had lessons in school or private lessons? If so, was that because your parents expected that from you? Or did you learn to play the instruments by yourself? Do you still follow some lessons?
-Riley Couzzourt (lead guitar): I play guitar in the band. I started playing self taught when I was ten years old and by the time I had turned eleven I started taking lessons to further increase my knowledge. I took lessons for around 6 months and after that just continued playing by ear and teaching myself the ropes from there on. I personally had private lessons. My dad saw that I was picking the instrument up quickly and decided to hook me up with lessons. I still watch people play to learn different techniques. I've never really taken music theory.
* Do you follow other or are you intrested in other styles of music beside Southern rock? If so, what is the music you prefer to listen to?
-Bristol Perry (Drums): Probably metal in general. Pantera, Metallica, Black Sabbath and a lot of stuff like that. I love the energy and ferocity in their playing and music.
* Is music a full time job for you now or do you have a job beside music? If so, what kind of job are you doing? If you would be really successful with music, would you quit your other job?
-TJ Lyle (lead vocals): Since we've been in the lockdown I'm doing some work with my dad at his construction company. We would normally be on tour, but since I have some time off, I've got to pull my weight at home. As far as jobs go, I'm a lifer for music.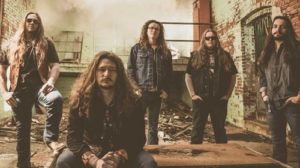 * If you could start a band with other musicians on other instruments, which artist would you pick for which instrument and why? (Something Like an "All Stars Band".) Would you still go for a Southern rock band? Or would you do something completely different?
-Zach Everett (bass guitar): I think I'd make a country rock band, and write long riff driven music with extremely overdriven Telecasters. As far as different band members, I'd stay with the guys I play with now. Can't get no better.
* If you had been banned to an uninhabited island and you may pick 5 albums to listen to, which albums would you choose and why?
-Logan Tolbert (rhythm guitar): My five albums would be: 'Boston' – Boston, 'Eat A Peach' – Allman Brothers, 'Second Helping' – Lynyrd Skynyrd, 'Greatest Hits' – Hank Williams Jr. and 'Live Bullet' – Bob Seger. I feel these albums are classics. I listen to them all the time and they never get old.
* Every new album (or ep) of a band or an artist is the best one, that's what they always say. So here is a chance to promote the album. Why should a music lover buy your album? What are the standout tracks for you on this new album and why?
-Zach Everett (bass guitar): I think that people say that because they really feel that they've grown as a group since their last release. Since this is our first release, I'm just excited for the world to hear us and take a peek into the world we live in. The standout track to me is 'Spirit Of A Workin' Man'; that song is our anthem, our words of truth, and our bow down to the Workin' Man. Nothing in this world would work without someone to foot the bill with blood, sweat, and tears; 'Spirit Of A Workin' Man' is our way of saying thanks.
– See "CD-Review" for a review (written in Dutch) for the new The Georgia Thunderbolts ep 'The Georgia Thunderbolts' (Mascot Records) –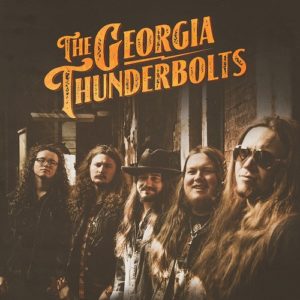 * I suppose you will promote this album through live concerts (when of course everything is getting back to "normal" after the Covid 19 disaster). If so, would you prefer small clubs or big festivals? And is there a chance we can see The Georgia Thunderbolts in Belgium.
-Zach Everett (bass Guitar): I would love to have a mix of both. Festivals are always really fun and loud, but small venues are my favorite to play. Where it's really tight knit, everything is loud, you feel my bass and Bristol's kick drum changing your heartbeat, that's what I like. I'd love to come to y'alls place in this world, I've always wanted to go to Belgium so I hope we get to come play for y'all.